Local artist Maria Hupfield strives to amplify the beauty and significance of nature in Toronto, particularly ravines, as the first candidate for ArtworxTO's Legacy Artist in Residence Program.
She will work with City of Toronto staff during her residency, finding a creative way to help Torontonians recognize and celebrate the natural spaces in their city that are often overlooked. "People don't think of the city as being on land or that there's a natural world that we're part of. The ravines are a really good reminder of how connected we are and that we are right on Lake Ontario," said Hupfield.
She compares rivers and ravines to veins in a body's circulatory system, but also notes how they are also windows into the city's history. "Toronto was this beautiful, beautiful place. All we have to do is go to Toronto Islands to even catch a glimpse of what that must have been like to be here," she said. Ravines cover 17 percent of Toronto's land, making the city home to one of the world's largest urban ravine systems.
Hupfield identifies as an off-rez urban Anishinaabe and belongs to Wasauksing First Nation. Oral tradition is a significant part of her work as an artist. She currently teaches Indigenous Digital Arts and Performance at the University of Toronto's Mississauga campus— right along the Credit River. She's already working on projects that will help those on campus acknowledge the natural world it's built on, potentially through maps that focus on natural elements instead of buildings.
She has also worked with the Don Valley River, and aims to build on her past work through this residency, with the ultimate goal of creating a public-facing work of art that can inspire reflection and conversations about Toronto's water systems.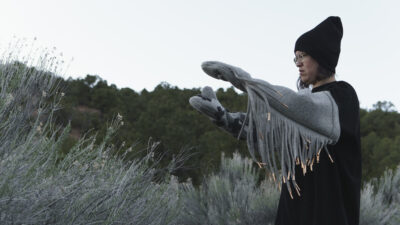 Hupfield grew up in a town just outside of Parry Sound, and much of her childhood was spent outdoors and by the water. Not being able to go back home to the natural beauty of the Muskokas during the pandemic is part of what drew her to Toronto's ravines. "It's something that's very familiar to me and brings me back to some really fundamental years of my life," she said.
But she's also drawn to city life, and the energy it offers that inspires her work. She lived in New York for nine years, where she would talk to strangers on the subway, and art was often at the centre of the conversation — whether it was a book they read, play they saw, or clothing they were wearing.
"Art is all around you…it's part of their natural vocabulary," she said. "That's part of the fabric of the city. And that really creates a lot of engagement, excitement and a lot of ideas."
Conversations are a big part of Hupfield's artistic process. For this project, she's determined to bring together a variety of different perspectives — Indigenous cultural knowledge, insights from city employees, park rangers, historians, a colleague who likes birdwatching, and even her dad (a master boat builder).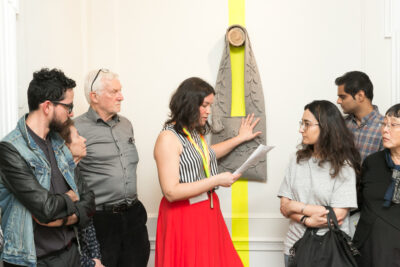 Her next step? Deciding the best way to convey what she's learned through these conversations to the public, through her art. She already has a notebook of ideas — she's particularly interested in working with the Anishinaabe language and audio walks, and is thinking of unique ways the public can engage with photos, prompt questions, performance art, and maps. Of course, she plans to spend lots of time in the ravines, mulling over the questions that will inform her final project.
"For me, this is also a way to reintroduce myself to this place. That's part of my responsibility as an educator and an artist," said Hupfield.
Immersing yourself in nature while living in a city can be difficult. Often, green space is far away, or isn't quite separate from the bustle of the city. But it is possible, as we witnessed early on in the pandemic, when everyone seemed to flock to parks and trails.
"At the beginning of the pandemic I spent some time on Toronto Island. That was just really amazing, to wake up and right away my first instinct was I'm going to walk to the water."
Hupfield recommends taking a little bit of time to connect with nature in the city, even if it's just one tree on the sidewalk. For her, this means noticing reminders of the natural world around her in everyday life — from the tea she drinks to the fabrics she wears to being mindful of the weather.
"Those things are always present and conscious in my day-to-day," she said. "That can be a very nice way to have a pause or self-regulation."
Learn more about the ArtworxTO residency, and be on the lookout for Maria's work! In the meantime, follow her on Instagram @mariahupfield.