I had no doubt that Little Bird was going to be powerful, but Jennifer Podemski's new fictional series about the Sixties Scoop, and the irreparable harm it has caused families, is an absolute triumph in episodic storytelling, a breathtaking and intensely moving piece of art, and a vital watch for all Canadians.
The 6-part limited series launched in late May, on both Crave and APTN lumi, with a new episode dropping each Friday. I admit that I waited a few weeks before diving in, as I knew it would be a difficult watch, and I wanted to ensure I was in the right headspace to absorb it. Tackling such heavy topics, I assumed it would be the type of show that I'd need breaks from, but once I started watching, I couldn't stop, and stayed up until 4AM binging the first four episodes back to back.
Forcibly removed from her loving home in Long Pine Reserve in Saskatchewan, Bezhig Little Bird is adopted into a Montréal Jewish family at age five, becoming Esther Rosenblum. Now in her 20s, Bezhig longs for the family she lost and is willing to sacrifice everything to find them. Her search lands her in the Canadian Prairies, worlds apart from everything she knows. As she begins to track down her siblings, she unravels the mystery behind her adoption and discovers that her apprehension was connected to a racist and violent government policy, now known as the Sixties Scoop. Bezhig's sense of identity shatters, and she is forced to reckon with who she is and who she wants to become.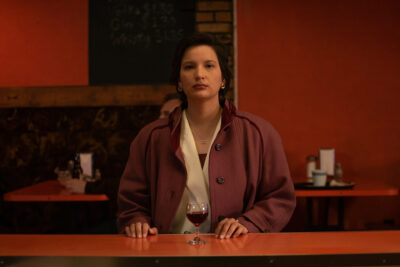 While the story centres on Bezhig, remarkably performed by Darla Contois (give her all the awards!), Podemski has given us a series that everyone can relate to. "It is about identity and belonging, the longing to fit in, the yearning to know the truth about the past as a way to move forward," shares Podemski. "It's about Esther discovering who she is, where she comes from and the truth of her past. It's about acceptance and love and redefining what it means to be a family."
The series is fictional, but much of the story is based on Podemski's lived experience as a Jewish-Indigenous woman. "Esther's psychological journey and identity crisis was informed by my being a Jewish and Indigenous person who grew up predominantly within my Jewish family," writes Podemski, who wasn't adopted, but was taken by the Canadian authorities after birth. "My own personal connection to the 60's scoop is that I was my mother's first-born. She just turned 17, and I was removed by social workers from the hospital. I was taken into the system and put into foster care. It was the efforts of one social worker, who was retiring, that helped my mother get me back by the time I was three months old."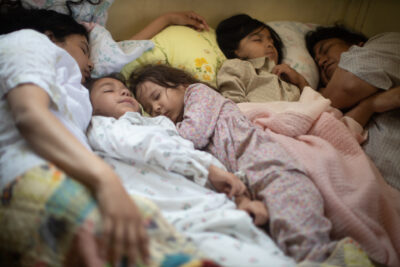 Little Bird is incredibly painful, but the brilliant way that Jennifer Podemski and co-creator Hannah Moskovitch have written Little Bird, moving between the 1960s to the 1980s, provides space for audiences to breathe and reflect. The camera doesn't linger in the traumatic scenes for too long, but long enough that one cannot help but be fully impacted by the devastating story. The result is enthralling storytelling that permeates the mind and body.
"As an Indigenous person, myself and my family are impacted daily by the reality that we continue to live in colonial violence. Children continue to be removed from families and the systems that are meant to protect us only perpetuate the harm that is embedded within the policies and practices designed to dismantle our families and detach us from our culture, language and lands."
I urge you to watch Little Bird. It's one thing to read about the devastating impacts of colonialism in headlines, but a 6-part series takes you deeper, allowing audiences to understand intergenerational trauma, or what happens to a family when you take a wrecking ball to it, as the Canadian government did to thousands of Indigenous families for the past 200 hundred years, and continues to do. At the end of each episode reads an important reminder that there are more Indigenous children in custody now than ever before.
On June 30, alongside the final episode, Crave and APTN lumi will also stream Coming Home, a 90-minute companion documentary providing historical context about the Sixties Scoop. Directed by Erica Daniels (Run as One), Coming Home explores the connections between the ground-breaking movement for Indigenous narrative sovereignty and the impact of the child welfare system as experienced through the Little Bird series' Indigenous creatives, crew, and Sixties Scoop advisors. Another essential watch.