In the days leading up to Mother's Day, writer and filmmaker Molly McGlynn (Mary Goes Round, Bloody Hell) announced the launch of her new podcast Hello, My Mom Is Dead. It's beautiful, deeply moving, refreshing, and daringly digs into tough questions about dying, death, heartbreak, and immeasurable loss. In an era where vulnerability is encouraged and celebrated, death remains a subject that people still avoid. McGlynn confronts it head-on, with a loving, gentle touch.
In the first episode, McGlynn talks to friend and fellow filmmaker Chell Stephen. Stephen was 34 when her mother passed away from cancer. McGlynn opens the episode by sharing Stephen's mother's obituary, and listeners quickly begin to understand who Carol was, with quirky details like her remarkable ability to memorize phone numbers, how much she enjoyed chatting with neighbours through the backyard fence, and her 'whatever it takes' attitude that served her so well in life.
McGlynn's style as a host is casual and sincere but her questions are direct: When did your mom die? What details do you remember from that day? What was the worst advice she gave you? Would our moms have had a different life if they hadn't had us? They are the type of questions that people are scared to ask, worried that prodding will trigger an emotional response.
As Stephen walks us through the final days of her mother's life, sharing a mix of painful and funny moments, McGlynn chimes in with her own vivid memories, like eating Timbits next to her dead mom. "Timbits always come with a side of death, for me personally," she jokes.
McGlynn was just 21 when her mother died. For decades she's been dealing with uncomfortable conversations that range from awkward to downright insensitive. How people respond to death is one of the things she explores in Hello, My Mom is Dead, reminding listeners what not to say as well as expressing what responses are noteworthy and supportive.
"The earth-shattering experience of losing the person who brought you into the world is such a specific and personal pain and I wanted to talk about it in all its texture, levity included," McGlynn says. Dark humour is something she does very well.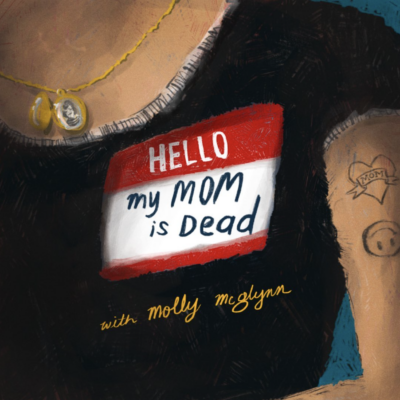 When introducing the podcast on her social media channels, McGlynn reminded her network that the month of May, and specifically the intense lead-up to Mother's Day, is a difficult time for many people—for numerous reasons. "It's been fifteen years since my mom died. Some years, I glide on by it [Mother's Day] and other years it's like dodging an emotional paintball game. I love seeing everyone's photos on social media of their moms at their hottest, but part of me feels a bit resentful… like it's not fair mine is gone."
Beyond having lost her mother, Mother's Day can be triggering for McGlynn because of the reproductive condition she lives with, MRKH, which prevents her from carrying a child. "I am reminded of a version of motherhood that I won't have. It's complicated. Around this time, I take extra good care to mother myself and give extra love to those who feel the same sting. That being said, I encourage and love seeing people pamper and love their moms if they're still here. I have friends' moms in my life who I call 'bonus moms', who I am so grateful for."
McGlynn's coming-of-age film Bloody Hell, starring Maddie Ziegler and Emily Hampshire, recently premiered at SXSW, and is loosely inspired by her journey with MRKH. "In any of the work that I do, my main goal is for people to feel less alone in experiences that can feel like a small, empty room."
Hello, My Mom is Dead is now available on Apple Podcasts. Episode 2 will feature a conversation with writer and artist Tyler Feder, whose graphic memoir Dancing at The Pity Party is a humorous reflection on a motherless life.