If you're deep into the years of a long-term relationship, or sleep deprived from parenting small children, then a film called The End of Sex may elicit an uncomfortable shudder, and feel a little too close to home. But while the title may put you off, this is an affirming and uplifting comedy (with lots of clumsy sex) that acknowledges that people, and couples, do change.
Feeling the pressures of parenting and adulthood, Emma (Emily Hampshire) and Josh (Jonas Chernick), send their kids away to an overnight camp for one week and embark on a series of sexual adventures to reinvigorate their relationship. From a less-than-satisfying threesome with a surprisingly horny co-worker to an extremely disconcerting run-in at the local swingers club, it's a week they won't soon forget.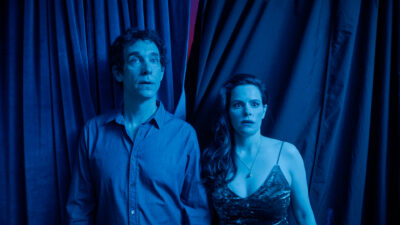 The film is a welcomed reunion for Emily Hampshire, who worked with writer and co-star Jonas Chernick and director Sean Garrity in 2012, when the trio made My Awkward Sexual Adventure. "Ten years ago, that was very of the time and age that we were at," laughs Hampshire. "Ten years later, we landed in a similar place. Anyone who's been in a long relationship or has kids can definitely relate to this, or at least according to the comments on my Instagram feed they can."
Before saying yes to My Awkward Sexual Adventure, Hampshire shares that she was very close to quitting acting, but the project turned her life around. "I would do anything with them," she says of Chernick and Garrity. "There was no intimacy coordinator back then and yet I never felt more faith in an environment with a group of guys."
Since that time, the Montrealer has made a more permanent move to LA, and kept a very busy schedule, including starring in Garrity's 2015 film Borealis before becoming the beloved straight-shooting Stevie on Schitt's Creek, which won her numerous Canadian Screen Awards. Like much of the cast and crew, Hampshire credits Schitt's Creek for helping her step into her true self. "That space to be fully who you are… When I came out of that, I felt that I knew who I was in a way that I didn't when I started it. It culminated in a place of growth for me."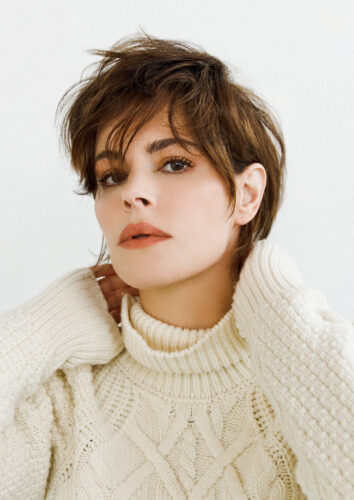 Now 43, Hampshire has an abundance of lived experience, and can appreciate the comedy that comes with middle-aged life. "When I read the script I just thought it was brilliant and so funny," she says, comparing it to crowd-pleasing box office hits like Knocked Up or This is 40. "Anyone can do the honeymoon period! It's easy and amazing. Relationships need to be worked at. The overriding message is that we always think we're going to be how we used to be in a relationship, but we're not those people anymore. We've changed—and that's okay."
With countless articles and quizzes making people feel like their sex lives are inadequate, the message that sex changes and that unbridled passion isn't constant is a reassuring sentiment that people will want and need to hear.