Heidi Smith is a mother, businesswoman and graphic designer who started Addicted Designs after pulling herself out of the grind of addiction. Here she shares what her life looks like now, and how she stays centered.
SDTC: Can you walk us through a typical day in your life?
HS: When I wake up in the early morning hours it is crucial that I get time alone before I contact the rest of the world or nothing goes right in my day. I usually lie in bed for some time and connect to my higher power asking for protection and guidance for myself and for others. During this time I will throw in a few snuggles with my chihuahua, Batman. I spend the next hour getting my son ready to conquer his ten-year-old life. The mornings are a very important time for me; for many years I had no routine and didn't even know what this time of day was. There isn't one morning that goes by that I don't feel immense gratitude for waking up alive, healthy, and present to my son Rocco and also gratitude for my freedom from addiction.
Morning now proceeds to movement and action. It looks like a small workout, stretching, drinking a lot of water to wake up (I don't drink coffee) and then hopping in my car to get my son to school. We have to commute so we love playing some heavy music to get our energy pumping. I make all my work calls after I drop him off while sitting in rush hour to get back home. I am lucky in that I get to work from home. I have pretty good skills at shutting out the world around me and not getting distracted when it comes to getting creative and down to work. Sometimes it works against me as I can be a bit of a workaholic, so with not having a 9-5 job my work can become all-consuming if I am not careful through a seven-day week.
A typical work day once I'm in my home office is answering emails, researching and coming up with new ideas for Addictive Designs, creating advertising pitches, dealing with my sales for the day on my online store, talking to suppliers and purchasers and working on my website. My background is graphic design, but I also work on all my own advertising, social media and website upkeep myself, for now. I like to stack my work meetings "out of house" on Tuesdays because I know Monday is a good day for me to stay home and be creative. Fridays look like making sure everyone has been tended to and closing up deals.
Now it's summer and my son Rocco is off from school. I am not one of those moms who sends him off to camp all week or summer school. I believe a lot of learning comes from quality time doing absolutely nothing and just being a little boy. He sleeps in and goes to bed late right now – whatever makes him happy. We have little adventures out together in between my work; he loves living life through experience and watching the real-time world around him. He is well rounded and gets along with anyone in any age bracket, so he generally comes with me during the day if I have meetings or work-related activities in these summer months. He also is a recovery kid so he does fellowship at night with me and locks in with other kids who are in recovery.
My work, my son and my dog are my current priorities. But my second priority in life are the women I sponsor in my twelve-step program. I love each one of them for who they are and what they bring to me. There is not a day or evening that I don't spend time with at least one of them working on bettering ourselves in our recovery program. Without my recovery and these women, there is no Addictive Designs, being a mom to my son or living a life worth living.
My night routine is usually attending a twelve-step meeting, service/volunteer work, a late night meal out alone (is it weird that I like to eat alone?) or eating out with a group. Maybe one day I will have someone to cook for that actually eats my food because I do love to cook. Unwind the evening hours is with reflection on where I went wrong or right in my day and a gratitude check for another day "above ground." I go to bed around 11 pm and then get distracted by Facebook till around 12:30 am. I watch mindless YouTube videos to fall asleep. I have to do this because it takes a long time for my brain to shut down, and sometimes I need to do useless things to fall asleep.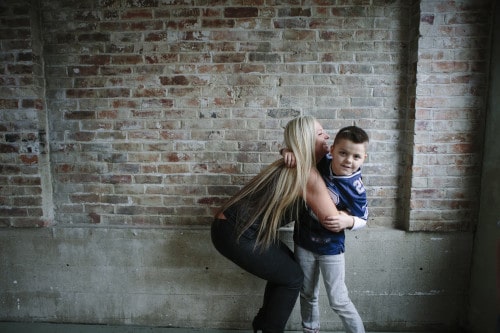 Why did you decide to start Addictive Designs?
I have worked as a freelance graphic designer for twenty years and in creative fields since I was fifteen years old. I was becoming bored with other people's ideas of what they wanted and then getting paid for something I didn't really agree to or want to put my name on. I felt like my designs were distorted with too much input from paying clients. When I bottomed out in my addiction five and a half years ago, I started journaling where I was in my life. I noticed a pattern in my writing, paintings and drawings. Words held great value to me; I am definitely a word person and a conversation person. My reading and writing saved me in the hardest times getting clean and sober. As a working single mother it is important to me to be home for my son, so I decided to put all my skills in one basket in a home-based business and came up with a written story and branding of shirts that I personally related to with messages that many out there also could relate to. I took risks when some told me not to – and those risks succeeded.
What is the message behind Addictive Designs?
The message behind Addictive Designs is pretty simple: it is my belief that the whole world is recovering from something. My recovery just happens to be from some pretty hardcore issues. But I relate to many others because if you look up the meaning of recover it means to find what is lost or stolen. The whole world is recovering from loss: loss of time, addictions to drugs, disease, loss of people they love, career changes, money, relationships, eating disorders. So my designs started for people in recovery but in a short time all types of people were buying them for themselves or others who are not in recovery. I also have a huge clientele of people in health, yoga and wellness.
I have kept Addictive Designs simple in design and packaging and higher in quality materials that don't shrink and that drape nice on all women's body types. I want my women to feel comfortable. I personally have dressed my shirts up and down. You can wear them with leather and heels or to the gym or yoga. Be prepared to be stopped on the street when you are wearing one of my shirts!
When I get to meet the women who come into my home-based store they all tell me a story of why a certain message relates to them. One day I will do a photo book incorporating shared stories with these messages they share and a picture of them in the shirt.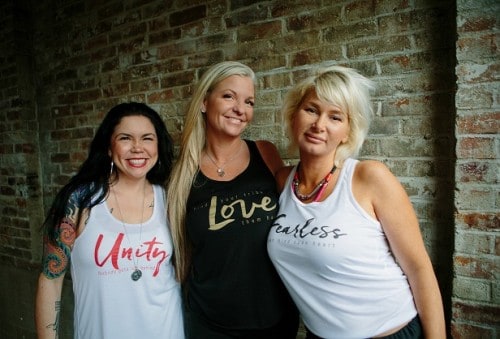 Any advice for other young women who are struggling with addiction?
I am in recovery and I feel honoured to say that. I feel like I am part of an elite crew of winners. I survived a crazy twenty-five years in addictions of all types and feel immense gratitude for a second chance. I also share this with the world publicly for a few reasons: one being that for many years I lived in shame and guilt thinking I was different. I felt so isolated, unique and judged for my behaviour. I couldn't get through one day without using something to make me not feel. Now today I work incredibly hard every single day on my recovery. Part of that looks like giving back and sharing my stories to the next woman walking into my life willing to change. I do this through public speaking and/or in the privacy of my twelve-step fellowship. Many can relate to addiction and its behaviours and I want to break that stigma of what an addict looks like. Most are hiding in their homes or present themselves well in society, but all have a common thread: they are dying inside.
My advice to young women is to get honest with someone who can help you or with someone you know who is in recovery. It doesn't matter if they are older or male/female, we will direct you to the right supports. If you don't know someone in recovery you can start with your doctor, calling a detox facility, or calling a recognized treatment centre that deals with concurrent disorders. For me, my bottom looked like weighing in at ninety pounds, being sick and tired of being sick and tired, and temporarily losing my son to make my serious change. I spent a few months in an established treatment centre in Vancouver called Westminster House. They dealt with my issues well beyond the addiction of drugs and alcohol.
What have you learned about addiction?
Addiction is progressive. Even though I put down the substances, my disease is still moving forward. So it is a daily reprieve. Now that I am clean and sober, life doesn't get easier – it is not all sunshine and diamonds. I now have to feel everything to the core and am still a work in progress. Addiction is also well beyond drug abuse. It comes out everywhere in our lives: eating disorders, gambling, shopping addictions, codependency, abuse and trauma…the list is endless. Addiction does not discriminate: I work with women as young as eighteen years old who have hit bottom and women even come in their prime years of life ready to make change.
I work my butt off every day to be a stronger woman in my work, life, as a mom and in my recovery.
What was the best piece of advice given to you in relation to your career?
The best piece of advice I was given is to just start. Every day I wake up and get to work at something I love to do with passion and purpose. It looks like a fresh new start at something every day. Another great piece of advice was to always be myself. I don't paint a pretty cookie-cutter picture to appeal to others. I like being a badass, still. Now I can just be that badass woman with integrity, morals and values and apply that wild kinetic energy I have to my career and to Addictive Designs.