If you're currently in the market for a new diaper bag, TWELVElittle is a godsend. This company produces durable, well-engineered (and water-resistant) diaper bags that will stand the test of time. They also look damn good, so you can use them as a cute accessory long after your kid is out of diapers.
This week, we asked founder Julia Min why she got in the diaper bag biz.
SDTC: Did you ever think you'd be getting into the biz of designing diaper bags?
Not at all! I entered the fashion handbag industry in NYC and was extremely career driven. I didn't mind working late because I quite enjoyed the long process from design to final product, and I did not plan on having kids so early–not to mention three! I graduated from the Rhode Island School of Design with a B.A. in Industrial Design, and then I took a one-year associate course at Parsons School of Fashion for Fashion Business.
With my education and work experience, I dreamed of creating a small brand in handbags, but when I unexpectedly found out that I was pregnant with my first, everything changed from there. Now, I am extremely thankful to be a mom of three and have a small business where I can pour out my passion for design and creativity.
What prompted you to start TWELVElittle?
When I was pregnant with my first child, I had a hard time finding the perfect diaper bag. Since I had been in the fashion industry for a long time, I was always on the hunt to find stylish bags. But this time I needed to find a stylish "diaper" bag. While six months pregnant, I started designing diaper bags that were both fashionable and functional–something I would personally be proud to carry around with a baby.
What annoys you about conventional diaper bags?
There are so many diaper bags out there that claim to be both fashionable and functional. But many times, we find them to be either really stylish or just very practical. It is rare to find a diaper bag that truly follows current trends and is thoughtfully designed for daily parenting activities.
Also, there are so many brands out there that copy other diaper bags and sell them for half the original retail price. I see so many people carrying these knock-off versions and it is really discouraging as a brand owner because I know so much time and effort was put into creating that product.
What sets TWELVElittle apart?
At TWELVElittle, we create modern bags for moms and dads who need it all. We make sure each bag is stylish yet practical and has all the right functions in the right places. The best feedback we receive is that our bags are not only great diaper bags but also great everyday bags to carry around after you graduate from the diapering stage. During the design process, we make sure to look at both fashion and baby trends so that parents can stay chic and trendy even when carrying around a diaper bag.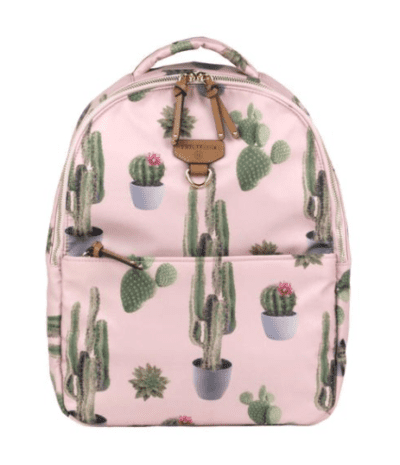 What are your fave pieces from your collection, and why?
There are so many, but there are specific styles I feel personally attached to because the ideas come from my experience of being a working mom of three. From our new collection, the On-The-Go Backpack was designed with busy moms in mind. For instance, I go directly from work to picking up the kids after school and to playdates throughout the week, and I end up using my diaper bag as both my work bag and travel bag. So we included a laptop sleeve and a back travel sleeve that goes through luggage handles to make everything easier for the mom!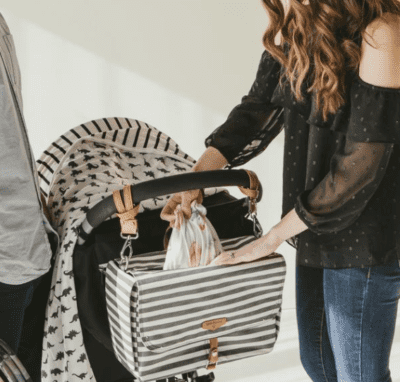 The On-The-Go Stroller Caddy is another favourite, because it is the perfect bag to have when you are out and about with a stroller, especially if you have multiples. Having three kids all under the age of five, there was a time when I had to carry around diapers for two kids and bottles for all three. So I know the importance of easy organization, simple access, and being hands-free.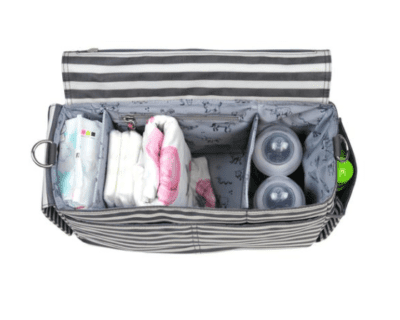 Walk us through a typical day in your life, from getting up until going to bed.
It's different day to day. Some mornings, I feel like a supermom and get up much earlier than anyone else, exercise, make breakfast and coordinate outfits for each kid. Some mornings, we all rush out with bagels in our hands.
At work, I get a little crazy because we have so much to do, but my team is really wonderful and they balance out my energy. No matter how much work I have, I try to get home early enough so that I can make dinner for the family and have quality time with the kids before bed. Once the kids go to sleep, I log back on if there is more work left to be done, organize my kids' schedules and activities, and try to get some me-time with a glass of wine or two. Some days are better than others.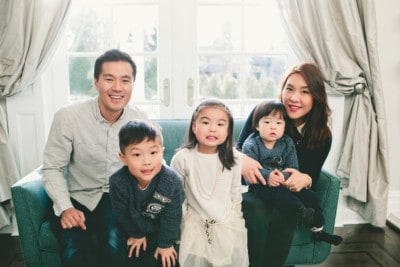 Any advice to other women starting out with their own business?
It's not going to be as glamorous as you think; it's going to be a rough road ahead. But if you have passion, determination and the grit to climb over every rocky mountain, then stick with it. There will be stressful times, but always think of the big picture and think of a resolution rather than playing the blame game whenever something goes wrong. As much as you stay strong to your idea, be open and listen to others, especially if they have experience in your area. Also, surround yourself with positive energy, and don't compare yourself to others, especially competitors. These are all things I still remind myself of daily.
Snag your cute TWELVElittle bag here.