Mandy Gilbert is the founder of Creative Niche and the co-founder of RED Academy, which offers unparalleled part- and full-time programs in digital marketing (the only school in the city to offer it full-time), UX/UI design, web and app development, emerging technologies, and RED Labs, an exclusive skills and portfolio accelerator for experienced students.
On September 12th, 13th and 14th, RED will host Hack To School, which givesa spiring students a chance to test-drive their future in-demand careers. These free sessions will allow you to interact with the latest tools, diving deep into some of the best-kept secrets companies like Google, Facebook and Shopify use every day. You can register here.
We caught up with Mandy this week.
SDTC: Walk us through a typical day in your life, from getting up until going to bed?
MG: Typically my day starts with a good sweat! I try to work out at least three days a week, and I always like to get this done first thing in the morning so it's out of the way. After that, it's a freshly brewed cup of coffee as I catch up on the news, both around the world and within my industry.
When I get to the office, I meet with my Executive Assistant to talk about what's happening in the calendar, upcoming events, projects, and follow-up items I may have missed. Then I connect with the global Executive Leadership Team to catch up on progress, find out how we are tracking on goals, and discuss any obstacles and opportunities. Next it's emails. Then meetings. Then emails. Then meetings.
Once the day is over, I head home to hang out with my two sons, eleven-year-old Isaac and Sam who's nine. This is my favourite time of the day. We have dinner, talk about our days, and just connect. It's the perfect way to decompress from work.
Before bed I review the calendar for the next day (with a glass of cabernet sauvignon) and start thinking about what objectives and key outcomes I hope to accomplish over the next week, month or year. Being free of distractions and having a clear mind is key for big-picture thinking.
Describe your career/education trajectory thus far. Did you ever imagine when you were younger that you'd be the founder of something like RED Academy?
I always knew I wanted to be an entrepreneur; however, I didn't take the leap until I was twenty-seven years old. That's when I started Creative Niche, a specialized recruitment firm based in Toronto (in 2002). I took out a loan for $8,000, and now it's an $11.5M business.
In 2015, I met my now business partner Colin Mansell. We started talking about the major skills gap in Canada's rapidly growing tech industry, and he told me about his idea to create a unique school for the industry, by the industry.
He had so much passion about making RED Academy come to life, it was impossible to not get involved. I loved his vision to give students real projects and real clients, helping them build their future with relevant education.
Two years later, it's become a world-class accredited college committed to making a positive impact, and it delivers the talent required by the industry. We currently have schools in Toronto and Vancouver and have just opened our first location in London.
What happens at RED Academy? What sets it apart from other schools?
Heart is one of our biggest differentiators. We truly care about our students, our staff, and the impact we're making on the community.
Another is our curriculum. Technology changes by the second, so our students have to be industry-ready by the time they graduate. That's why we've designed our courses to be radically relevant. All of our instructors are leading experts in their field and still work in their industry.
No matter what industry, knowledge or background you may have, every student at RED is made to feel like they're part of a family. We care about their future and their progress. We also care about fuelling economic growth by providing small and large businesses with incredible talent. We see it as our responsibility to develop the communities where we serve. For example, this September we are offering aspiring digital marketers, designers and developers the chance to test-drive their careers at our free Hack To School event and we are hosting the largest disruptive education platform at the upcoming Expo for Design, Innovation & Technology September 29th to October 8th, with over $140,000 worth of free classes and full-day "Creative Hacks" to benefit social good.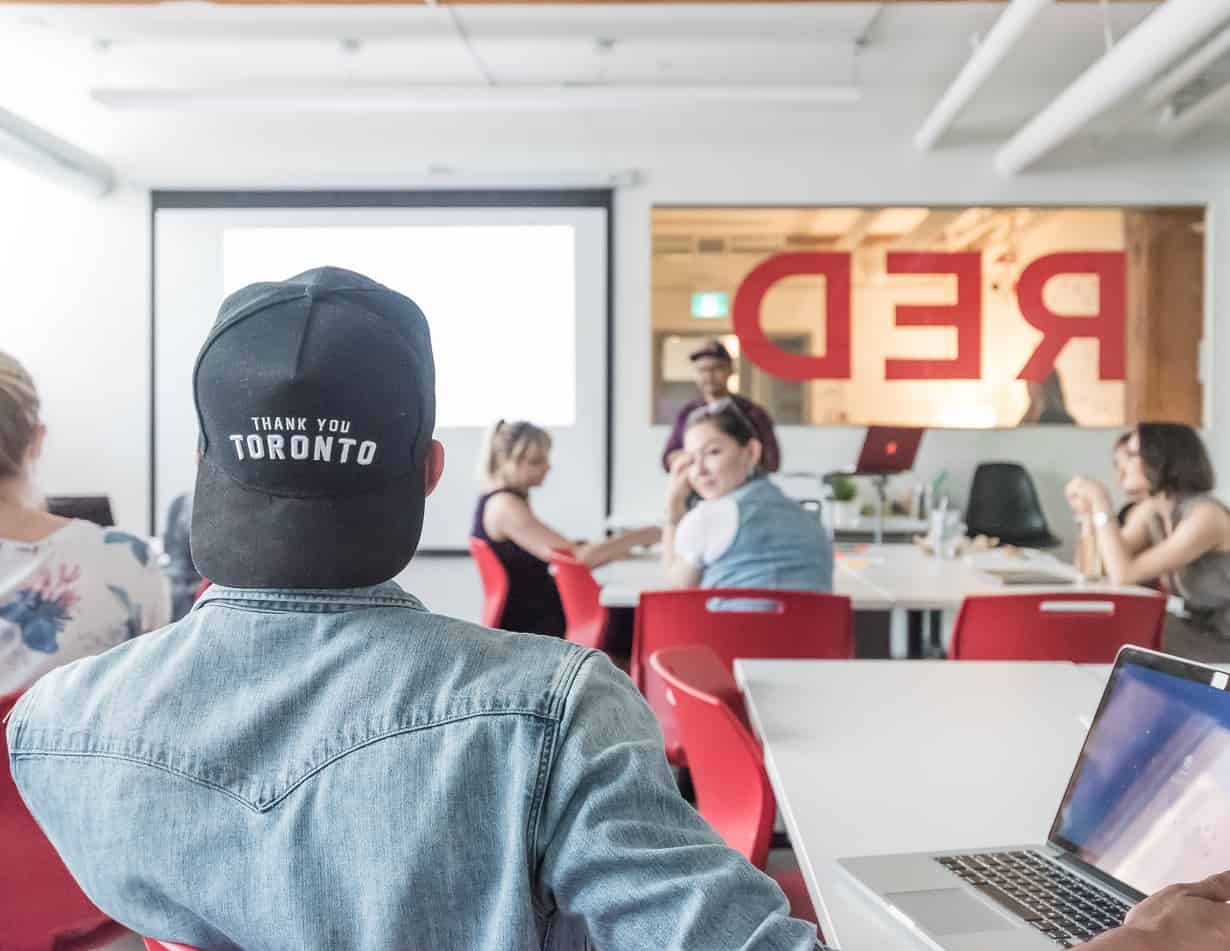 What advice do you have for other young women who are thinking of starting out in this field?
There is never a right time to start a business, buy a home, or have a child. Life is for experimenting and following your passion. So if you have a solid plan and some start-up capital, go for it. And if not, try a side hustle to develop your idea further and strengthen your entrepreneurial muscle.
What do you love about what you do?
I love the people I work with. I am incredibly grateful to be a part of two amazing businesses made of incredible teams. Working with smart and committed experts who share the same values as myself makes everything we do worth it. We're all passionate about making a difference and contributing to local and global communities.
I also love being part of a company that lets people build a new future. It's incredibly rewarding. To see a student flourish in a new career because of one conversation we had back in 2015 is beyond gratifying. Learning about people, their expertise, and how they need to be supported to fully realize their potential makes me get out of bed every day.
And like most entrepreneurs, I love a good challenge! No matter what industry, job, or country, everyone is looking for new ways to innovate and stay relevant. I'm no exception. With Creative Niche and RED Academy, every day we try to be better than the last. It's a true passion. Let's just say I never get bored!