This month, Shannon Lohr is launching Market45, an e-commerce platform, where sustainable-focused designers can sell their amazing goods.
In 2011, Lohr launched a sustainable fashion brand that became the highest-funded fashion project on Kickstarter at the time. She was committed to using sustainable materials, "but it was extremely difficult to get in the door with suppliers and manufacturers," she says.
"I wanted to make it easier for other start-ups to launch their companies sustainably and ethically, so I created an online accelerator for sustainable fashion brands. Factory45 is a six-month program that takes fashion entrepreneurs from the idea stage to launching their companies." Market45 is an extenuation of that project, providing designers with a space to sell their sustainable products.
We asked Lohr about the idea behind her project, and where she sees it heading.
SDTC: Where did the inspiration to launch Market45 come from?
SL: For over four years, I've worked with designers and entrepreneurs to launch fashion brands that are sustainably and ethically made.
I've had the unique perspective of seeing these brands build their supply chains, think carefully about their business models, and bring value to shoppers who are looking for better options.
But, like any serial entrepreneur, I knew there was still so much more to do. I envisioned a platform where I could sell the products that have launched through the Factory45 program.
I wanted to create a marketplace that would make it easier to shop sustainable and ethical fashion, all in one place. And that's what eventually became Market45.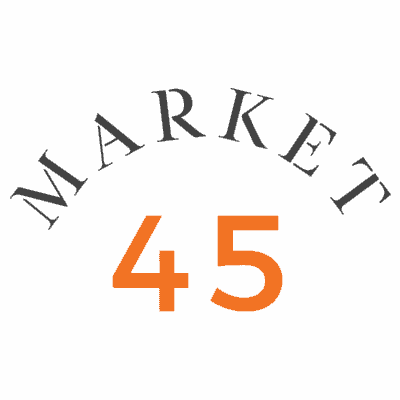 What does "sustainable" mean in this context?
In this context, sustainability refers to fabrics, materials and manufacturing processes that are less harmful to the environment than what the traditional fashion industry uses.
It's important to note that there's no such thing as "perfectly sustainable"; if you're making something new, then it has an impact. But in the case of the brands selling on Market45, they're making efforts to create the most environmentally friendly supply chains they can.
How will you select designers and ensure they're producing sustainable fashion?
Every brand selling on Market45 has launched through my sustainable fashion accelerator program, Factory45. Over the years, I've personally worked with these brands to set up their supply chains and go-to-market.
Why is it vital for consumers to start seeking out more sustainably produced items?
Fashion is one of the most polluting industries on the planet and accounts for countless humanitarian issues, including modern-day slavery and child labour.
We've all heard the adage: "You vote with your dollars." This is especially true for the clothing you buy. When you support independent brands that value ethics and sustainability, you are not only making a direct impact on a small-business owner, but you're also casting a vote for the future of the fashion industry.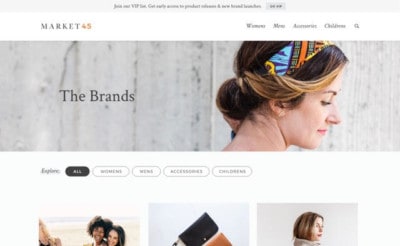 What do you most love about Market45?
I love that there's a place for people to shop sustainable and ethical fashion, all in one place. I also love that I can continue the relationship I've had with the entrepreneurs who have launched through Factory45. This is just one more way I can help them grow past the launch phase.
What have you learned about yourself in launching this new biz venture?
I've learned that I love marketing even more than I thought I did. I live for the "pre-launch phase" when you're building anticipation for your audience and getting them excited about what you're about to launch.
Marketing and selling can be seen as such dirty words for most creatives and designers, but they're arguably the most important factors in the success of your business. You have to be able to "embrace the sale," and when you believe in what you're selling, that's really easy to do.
Current fave piece on the site?
Oh man, that's like choosing a favourite child! I wore the Eclipse dress from Vesta Studio all summer, so that has definitely been a favourite.