We at SDTC spend a lot of time on Twitter. We're not proud of it, but we're not not proud either. Twitter is fun! And it's most fun when it's FUNNY. Here are eight of our fave Toronto accounts that reliably bring the lolz.
trapped bug in window, googled "good bee vs bad bee" "are wasps ever good" "how long for wasp to die" "are you bad if you let wasp die"

— Bridget Moser (@stuffiamdoing) August 13, 2014
@stuffiamdoing Bridget Moser is a local performance artist and like… maybe just a full-on genius? Her tweets are perfect and make us laugh very hard.
"WHEN I SAY 'LUNCH IS', Y'ALL SAY 'SERVED'… 'LUNCH!'" "Amanda, please move out. Your father and I are tired." — Amanda Brooke Perrin (@brookeperrin) September 17, 2014
@brookeperrin is a sometimes SDTC contributor/full-time hilarious babe. Her tweets are ridiculous and her RT game is strong too. Dealing mostly in awkward moments, food mistakes, and pop culture musings, the girl's got over 5,000 followers for a reason.
Pretend you don't want chips right now — Pat Thornton (@patthornton) September 14, 2014
@patthornton Normally you have to pay to see Pat make jokes, but you can steal some funny on his Twitter for free! (You should also go see him live, though, he's very good and supporting live art is important, okay?) Pat tends to picks a joke and really run with it on Twitter, involving his followers in fake developing movies #HangBun, a long-running love affair with Mario Lopez, and most recently some kind of friendship mishap involving rogue teen lions in Winnipeg. It's good stuff.
If you haven't renamed at least one person in your phone contacts "Satan" you're really missing out — Naomi Skwarna (@awomanskwarned) September 11, 2014
@awomanskwarned We're calling it: Naomi Skwarna has the best Twitter handle in the city of Toronto. And the tweets are good too! The ref level is high and the shared links are good and it's smart and sarcastic but still joyful and oh man, get on board already.
Has no one ever just been like, Bono, here is a catalogue of all of the advances in sunglass fashion available to you since 1992

— Yung Lean In (@amy_wood) January 13, 2014
@amy_wood You may have seen Amy elsewhere online in her primary role as Queen of the Internet. Her dog is adorable, she loves Drake, she wants to hook smart ladies up with new best friends…  and her SM game is ON. POINT. We love her. 
Have video games become TOO LIFELIKE? pic.twitter.com/Fh1QkP2gJl — Pumpkin Spice Ren (@renbostelaar) September 16, 2014
@renbostelaar One of the masterminds behind @Stats_Canada, the parody account turned successful comedy book with paper and everything, Ren loves butts and jokes and that is his real name. Follow him if you like a gentle mixture of perving and pop culture.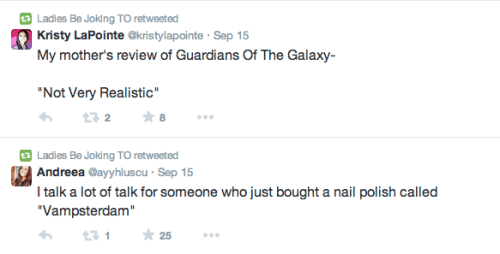 @TOchickscomedy These guys retweet the funniest women in Toronto, a nice mix of comedians, writers, and regular Joannas with great senses of humour. Following them is like following hundreds of funny ladies, and it helps us discover great new people to follow all the time. A win-win!
one of my greatest skills is that I can 100% tell if someone is annoying just by looking at pictures of them. — Jon Emily Bon Jovi (@Estubbs) August 11, 2014
@estubbs A perfect human. If you like your tweets dry, funny, and about eating chips in your bed, this is your gal.
Who makes you laugh on Twitter? Tell us @shedoesthecity!