It's hosting season! The temperature is dropping, and folks are gathering indoors to toast the holidays with 'gram-worthy winter cocktails. We love this one by XOXO Wines, who collaborated with Emily Hall of @threadsandbooms to create a gorgeous-looking winter sangria made with Pinot Grigio + Chardonnay, cranberries, pomegranate, sweet apple, ginger and rosemary. Wintery and oh so pretty. MMMM!
We were delighted to have XOXO Wines support our 10th anniversary bash last month by providing drink offerings. The XOXO Pinot Grigio + Chardonnay and XOXO Rosé were flowing all night long, so TRUST US when we say that your guests will dig this festive sangria.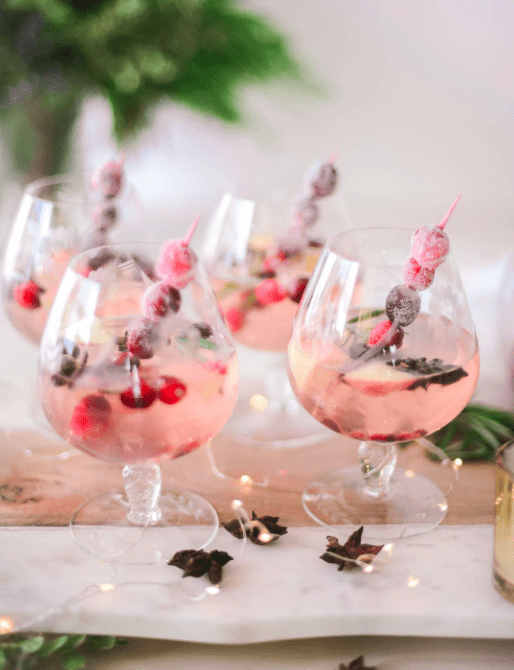 Winter Sangria Recipe
Ingredients:
1 bottle of XOXO Pinot Grigio + Chardonnay
3/4 cup of ginger ale
3/4 cup of white cranberry juice (red would work too; try it for a different look)
1 cup of cranberries (plus 1 more cup for garnish if you wish)
seeds from 1 pomegranate
1 sweet apple (e.g., granny smith) cubed
4 1″ cubes of ginger
3 big sprigs of rosemary
5 star anise pods
To make sangria: Combine all the ingredients into a pitcher and stir. Allow your sangria to sit anywhere from three hours to twelve hours.
Feeling fancy? Try decorating this cocktail with a garnish of rosemary and sugar-frosted cranberries. (Pretty enough to share on IG? Use the hashtag #XOXOwines.)
To make sugar-frosted cranberries: Combine 1/4 cup of white sugar and 1/4 cup of water in a saucepan and allow to simmer. Add in 1 cup of cranberries and stir them continuously to coat them in the sugary syrup. Only allow them to be on the heat for about two minutes. Remove cranberries from the syrup and allow them to dry. Once dry, coat them in a bowl of white sugar. Stick a few cranberries on a toothpick to garnish your drink.
From Christmas Day brunches to NYE shindigs, this delicious cocktail is perfect for any holiday occasion. Mix it, garnish it, serve it, and be crowned best hostess this season. Cheers!