If you've been anywhere on the internet recently, chances are you've stumbled onto the arresting, dazzling images of space taken by NASA'S James Webb Space Telescope. Instead of making me feel small and insignificant, these images made me feel connected, and a part of something big and beautiful.
As someone with often overwhelming anxiety, in an often overwhelming world, I find a lot of peace in the thoughts of something bigger and deeper than myself, and it's one of the reasons I really love astrology.
While astrology doesn't have all the answers we need, and while it definitely isn't an excuse for all of our behaviours (as much as I like to blame my Scorpio rising sign for all my messy, moody behaviour) — it's still fun! It's a great way to connect with others, and sometimes a great tool to better understand yourself, and your relationships.
So keep reading, and (horo)scope out the books I've recommended for your sign. If you're looking for even more book recommendations for your zodiac sign, you can check out my previous list.
If you don't know your "Big 3" (your Sun sign, your Rising/Ascendant sign, and your Moon sign), there are many great free resources where you can find out. My favourites are Cafe Astrology, or Chani Nicholas' birth charts.
Aries (March 21st – April 19th)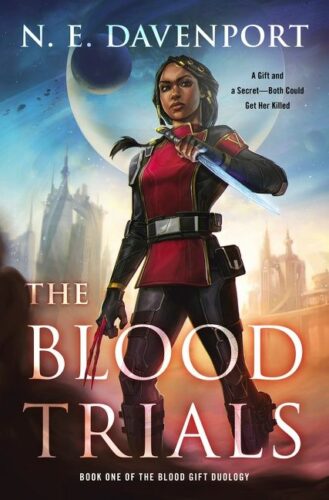 Aries are bold, direct, and not afraid to take up space. These fire signs are brave, fearless, optimistic, and sometimes short-tempered. No strangers to competition, they know exactly what they want (and when they want it) – and they love to be number one.
For Aries, I recommend Nia/N.E. Davenport's The Blood Trials, a brutal, and brilliant fantasy debut, that's kind of like The Hunger Games, but for adults.
The Blood Trials is a fast-paced and epic fantasy, where a young woman, Ikenna, must survive deadly trials in a racist and misogynistic society in order to become an elite warrior. She must get revenge on the ones who killed her grandfather, who secretly trained her in martial skills and in harnessing the blood gift that coursed through her — which could get her killed. Determined to get to the truth of his assassination, Ikenna pledges herself to the Praetorian Trials, a brutal initiation that only a quarter of the aspirants survive. Every day she's subjected to misogyny, racism, and classism, all while hiding a power, that if found out, would subject her to execution… or worse. Bold, brutal, fierce, and fantastic, Aries will adore (and maybe connect with?) this incredible story full of themes of loyalty, love, duty, revenge, and grief, and what it takes to prove yourself to those determined to count you out.
Taurus (April 20th – May 20th)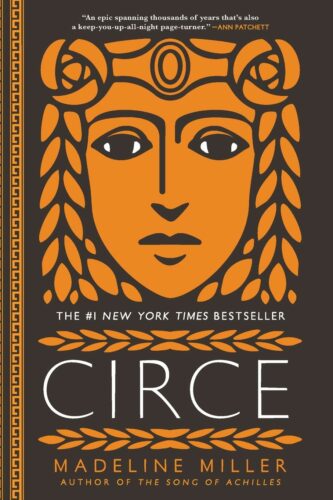 Taurus is one of the most grounded of the earth signs. Hardworking, practical, demanding, steadfast, and loyal as hell. However, they can also be a bit self-indulgent — enjoying luxury, sensuality, serenity, relaxation, and the "finer things" in life.
For Taurus, I recommend Madeline Miller's Circe, one of my favourite books I've read this year.
Circe, a lesser goddess, was born to Helios, the god of the sun, and the mightiest of the Titans. Circe has always been strange — not powerful like her father, or alluring like her mother, as she turns towards the world of mortals to find companionship, she discovers that she does in fact possess power… The power of witchcraft, which can transform rivals into monsters, and menace the gods themselves. Threatened, Zeus banishes her to a deserted island, where she hones her magic, tames wild beasts, tends to her gardens, and crosses paths with many of the most famous figures in history, from the Minotaur, to Odysseus. Over the course of generations and generations, Miller weaves a vivid, and expansive story of a figure who we previously only see as a footnote in the stories of men, giving her agency and depth, as well as a really compelling narrative full of beautiful imagery, fascinating characters, and the Greek myths we know and love. Any Taurus will love the lush and vivid descriptions of the oft slow, bucolic lives of the gods, while also appreciating the steadfastness and love found in our intrepid heroine… Plus, the minotaur cameo will help!
Gemini (May 21st – June 21st)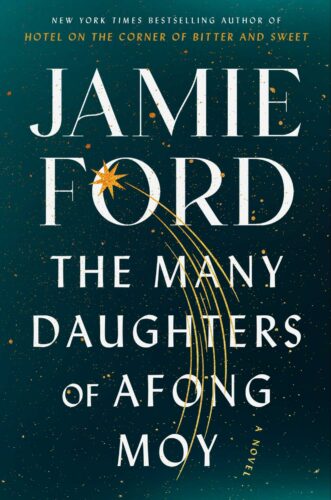 Geminis are quick-witted, bubbly socialites. These air signs are chatty, intellectual, analytical, and easy to get along with. They can be a bit gossipy, and indecisive, but are also curious, spontaneous, and incredibly enthusiastic.
For Geminis, I recommend The Many Daughters of Afong Moy by Jamie Ford — a dazzling new novel that's one of my most anticipated releases this summer.
This book follows Dorothy Moy, Washington's former poet laureate, who has spent much of her career channeling her mental health struggles and dissociative episodes into her art. When her young daughter starts to exhibit similar behaviours, remembering things from their ancestors' lives, Dorothy believes the past has come to haunt her. Terrified that her daughter is destined to endure the same debilitating depression that shaped her life, Dorothy seeks radical help through an experimental treatment designed to mitigate inherited trauma. During this experience, Dorothy intimately connects with past generations of women in her family, and discovers trauma isn't the only thing she inherited. In each time period, a stranger has been searching for her… someone who's loved her through every iteration of Moy women. Determined to break the cycle of pain and abandonment, find peace for her daughter, and find the love that awaits her, Dorothy may have to pay the ultimate price.
Perhaps a novel about multiple lives and their interconnectedness is a bit on the nose for Geminis, known for their duality, but their curiosity will be sparked by this novel's unique and compelling premise.
Cancer (June 22nd – July 22nd)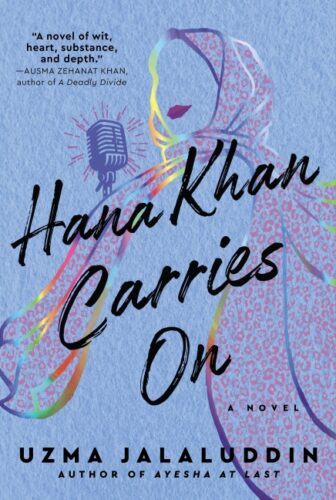 Cancers are nurturing and deeply caring water signs, with a strong sense of family. Highly emotional, and prone to moodiness, they can be known for becoming a bit too stuck in their comfortable routines. As warm as they are, they can also be "hard-shelled" to protect themselves and their emotions.
For Cancers, I recommend Hana Khan Carries On, by Uzma Jalaluddin, one of my favourite rom coms, by an author who just continues to deliver great romance.
Hana Khan is a radio station intern and podcaster, a part-time employee at her mother's halal restaurant, and a Muslim Canadian, living in Toronto's Golden Crescent neighbourhood. The family restaurant is on its last legs, but it really starts to unravel when a new, upscale halal restaurant moves into the neighbourhood, threatening their business and livelihood. Despite her best efforts, Hana starts to develop feelings for the handsome (and irritating!) owner of her rival restaurant. However, when a hate crime shakes their close-knit neighbourhood, Hana has to use her voice to take ownership of her own future. While often lighthearted and sweet, this book was unafraid to dig into themes of Islamophobia, independence, and the ways that marginalized people often have to compromise their values to gain "a seat at the table." Funny, lovingly written, and emotionally poignant, this book is described as a modern-day "You've Got Mail— so lovers of romance and rom coms will love this charming coming-of-age story. This book is beautiful, emotional, and filled with a strong sense of family, just like Cancers.
Leo (July 23rd – August 22nd)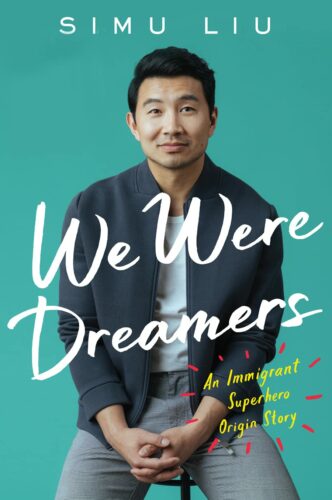 Leos are infamously confident, dramatic, fiery, and charming. These fire signs love to entertain, and love to be the center of attention. A bit impulsive, and a bit vain, they are also loyal, and generous, and love to spread joy and charm.
For Leo, I recommend Simu Liu's We Were Dreamers: An Immigrant Superhero Origin Story, a compelling and (super) powerful memoir.
Simu Liu exudes Leo energy — charming, dramatic, and confident, while also a bit vain — Liu is a consummate entertainer. His memoir took me by surprise — he's a great writer, and I had a hard time putting this book down. We Were Dreamers explores Liu's and his family's experiences in great and unflinching detail. Unafraid to explore some of the difficult parts of his relationship with his parents, and some of the difficulties they experienced as new immigrants, this book is surprisingly emotional and poignant, while also being funny and sweet. It's a delightful read for any Leo.
Virgo (August 23rd – September 22nd)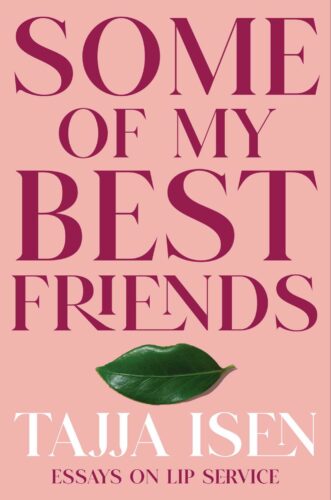 Virgos are logical, practical, perfectionist Earth signs. Meticulous, and single-minded, they can seem a bit judgmental, but this is usually on their quest to help others, and try to fix or improve a situation, even if they're not always able to. Virgos are usually good at everything, but can be hyper-critical of themselves.
For Virgos, I recommend Some of My Best Friends, by Tajja Isen, one of my favourite essay collections of all time.
This essay collection is whip-smart, analytical, sharp, and well-researched. Her writing style is compelling, and incisive, and takes you on a journey that causes you to reflect and challenge your own perspectives. Her essays are wide-ranging, relatable, and quite memorable —I devoured essay after essay. They cover topics including the ways that people of colour so often cater to white folks in the art and literature they create; The personal essay "industrial complex"; White feminism; and Isen's own experiences, in law school, and as a voice actor. Grounded in reality, meticulously researched, and laugh-out-loud funny, I adored Some of My Best Friends. This book was smart, relatable, and unputdownable, perfect for logical and perfectionist Virgos.
Libra (September 23rd – October 22nd)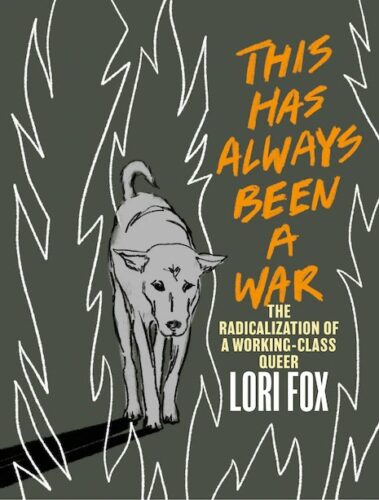 Libras are idealistic and imaginative Air signs, obsessed with balance. Ever the diplomats, they are happy to go along with others, and it's only partially because they have a hard time making a decision. They can be a bit indecisive, and at times, self-pitying, but they are also fair, and great at keeping the peace.
For Libras, I recommend This Has Always Been a War, by Lori Fox — a bold, thoughtful, and unflinching book about class and capitalism, poverty, and the housing crisis.
Part memoir, part essay collection, this is a searing indictment of capitalism and the ways it benefits the cis, straight, white patriarchy. Told as a series of essays, Fox also weaves in their personal experiences and stories to show the real harm that capitalism and the systems it upholds can cause, as well as the very present, very real dangers faced by those living in poverty. The essays cover a range of topics, tied together by the overarching threads of anticapitalism, exploring themes from feminist dystopian fiction, to the lack of affordable and accessible housing, to intimate partner abuse, to gender, to the revelations found in The Jungle Book. This book was smart, bold, and unforgettable. At times crass, and at times profound — I had a hard time putting it down.
Justice-minded Libras will enjoy the honest, sharp, and incisive critiques, while also appreciating the humanity and intimacy Fox brings to their writing.
Scorpio (October 23rd – November 21st)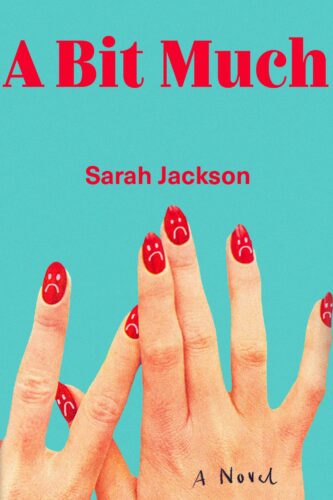 Scorpios are elusive and mysterious water signs that use emotional energy as fuel. Passionate and intense, they are unafraid of deep conversations, or the darker sides of life. They're very in touch with their emotions — at times a bit moody and obsessive — but they're loyal, and full of layers.
For Scorpios, I recommend A Bit Much by Sarah Jackson, an intimate debut about friendship, love, and loss.
It's a darkly funny, tender, and emotionally resonant book about the complexity of friendship, insecurity, and the embarrassing and beautiful nature of loving someone. A Bit Much follows Alice, who is 24, and falling apart: She's lost her job, her appetite, and her ability to sleep, and is also deeply worried she's going to lose her best friend Mia, who is currently being treated for a serious illness. When Alice meets her neighbour James, and sparks start to fly, it couldn't have come at a worse time, as Alice is focused on Mia, and is wary of getting close to someone new, due to her lackluster dating history. She struggles to move forward with James, because she knows that Mia can't. Perfect for moody and emotional Scorpios, A Bit Much is intimate, strange, and a perfect balance of heavy topics, and sharp humour, by a new voice in CanLit.
Sagittarius (November 22nd – December 21st)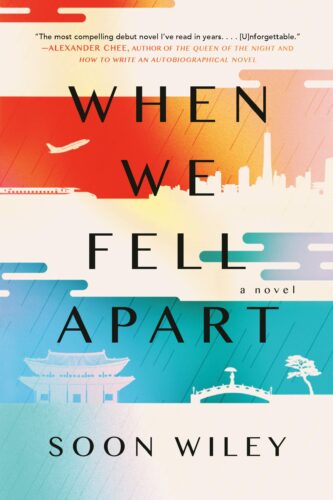 Sagittarians are spontaneous and optimistic Fire signs, with a thirst for adventure. They are great conversationalists, and are usually the friendliest person at the party. They can be a bit sarcastic, and prone to tell the truth – even at the expense of others. Enthusiastic and excitable, they are constantly seeking new adventures, self-improvement, and independence.
For Sagittarius, I recommend Soon Wiley's When We Fell Apart, a melancholic drama about seeking truth, and the ways we move through this world — together, yet still alone.
When We Fell Apart is told in dual narratives – one is set in the present-day, following Min, a half-Korean, half-white American who never quite fit in in the States, and decides to move to Seoul. When the police inform him that his girlfriend has died, presumably by suicide, he refuses to believe this to be true, and we're brought along on his quest for answers, as he tries to navigate his grief. The second perspective follows his girlfriend Yu-Jin, following her life trajectory from the past to her death. We get to know her, her loves, her passions, and her secrets — and as Min starts to learn more and more about her, and the plot *thickens*, he begins to wonder if he ever really knew her at all? Poignant and thoughtful, this book packs an emotional punch, full of beautiful prose, and a compelling story that keeps you guessing.
Sagittarians will find themselves connecting with this book's themes of yearning and seeking to understand greater truths, about ourselves and the ones around us.
Capricorn (December 22nd – January 19th)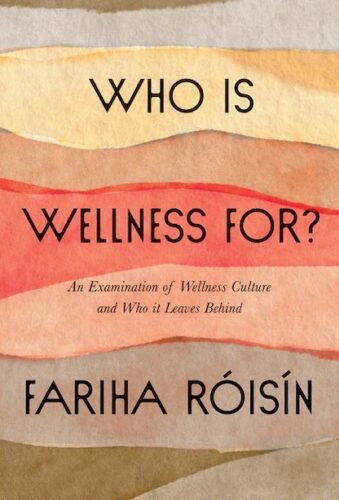 Capricorns are hardworking, determined, and ambitious Earth signs. Known to repress their emotions, they don't care how long it takes to get to the top, because they're going to get there. Resilient, mature, and resourceful, they can come across as cold, but they're also patient, and visionary — great leaders and trailblazers.
For Capricorns, I recommend fellow Capricorn Fariha Róisín's Who Is Wellness For?, a smart and searing exploration of the Wellness Industrial Complex.
Róisín's latest work explores the commodification, appropriation, and gentrification of wellness culture, through a social justice lens. Thought-provoking, inquisitive, and thoroughly researched, I find myself savouring this book, reading with my highlighter uncapped, because every other paragraph contains something new to learn, or something I want to discuss with my friends. Part biography, detailing Fariha's experiences as a South Asian Muslim, personal anecdotes are woven together seamlessly with meticulous research into the ways wellness culture has become a luxury good, and how it was built on the wisdom of Black people, Indigenous people, and people of colour, while also often ignoring and excluding them. Split into four sections, exploring "The Mind", "The Body", "Self-Care" and "Justice" — this book is a REVELATION.
Capricorns will love Róisín's smart and resourceful writing, but I hope they'll also enjoy her encouraging our own self-care journeys, really hitting home that self-care and wellness are for everyone – regardless of race, identity, ability, or socioeconomic status.
Aquarius (January 20th – February 18th)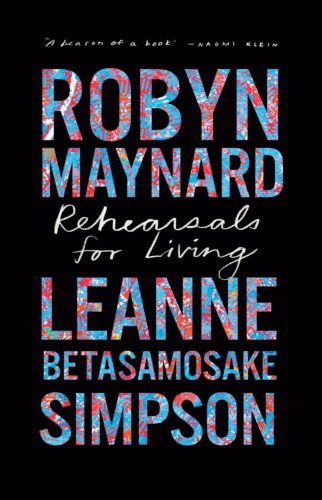 Aquarians are innovative and quirky air signs, known for their humanitarianism. Intellectual, and eccentric, they are known to be a bit aloof, and removed from the rest of us – but their idealism, forward-thinking, and revolutionary ways can be contagious.
For Aquarius, I recommend Rehearsals for Living by Robyn Maynard and Leanne Betasamosake Simpson, a thoughtful, and profound correspondence between two incredible writers and thinkers.
Rehearsals for Living is smart, beautiful, and incredibly creative. Beginning in the early days of the pandemic, this book is a collection of letters sent back and forth between two leading Black and Indigenous feminist theorists. These letters are part debate, part dialogue, and part conversation between two smart, thoughtful people, processing their own thoughts during overlapping and overwhelming crises. They explore capitalism, the pandemic, the environment, colonialism, and racism. These letters ask questions about liberation — framing them within the real lived realities, histories, and futures of Black people, Indigenous people, and other marginalized people in Canada, and around the world. These letters read like love letters between friends, and to futures imagined and reimagined through a lens of social justice, abolition, and revolution. Smart, hopeful, beautiful, and brilliant — this is an exquisite read, that I've been enjoying taking my time with.
Aquarians will be inspired and motivated by Betasamosake Simpson and Maynard's idealism. This book will stimulate their intellectual curiosities, and ignite a revolutionary spark.
Pisces (February 19th – March 20th)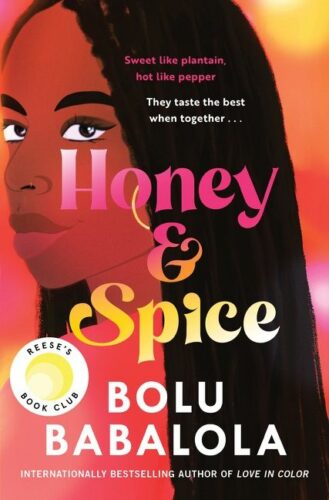 Pisces are creative and imaginative Water signs, prone to escapism and daydreaming. Romantics to their core, they are sensitive and empathetic, and sometimes overly sensitive. They give a lot of themselves, sometimes too much, and need to get better at setting boundaries.
For Pisces' I recommend Honey & Spice, by Bolu Babalola, one of my most anticipated romantic comedies of the year.
Sharp-tongued, and secretly soft-hearted, Kiki is the host of the popular student radio show, Brown Sugar, and has made it her mission to make sure the women of the African-Caribbean Society at her university do NOT fall into the mess of players, "situationships", and their resulting heartbreak. But when she kisses Malakai, the guy she just declared the "Wastemen of Whitewell" — she finds her show, and her position as "Queen of the Unbothered" tenuous. Soon, they've begun a fake relationship, to try to save their reputations and their futures. Kiki has never given her heart to anyone before, but as sparks fly between them, she has to look inward, and see if she's really ready for love. Funny, romantic, sweet, and spicy, Pisces will love this delicious rom com, and perhaps use it as a learning opportunity to set some boundaries, and avoid their own "situationship" entanglements… or perhaps not. Either way, I think this will be a hit!
–
Ameema Saeed (@ameemabackwards) is a storyteller, a Capricorn, an avid bookworm, and a curator of very specific playlists, customized book recommendations, and cool earrings. She's the cohost of the podcast High Low Brow, and the Books Editor for She Does the City. She enjoys bad puns, good food, dancing, and talking about feelings. She writes about books, unruly bodies, and her lived experiences, and hopes to write your next favourite book one day. When she's not reading books, she likes to talk about books (especially diverse books, and books by diverse authors) on her bookstagram: @ReadWithMeemz