Attention book lovers: this is a must-do literary event! On Tuesday, October 24, bestselling author Celeste Ng (Little Fires Everywhere) will sit down with Lainey Liu, co-host of The Social and founder of Lainey Gossip, to discuss her brilliant new novel Our Missing Hearts. It's a book that's receiving high praise, with critics calling it "literary perfection". Wow—it doesn't get any better than that.
Our Missing Hearts tells the story of Bird Gardner, a 12-year old boy growing up in an America where the authorities are relocating children of dissidents, especially those of Asian origin, under laws meant to preserve "American culture." When Bird receives a mysterious letter containing only a cryptic drawing, he is pulled into an unforgettable quest to find his mother, a Chinese American poet who left the family when he was nine years old. A dazzling story about the power of art to create change, and an instant classic of dystopian literature, earning comparisons to The Handmaid's Tale, this deeply suspenseful, heartrending novel confirms Ng's place as one of our most important and influential writers.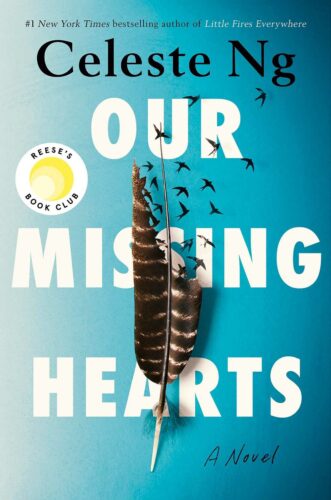 This event is part of the Hot Docs Author Talks series, a popular programme within their beloved Curious Minds Festival. Other authors participating this year include Matthew Perry, Amber Tamblyn, Jody Wilson-Raybould and other incredible authors. Curious Minds also boasts a stellar lineup of online and in-cinema courses—find a subject that interests you.
CONTEST!
As huge fans of both Ng and Liu, we partnered with Hot Docs to offer you a chance to win a pair of tickets to the event, and also a copy of Our Missing Hearts.
Enter for a chance to win!
On Twitter:
Tweet: "Yes please, @Shedoesthecity! I would love to attend the Celeste Ng Author Talk at @HotDocs and win a copy of Our Missing Hearts! #CuriousMinds"
On Facebook:
LIKE + Comment on our Celeste Ng Author Talk post
On Instagram:
LIKE our Celeste Ng Author Talk post + tag a friend with a curious mind.
Winner will be selected Monday, Oct 24 at 9AM. If you don't want to chance it, head to the Hot Docs site now to secure your spot. This talk will surely be a memorable one, and we cannot wait to dive into Ng's novel. Head to the Penguin Random House Canada site to read an excerpt.
The Celeste Ng Hot Docs Author Talk is presented in partnership with Penguin Random House Canada and Toronto Reel Asian International Film Festival. Copies of Our Missing Hearts will be available to purchase at the event via Flying Books.