The pandemic has taken much from society, but it won't take TIFF. The Toronto International Film Festival may look different this year, but it's still on a mission to "transform how people see the world through film." However, you may be wondering—how, exactly, do we do TIFF in 2020? We've got you covered. Here's everything you need to know!
There Will Be Fifty Films In Competition
Pre-pandemic, the TIFF lineup featured hundreds of films. I used to see movies like it was my job (because, as a film critic, it literally was). And still, even I couldn't see a quarter of the movies TIFF had to offer. This year's festival has far fewer offerings. In fact, only fifty films will be in competition; however, from Regina King's directorial debut to a queer romance starring Kate Winslet, this smaller lineup promises to be stellar.
Social Distancing Measures Will Be In Place
Pre-pandemic, TIFF was the opposite of social distancing. Case In Point: I have regular nightmares about being sneezed on by film bros while waiting in line to screen the latest Jason Reitman movie. However, the post-COVID TIFF experience will feel a lot less claustrophobic, Instead of The Princess of Wales Theatre or Roy Thomson Hall, there will be open-air and drive-in cinemas. Other venues will be entirely virtual, because the future is now! TIFF 2020 makes it easy to maintain your personal space.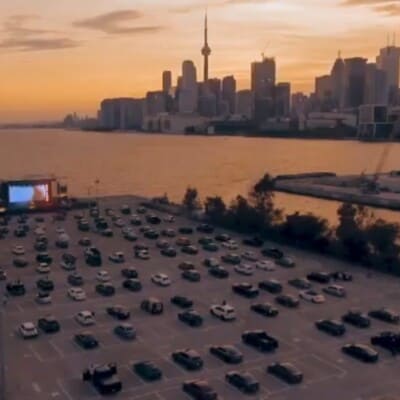 Ticket Prices Are a Little Different This Year
Tickets to TIFF 2020 will set you back anywhere from $19 to $69. But the pricing gets a little complicated where drive-in screenings are concerned. A car of 1-2 people will be charged $49 for entry. However, a group of 3 or more will be charged $69. So, why not take your whole bubble? There's nothing stopping you from filling an entire minivan!
Tickets Go On Sale September 5th
Tickets go on sale to the general public on September 5th at 10 am. When it comes to TIFF, the early bird gets the worm. In this case, the worm is a metaphor for the premiere of Halle Berry's new movie. Make sure you buy tickets the second they go live, or risk being disappointed. You can check out the festival program here: Tickets can be purchased online.
The Festival is More Accessible Than Ever
Moving events to online means that capacity isn't limited to theatre seats. Listen to Ava DuVernay, Saoirse Ronan, or Halle Berry talk about their careers while lounging in your pyjamas on the couch. TIFF has even made certain programming FREE to all, including a live conversation about climate activism between Naomi Klein and Anishinaabe water activist Autumn Peltier, who's featured in the documentary The Water Walker.