If you had told me a month ago that this guy could have lilac gray mermaid locks (without destroying the near-black, brittle hair I inherited from my pops) I would have called you a filthy liar and forgotten your phone number.
I've always envied girls with platinum tresses who could live out their magic pony fantasies in the summers, rocking one sassy hue after the next before it was ever a thing. Like, why wouldn't you want pink or blue hair? It's insta-happiness in a bottle! Pulling outfits becomes extra fun and catching a glimpse of your reflection puts a smile on your face every time.
It took 29 years, but my dream has finally come true with the help of a brand new product system called Olaplex—and a hair wizard by the name of Tim, a Redken Certified Colourist and owner of Loft Hair Lounge.
I had come across Olaplex on a beauty blog and immediately googled Toronto salons that use it (there aren't many). Loft Hair Lounge was the first hit and I immediately made an appointment.
A part of me expected to be turned away, as I had been time and time again. Colourists would graze my over-processed hair with their fingertips and bits of hair would crisp off. "It can't be done," they'd intone, scowling.
To my surprise, Tim agreed to take on my mane after a strand test.
Thanks to Olaplex, damage via bleach, and even certain types of hair damage (accursed split ends) are a thing of the past (like, for real).
You see, other products and treatments work at a surface level. They coat the hair follicle and make it appear shinier and healthier…but only until you rinse and repeat. Olaplex works by reconnecting bonds in the hair that were broken during thermal, mechanical and chemical processes. It can be used during the lightening process (protecting hair while colour lifts) or as a stand-alone treatment. Or both! That's what Tim did with me.
Tim began by applying Redken Chromatics to my roots to make the eventual regrowth blend in. Next, he coated by ends in Redken blonde icing ammonia-free conditioning lightener. Buh bye, brassiness! The rest of the hair shaft (har har) was coloured with Elumen royal blue and light purple. Elumen lasts wayyyy longer than regular hair dye and comes in a plethora of colours that can be combined to achieve rich, unique hair colours that last a good three months (which is unheard of in the sphere of technicolour hair).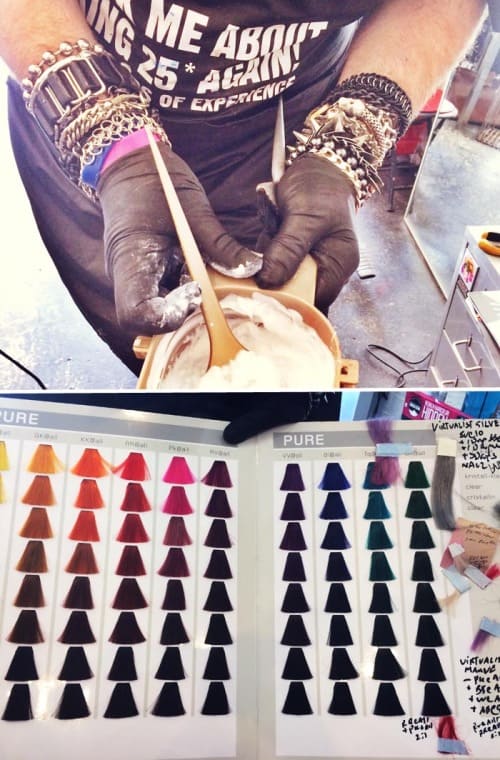 Once the tones were just right, Tim used a combination of bleach and Olaplex to get to my desired lightness and then treated my hair with Olaplex a second time.
Despite these MANY steps, I had a wonderful first experience at Loft Hair Lounge and will definitely be going back for more! From the raw, stripped down no-fuss vibe of the salon to Tim's palpable passion for his craft (and the rack of kimonos for customers to wear during the services), it's kind of a game-changer.
I don't think it's an understatement to say that Olaplex has changed my life for the better. It's now been over two weeks and my hair still looks amazing. Defying all logic, it's the healthiest and softest it's been in the last ten years (seriously).
I've also learned that colourful hair can be quite polarizing. I find it very sweet when strangers stop me on the street to pay a compliment, but I much prefer the abundant unsolicited advice from elderly folk who go out of their way to tell me to dye it back to a natural colour, and show genuine concern for my future – how will I ever find a husband with such unnatural hair? Little do they know, but this rainbow-coloured hussy is already spoken for.
Wanna see more rad transformations? Check out Loft Hair Lounge on Facebook and Instagram!
Loft Hair Lounge is located at 620 Richmond Street, just East of Bathurst.