TIFF has announced another wave of films that will premiere at the 2023 festival, which is now less than one month away! We are delighted to see several women filmmakers and stars we admire among the titles announced today.
I Am Sirat, premiering as part of TIFF's documentary programme, is a collaboration between Sirat Taneja and filmmaker Deepa Mehta. Shot entirely on smartphones, the film explores the duality of everyday life for Sirat, a transgender woman living in New Delhi.
Caught between duty and self-determination, Sirat lives with her widowed mother, fulfilling responsibilities in the tradition of an Indian male. But for herself, her friends and co-workers, she identifies as Sirat, the woman she has always known herself to be. Mehta documents Sirat's everyday life at work, home and with friends, as she longs for acceptance from her mother and embarks on a quest to reclaim herself.
"'I am Sirat' is my life and my hope. I don't want to live a dual life anymore and want people to know my story but most importantly I want my mother to understand and accept me from within her heart," said Sirat.
Another TIFF premiere we are eagerly awaiting is Molly McGlynn's Fitting In. The sophomore feature from the Canadian director stars Maddie Ziegler as a teen who must confront her new reality when diagnosed with a rare reproductive abnormality. The film premiered at SXSW this spring, and is loosely based on McGlynn's journey with MRKH, a rare reproductive condition.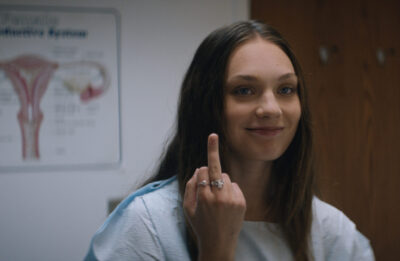 "In any of the work that I do, my main goal is for people to feel less alone in experiences that can feel like a small, empty room," said McGlynn, when we last spoke to her in May. McGlynn excels at confronting difficult issues such as death, substance abuse and grief with a daring and refreshing perspective, and we can't wait to see her take on the often misunderstood issue of women's reproductive health. Fitting In will premiere in the Centrepiece programme, which features contemporary films from 45 countries around the world.
Here are more TIFF titles announced today that we're keeping on our radar:
Chuck Chuck Baby | dir. Janis Pugh
A film of love, loss, music, and female friendship, set in and around the falling feathers of a chicken processing plant in industrial north Wales.
Quiz Lady | dir. Jessica Yu
Starring Awkwafina and Sandra Oh, two very different sisters are forced to pay off their mother's gambling debts by concocting a scheme to go on a quiz show.
Thank You for Coming | dir. Karan Boolani
At 32, Kanika Kapoor has never had an orgasm… until last night. Now she needs to find out who got her there.
Irena's Vow | dir. Louise Archambault
In occupied Poland, a former nurse (Sophie Nélisse) risks her own life to shelter a dozen Jewish men and women from the Nazi war machine.
The Toronto International Film Festival runs from September 7-17. For more info on the films at this year's festival, visit their website.