Self-taught multidisciplinary artist Apanaki Temitayo Minerve is one of the many artists participating in the Workman Arts' 20th anniversary
Being Scene
exhibit. Not only are we
huge fans of her art
, but we admire how Apanaki uses her voice and artistic talents to advocate for mental health, and specifically Black mental health.
For this year's
Being Scene exhibit
curator Jacqueline Kok asked a group of artists to think through the different ways in which we respond, or have trouble responding, to the many deep-rooted scars that have resurfaced as a result of the pandemic, as well as the fluctuating meanings of normality. The result is a compelling virtual show that shows the myriad of ways that artists respond to trauma, and inspires a ton of ideas and conversation about mental health.
Apanaki has always used art as a way to respond and heal from trauma, but she challenged herself to try a new medium for this year's Being Scene exhibit. Using embroidery, she created "Numb", an exquisite and striking 36-inch round panel. The title encapsulates the feeling experienced from witnessing the performative work of capitalist organizations and the society-at-large in social media campaigns and public advertisements, while the embroidery symbolizes survivalism despite the injustice of anti-black and systemic racism in the time of COVID.
We connected with Apanaki to find out how the pandemic has impacted her creativity, and what is currently driving her artistic practice.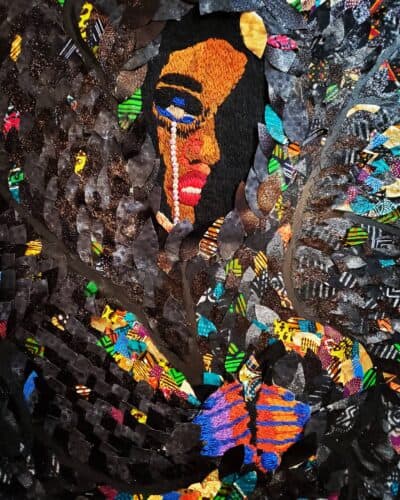 A close-up photo of the embroidery work in Apanaki Minerve's 'Numb' for Being Scene 2021
What did the show's theme 'To Speak Without Speaking' make you want to explore?
I wanted to explore what most Black, Indigenous and Brown people feel regarding the disassociation of dealing with anti-black racism and violence against our bodies in the height of COVID. The devastation of losing loved ones to this virus was the equalizer, in regards to humanity's losses though it still couldn't humanize the grief, loss, tears and misery that was being felt by Black, Indigenous and Brown people, even as they lost loved ones to COVID.
Our racialized bodies were challenged by the affects of the pandemic as well as the overwhelming feelings of anger, resentment and rage due to white supremacy.
How has the pandemic impacted your creativity?
I felt unable to connect with my creativity for months but got some solace in helping my community by facilitating workshops on mental wellness and the arts. The impact of my workshops not only help the participants but also helped my mental health.
How does art support your mental health?
The beginning of my artist journey started with using art to channel my trauma. I believe my art is an extension of my own therapy. I use the canvas and the African textiles as the medium to work out my depression, sometimes the tactile nature of my art practice becomes meditative and helps elevate my mood.
What's a lesson or philosophy that is currently guiding your artistic practice?
I would say the lesson guiding my art practice is to be fearless. As a self-taught artist, I struggle with imposter syndrome and feel everything I create a piece of artwork that is just the universe reinforcing that I am an artist. With every canvas, I try to push my creativity and textile art practice, I want to see how far I can stretch the reaches of fabric art.
The Being Scene virtual exhibit is running until March 28th. Jump in and explore now.