The new Netflix documentary series Harry & Meghan begins with Prince Harry recording a vulnerable video diary from Heathrow airport. It's March 2020, and the Duke and Duchess of Sussex have just announced that they will be stepping back from royal duties. Looking straight into the camera, Harry asks, "How did we end up here?" Tender, vulnerable, and seemingly unrehearsed—it's a side of the royal family rarely seen. It's refreshing and immediately sets the tone for what's ahead.
The doc then moves to Vancouver Island, where Meghan is in her bathroom, wearing just a robe and towel on her head. Appearing opposite to how we normally see her (perfect blow-out, flawless makeup). She stares into her phone and with a defeated gaze and trembling voice she says, "I just want to get to the other side of this," before bursting into tears.
Haters will be quick to judge Harry and Meghan as manipulative, attention-seeking, and greedy—and perhaps there is some truth in those accusations—but after years of nasty headlines and non-stop persecution, it's understandable why they'd want a platform to share their story, in their own words. Or as Meghan says, "For the past six years of my life, books have been written about our story from people that I don't know. Doesn't it make more sense to hear our story from us?"
Raw video diaries are cut against archival footage as well as formal interviews conducted in August 2022, weeks before Queen Elizabeth's passing. Edited together with forlorn piano music, Harry & Meghan uses all the cinematic techniques to pull at heartstrings, and it succeeds magnificently. Unlike the frantic pace of digital news, the nature of the medium allows audiences to sink in and digest their story at a slower pace, Anyone with a bit of empathy will find themselves deeply moved.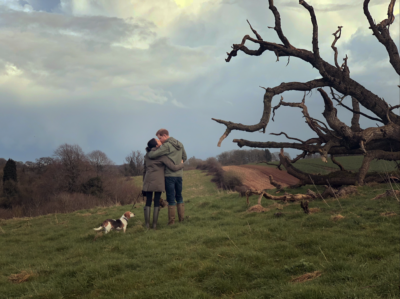 "My mom made most of her decisions from her heart and I am my mother's son," says Harry, explaining his fierce desire to protect his family, describing how packs of rabid journalists haunted his childhood. "The majority of my memories are of being swarmed by paparazzi. Paparazzi used to harass us to the point where we'd be forced into smiling… That made me feel really uncomfortable from the get go."
Listening to Harry's present-day concerns, and then jumping to old footage of him and William, as young children, being hotly pursued by journalists, raises many questions about consent and a child's right to be protected from nonstop shutters. Seeing the famous clip of Princess Diana confronting photographers, who relentlessly followed the family on a ski trip, hits differently in Harry & Meghan, especially when the camera turns on little Archie, toddling around.
Despite being one of the most privileged people on earth, it's undeniable that Harry's childhood was traumatic. The doc fleshes out how the ongoing experience, of being followed, of being an object of entertainment for the world, coupled with the devastating death of his mom, have shaped the man he has become, fed his fears, and informed Harry's choices.
We see how Meghan was inevitably pulled into his reality when their relationship became public, her daily life suddenly under intense scrutiny while she was living in Toronto and shooting Suits. "I would say to the police, if any other woman in Toronto right now said to you, I have six grown men who are sleeping in their cars around my house and following me everywhere that I go and I feel scared, wouldn't you say it was stalking?" But the Toronto police dismissed her concerns, responding that they couldn't get involved "because of who she was dating". They only stepped in once the stalking escalated to death threats.
There's lots of big ethical questions and ideas to chew on, but also fun and juicy bits, including the details of the couple's love story. Harry first learned of Meghan via Instagram, and was instantly smitten by a picture of her with a puppy dog filter. When a friend texted her saying "Prince Haz" was interested in meeting her, she didn't know who she was referring to.
After years of being ripped apart in tabloids and turned into memes for our amusement and fodder, Harry & Meghan shows the human story, which can never be summed up in a headline. It strips away the pomp and pageantry, the gloss and glam, to show a mom and a dad simply trying to create a stable life for their family. The immediate question becomes: if normalcy is what you want, then why make a documentary series for the entire world to watch? Because there is power in speaking your truth, and sometimes it's the only thing that can set you free.
Before people rush to Twitter to slam them, I hope they take the time to listen.