Restless from routine and in the rush hour of my impulsion, I booked a weekend in Brooklyn. Alone.
I fled to the city onboard a Greyhound bus to feel bewilderment in NYC transit, engulf myself in a book called Heroines by Kate Zambreno and brave the deep sting of a traditional style tattoo. Resolved to travel solo, I forced myself into fear, uncertainty and unfamiliar territory. I left feeling like a nobody in Toronto to be a bigger nobody in Brooklyn; and that's exactly what I did. On Thursday night, I quickly threw together my travel bag with an extra t-shirt, makeup wipes, passport, reading materials, $600 American cash and some Aspirin for the road. This is what happened:
Thursday, May 28th
I knocked myself out on an 11-hour bus ride ($65)
Until I'm 35, when my back posture is tormented with work-related grief and my neck has retired to a permanent status of stiff, I will ride the bus like a sedated warrior princess. Being a bus passenger is like being a disturbed little kid in Lord of The Flies; the English Lit classic about pre-teens surviving (and not surviving) together in very small area for a very long time. Provided mutual respect, good intentions and perseverance through the foulest of stranger's farts, snores and burps, the bus family is tight. I know it's awful for most people, but I don't mind so much. And for the purposes of travelling cheap and impulsively, Greyhound is my go-to for fast-ish transportation. So there I was, reading about mad women (Zelda & Sylvia Plath) in Heroines, feeling like a mad woman waiting in line for the late bus to swerve in the narrow direction of lane three on Thursday night.
Eleven hours later, through the stale boarders of the United States, Buffalo's Dunkin Donuts and the broken toilets of Syracuse; I arrived in New York. A little sleepy, self-consciously stinky, and very much alive.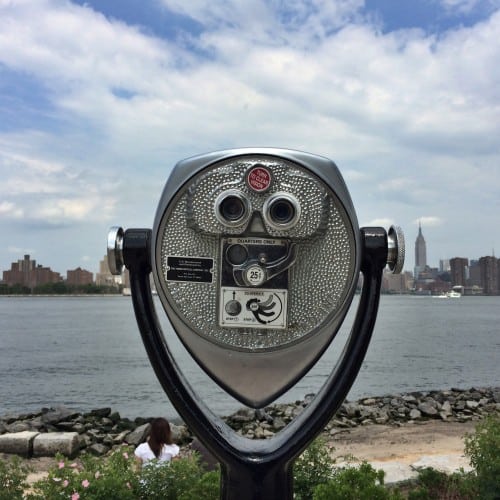 Friday, May 29th
I booked a tattoo appointment at Rose Tattoo Parlour ($450)
In the impaired heat of Brooklyn, I feel manic about the tattoo appointment I've booked this afternoon. Next to Rose Tattoo Parlour on Graham Ave, I wander into Variety Coffee Shop, a local hub filled with creative types wearing bandanas, writing poetry, reading feminists books and drinking coffee. Nibbling away at banana bread on a table tilting on uneven legs, I fuss between a traditional rose or gypsy tattoo. The appointment is in half an hour; I can't decide. I toss a coin and pick the gypsy woman. She's pretty and feminine – I can't go wrong. And a rose is a rose, but a portrait has more depth and I can name her "Rose" if I really want to. Twenty minutes later, I strolled into Rose Tattoo Parlour, with a chunk of banana bread in my stomach and a bladder full of tap water. I wonder if I'll regret this later, I thought to myself, but oh well, it's hidden on my upper thigh. Worst-case scenario, if I change my mind about it in five years, tattoo removal technology will be so advanced by then I'll literally have it zapped off with an iPhone app. Just like that. Yeah!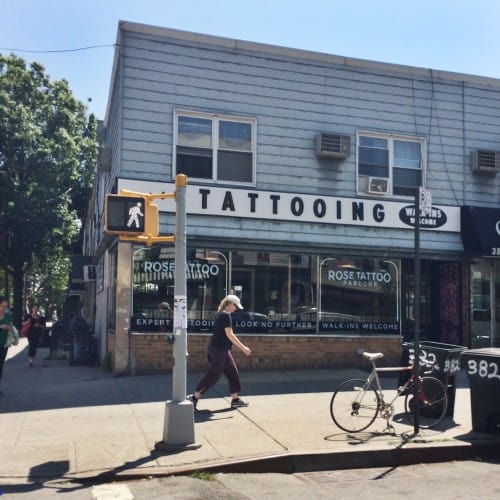 My tattoo artist has the same birthday as Hank Williams (September 17th)
Hillary Fisher White is my tattoo artist, and she's v. chill. She's an old soul, petite, with tangled brown hair in relaxed pigtails. After tracing the gypsy on my left leg, Hillary tells me about the last time she visited Toronto, during the SARS outbreak in 2002 for a tattoo convention. She also tells me that her birthday is the same day as Hank Williams and warns me about the chilly breezes of the nighttime desert when I ask her if she's ever been camping in Arizona.
I don't want to admit that tattoos hurt, but they do, and I want to be the strong woman who doesn't flinch. But I do a little, then nervously giggle to cover up the delayed sting of the needle. Four hours later, the tattoo is wiped clean and I feel like I've been ripped apart by a stray cat that hasn't been fixed. The woman tattooed on my thigh is red and her tone matches the floral skirt I'm wearing, and my day-two menstrual vibes in general. If anyone asks, I'll say that my grandmother was a wild gypsy in southern America. Or maybe I'll say that she's my long-lost soul sister, living, loving and laughing somewhere in Mexico with a boyfriend who owns a craft food truck. Whatever, I'm sure I'll think of something clever later.
I ate a romantic dinner for one, alone (Hummus $12, Beer $5)
I'll admit, dining alone isn't my scene. Like the rest of social society, I relish the moments with friends over shared appetizers and cheap wine in candlelight. I'm certainly not going to spend the entire dinner sitting around on my phone paying extra roaming charges or using data, so I bring my book to read with me. Reading is the answer to everything it seems. With ease, I can look busy without having to stare at other people. I'm killing time and treating myself to a Bronx Pale Ale and a hummus plate of carrots and pita chips. A group of mature French women are celebrating a birthday at the table next to mine and my server is especially nice to me because she knows I'm alone. She's a little older than me, but not by much, so we have a mutual understanding that yes, I'm alone, but I'm fine with it, so let's pretend like this is totally normal? And it is, and everything is fine again.
I watched two movies in Williamsburg's Nitehawk Cinema ($11 per movie)
At Nitehawk Cinema, servers walk through the entire theatre and ask everyone to scribble their food and drink orders on a scrap piece of paper. The theatre menu has fish tacos, local Brooklyn beer, fancy wine, mushroom toast, macaroni, salty popcorn and everything you wouldn't expect they'd serve in a theatre. I end up watching two movies: Ex-Machina, a movie about a coder who almost has sex with an AI Robot, and Slow West, a beautiful western that made me feel terribly sad. In the first movie, I sat beside a girl who bit her nails compulsively through the entire movie. During the western, an old guy who could have been my hip Brooklyn grandfather asked me if the seat was taken next to me. I said, "Nope, go for it!" The stylish old man was very cool and we laughed together at the same comedic cues.
Saturday, May 30th
I ate a hotdog like a classy lady at DUMBO (Down Under The Brooklyn Bridge) (Street Meat $3)
I don't know what else to tell you other than DUMBO is green and scenic, like a $1 postcard that looks sort of fake and enchanting. I'm sitting on a bench and there is one fluffy white cumulus cloud in the sky and I'm eating a delicious undercooked hotdog. Is the Brooklyn Bridge a gender? If it is, I think it's a woman. She's graceful, blue and flexible. I could sit here for a while longer, but I read somewhere it's better to leave before you get too comfortable. I throw out my hotdog wrapper and prepare for the 23 subway stops ahead of me to Coney Island where I intend to take off my clothes and have sex with a circus clown off duty. Wish me luck.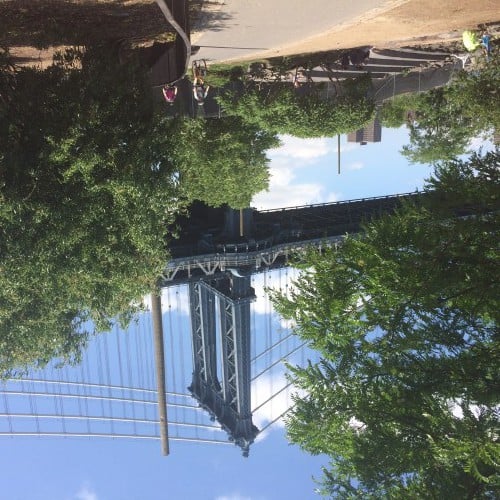 I wandered into a cluster fuck at Coney Island (Free waste of time)
When I read about Coney Island on the Internet, I imagined an abandoned boardwalk with a calm breeze and shabby circus entertainment. Well, truth be told, it isn't. I spent two hours on the F(ML) train, only to find myself in the chaos of drunk girls dancing to AKON, screaming children, long food truck lineups and a beach that felt like I was trying to find Waldo. Sand whipped into my eyes, and my floral skirt flipped its stitches to the sun while I frantically tried to collect my composure against the thrashing wind. I don't want to stay here, and after violently flashing my leopard print panties to the entire peninsula and Atlantic Ocean, I think it's cool to drift. Thank you very much Coney Island, that five minutes was REALLY fun for me. Bye.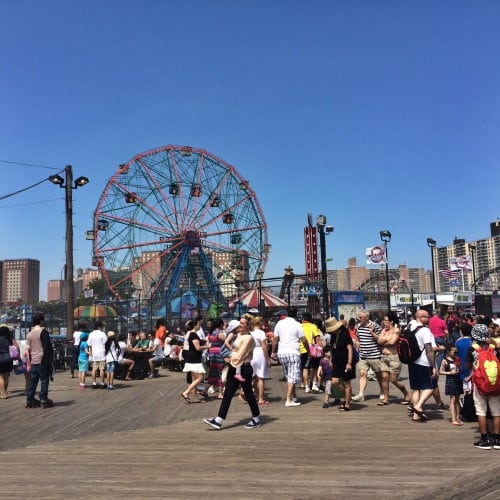 I maintained status quo personal hygiene in Greenpoint coffee shop washrooms ($2 pour over Blonde Roast)
Up in the northern sockets of Brooklyn, I found myself in Greenpoint hunting for free WiFi to charge my phone, drink coffee and tend to my tangled hair in the privacy of a bathroom. In Greenpoint, there's a bunch of Ma and Pa shops, a Starbucks that looks like a cinema and a handful of adorable patios with neon signs that people in Toronto would Instagram in a heartbeat (like Bar Fancy!). It's a five minute walk from a park where you can see the Williamsburg Bridge and the New York skyline at sunset. Pretty cool.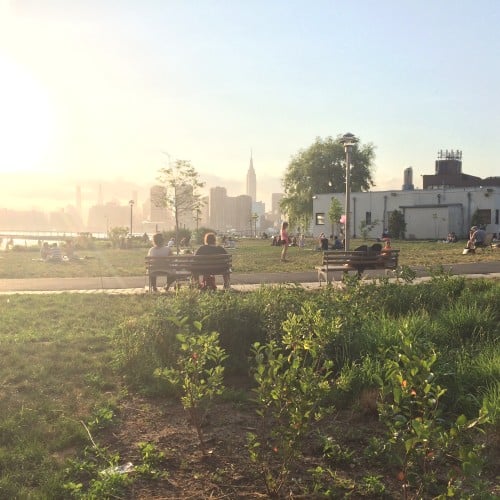 Sunday, May 31st
I didn't buy anything at the Brooklyn Flea Market
Every Sunday, at 50 Kent Ave, The Brooklyn Flea welcomes a quirky cluster of vendors selling souvenirs, vintage clothing, hand-made jewelry and knick knacks from "before my time." In the west corner, the tent that reads, "Dan's Parent's House" shows off miniature Hot Wheel sports cars, prehistoric Furby colonies, ironic clothing pins and tacky NYC fridge magnets. In the east corner, Vanessa's Vintage stacks white boxes, antique mirrors and white painted wood furniture. Retro sunglasses reflect off every corner, with a tiny record shop playing Sam Cooke beside a hippy selling Hawaiian T-shirts and bright windbreakers from the 90s. Food trucks offer mini amusement park donuts, fresh cut fries with special toppings and Prairie Girl-style cupcakes. It's easy to spend anywhere from $2-$300 depending on your flea market preferences. I left feeling curious and thrifty, empty-handed but delighted.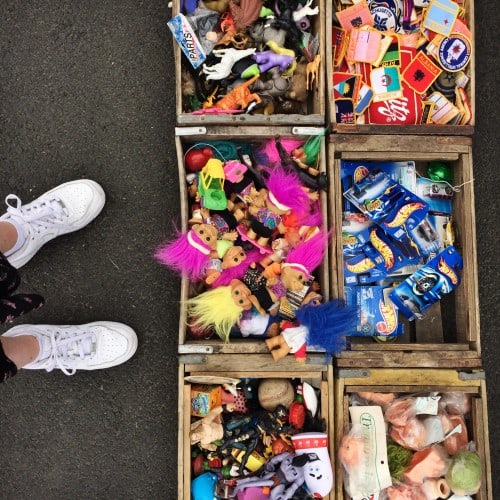 I had a walking affair with the Williamsburg Bridge
The Williamsburg Bridge is bright pink. It's covered in graffiti and is a high traffic crossing for local cyclists headed to the lower east side of Manhattan. The bridge has accent colours of baby blue, turning the bridge into a spectacle of industrial cotton candy. It's smaller than the Brooklyn Bridge, but impressive and lean like a dancer stretching on stage. Cyclists honk their broken horns at me while I'm taking pictures and not paying attention. But I don't care, it's pretty out there and I might not be back for a year or two. I walk over this bridge two times and it feels therapeutic because it's free and there's no concept of time.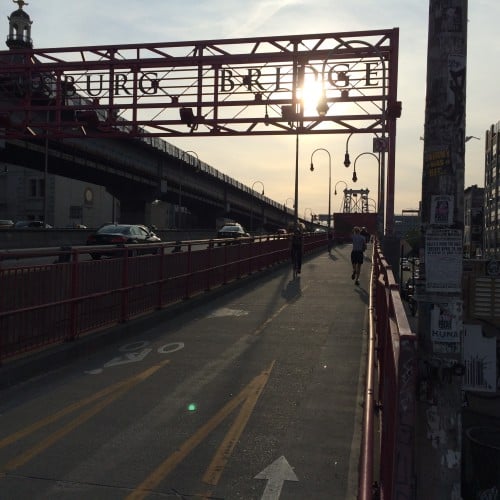 A few additional things worth mentioning:
I got lost in the NYC subway approximately eight times, which felt frustrating, especially on my way back from Coney Island because the A train wasn't in service and I went on the G train in the wrong direction.
There's a nail place in Brooklyn and it's called "You've Got Nail." This is not clever and should be shut down in my opinion.
A six-year-old Polish boy spoke to me for half an hour at a coffee shop near the Brooklyn Bridge. I don't know what he was saying, but we had a very good conversation about his video game.
I ran through a flash flood in Central Park, which felt cinematic, stressful and liberating all at the same time. I think next time I'll pack an umbrella.