I buy plane tickets when I'm hungover, distressed or pissed off.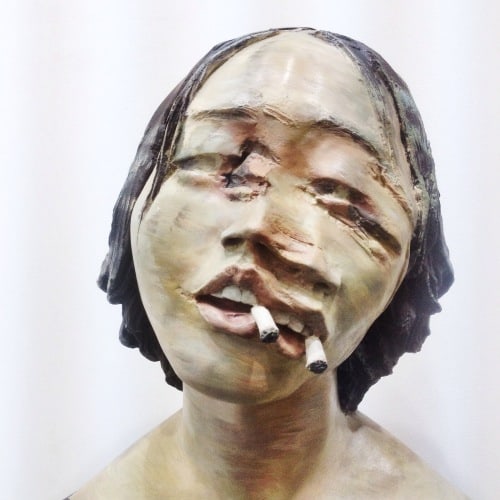 This year, my impulsive Flight Hub purchase was prompted by an unhealthy relationship to a handsome pervert and a bad case of Miami Art Basel FOMO. To remedy my restless frustration, I bought the cheapest flight I could find to Asia. Three months later, last Thursday, I flew 16 hours for a 3-day solo trip to Hong Kong, and this is what happened: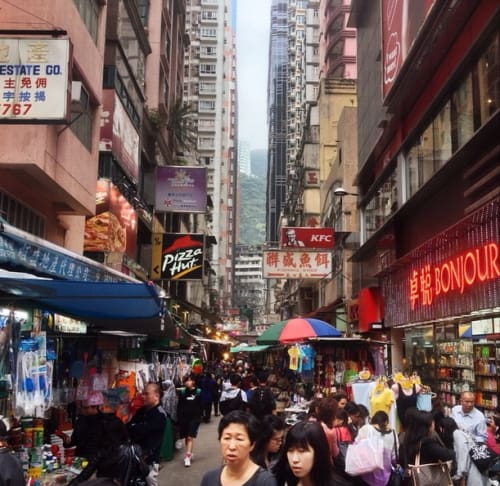 I took a vow of non-religious silence for 5 days
Before you jump to the end of this paragraph and assume I found religious enlightenment, that's not what happened. Instead, I decided while waiting in line at the Tim Horton's lineup at Pearson International, that there are very few no-speaking life occasions, and a solo trip to Hong Kong is one of them. What happened? I transcended. Just kidding, I talked to myself for 5 days like Angelina Jolie in Girl, Interrupted. It was a terrible idea. What on earth was I thinking? If you're travelling alone, do yourself a favor and DO NOT take a vow of silence. By the time I arrived back in Toronto my voice was replaced with a weak, frail squeak. Life lesson #467: I will never shut my mouth again.
I went into temples and took pictures where I wasn't allowed
Big no-no. But in all fairness, I didn't know anyone and I wasn't travelling with friends so nobody really judged me. An old man scowled, but that was about it. Alongside my reckless desire to snap pictures as evidence of my coming-of-age, I became addicted to visiting temples. Inside, incense sticks burned feverishly with no start or end, men and women hummed, statues of multi-armed animal Deities looked onward., grandmothers caressed stone, and I craved falafel balls. On knees, elders bowed and chanted with flowers. I felt intoxicated. Temples are v. chill.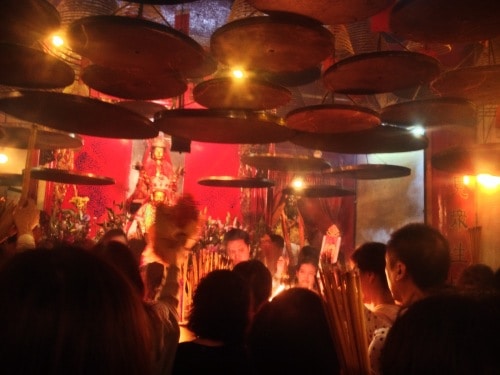 I walked up the longest indoor escalator in the world
Thanks to Piera Chen, the writer behind Lonely Planet's Hong Kong pocket book, I found the world's longest escalator. For those of you who don't know, the Central-Mid-Levels Escalator links the Central to the Western District of Hong Kong, and runs in one direction at specific times. At the very bottom of the escalator where I was standing, the escalator ran southbound. Being a devoted health goth, I decided to hike up the entire 800 meters (2,624 feet) to see what all the commotion was about. It was sweaty. I stank. The view was killer.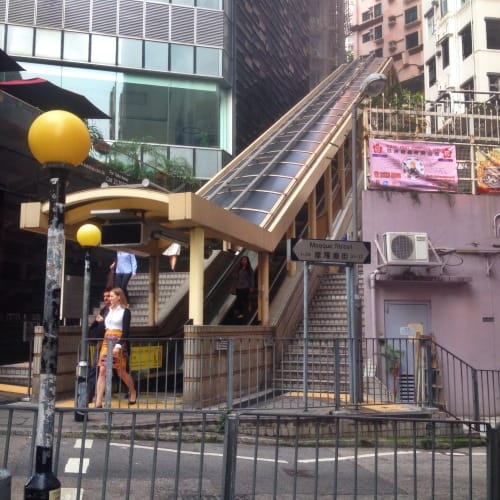 I climbed a 1,811 ft. mountain with a gaggle of elder women
When I reached the top of the escalator, a sign led me to a tram that didn't exist. Confused and dehydrated, I did what any Toronto health goth would do in my situation – I leisurely followed a gaggle of grandmothers to the top of Victoria Peak, the highest mountain in Hong Kong Island. I'll admit, it wasn't easy. But the powerful combination of Drake's new album and the momentum of the saggy bosoms ahead of me inspired a form of superior athleticism I never knew my body was capable of. At the top, I rewarded myself with a falafel ball.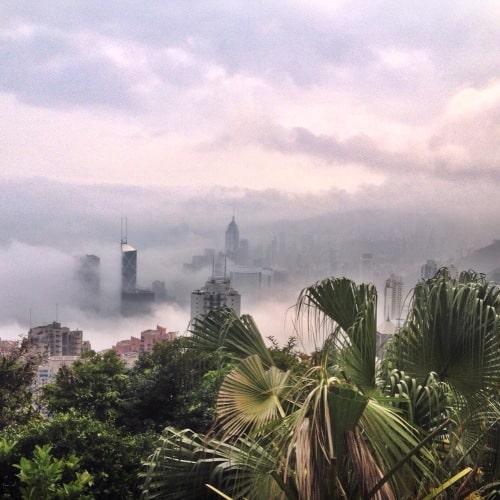 I took pictures of other people taking pictures of art in Art Basel
I don't usually do this, but I couldn't help myself. Art shows are the best places in the world to observe human beings. Swanky collectors in expensive suits guarded their miniature collection areas like bouncers on King street. Fashion folks paraded themselves in extraordinary outfits of leather, fur, wild glasses and patterns. Vacation tourists pointed in different directions, holding hands in tacky Hawaiian-print shirts. Old people grunted. Half-asleep and jet lagged, I meandered through the crowds and came to the conclusion that art is a big vagina, surrounded by rich people. The end.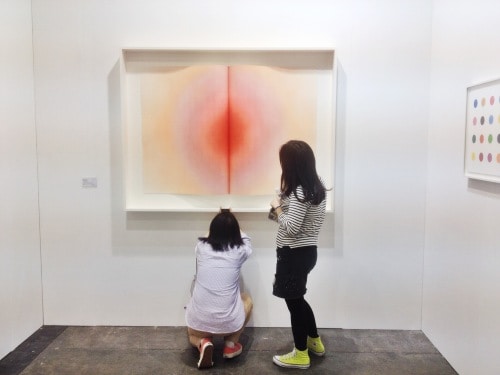 I found an authentic Hong Kong Pizza Hut
There I was, standing in Wan Chai in 100% humidity. And then I spotted it: Pizza Hut. Wow. That's all I have to say.
I almost bought a pair of $855HK sneakers on a crowded street devoted to sneakers
I couldn't justify buying a pair of Nike sneakers with a cost equivalent to 400 almond milks. So instead, I "window shopped" (50-cent style) and wandered down Fa Yuen Street, a crowded strip dedicated to fashion-conscious sneaker heads.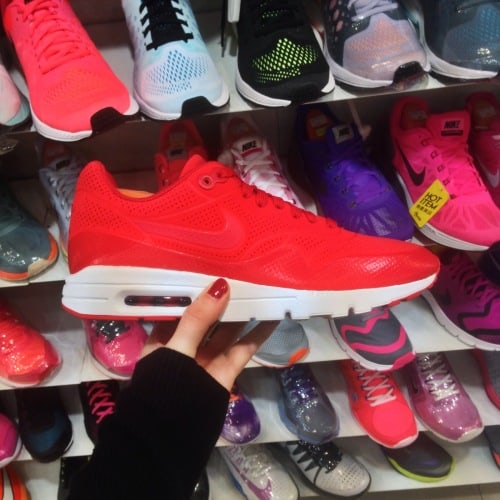 I survived off nuts, bananas and grapes like a rodent
The squirrel is my spirit animal. And for the purpose of this trip, I wanted to see art and have an experience that mimicked Julia Roberts in Eat, Pray, Love. Minus the eating part. To save money, which I did, I went to the market and survived like a rodent. Because let's get real, a Grande coffee is $27HK and ain't nobody got time for that. I spent a total of $200 which is pretty good for a solo vacation to Asia.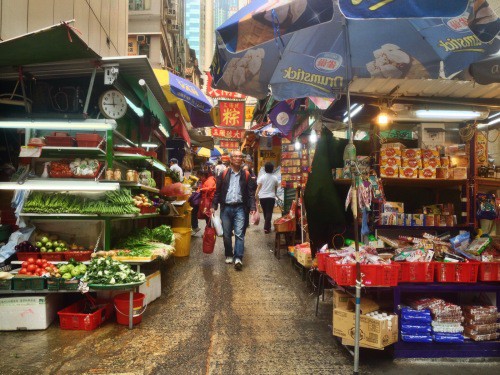 My flight was delayed, I missed my connection and spent 24 hours flying in the middle seat. 
Welcome to hell. Thankfully, it was on my way home. Regardless, after 4 trains, 5 buses and 3 planes (all middle seats), I landed in Toronto a different woman. If silence wasn't a religious experience, 24 hours of flying in the middle seat easily took the cake for spiritual transcendence. Gravol didn't help either. Did it make me a better person in the end? No. Do I have serious back pain? Yes. Did I hallucinate? Probably.