We are thrilled to be hosting an Instagram Live with Serena Ryder this Friday, Nov 4, at 1:30PM EST. The 7 time Juno-Award winning artist will open up about her decision to stop drinking, her healing journey, what life is like in sobriety, and why she chose to partner with Libra Non-Alcoholic Craft Beer.
Over (non-alcoholic) beers, Shedoesthecity EIC, Jen McNeely—who has also been open about her alcohol-use disorder, and has been sober since 2010—will lead a candid conversation, that touches on everything from what problematic drinking looked like to the biggest things gained in sobriety.
Topics up for discussion:
What life looked like before they stopped drinking
The many pathways to recovery / healing journey
What fun looks like today
The meaning behind Serena's album The Art of Falling Apart
Thoughts on Sober October / No hangover November / Drink less December
How to host a holiday bash that isn't just about getting smashed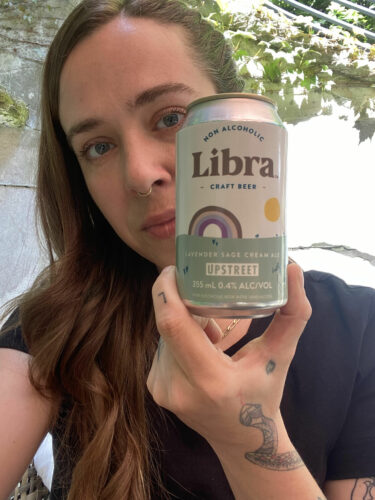 It's a lot to fit into 15 minutes, but we're determined to cover some ground. If you have questions you'd like to ask Serena about her recovery journey, please submit them in advance (shoot us a DM on Instagram). We won't be able to answer everyone's questions, but we will definitely try our best.
We love Libra's mission to normalize socializing without alcohol, and we also love the taste of their non-alcoholic beers. Serena's favourites are the Libra Pale Ale and Lavendar Sage Cream Ale, but there are lots of styles to choose from. Grab a few cans and join us for a cheers and chat this Friday!
Libra is sold online, at the LCBO and retailers across Canada. Find out more about our favourite Canadian non-alcoholic craft beer here.