My first thought after watching Tracey Deer's phenomenal Beans was what a heavy load for such a young actor to bear. The hard-hitting film takes audiences back to the summer of 1990, and shows the terror and trauma inflicted on the Mohawk people of Kanesatake during the Oka Crisis, through the eyes of young Tekehentakhwa (nicknamed Beans). It's a tough story about innocence lost, based on Deer's real-life experience. All the performances are incredible, but it's young Kiawentiio who really carries this film. I was shocked to learn she was just twelve years old when the film was shot.
From landing her first audition as Ka'kwet on CBC's hit show Anne with an E to now starring in Beans and creating her very featured song, Light at the End, which is part of the film's soundtrack (available on Spotify), it's mind blowing to think about how much she's accomplished at such a young age. Kiawentiio is tremendously talented and after speaking with her, it's clear to me that not only is she a cinematic force, but a kind, sweet, funny and intelligent young person.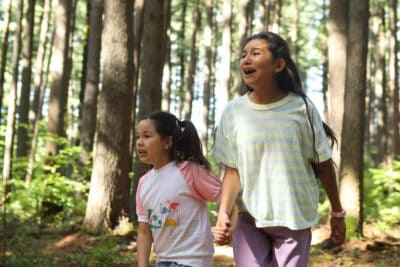 In our conversation with director Tracey Deer, the filmmaker makes clear that the set of Beans was made to be a safe space for actors and crew members—with coaches, intimacy coordinators, PTSD specialists, and therapists on set. Deer also makes clear that kids on set were protected in that the scenes with extras playing racists shouting violent threats were filmed separately, or as Deer says, "That's what acting is for. Their acting is all based on imagination and not something that they experience on set."
Kiawentiio followed in the footsteps of her director by prioritizing her own self care during filming and differentiating herself from her character and the traumatizing scenes she had to film. "It's very important that my body knows that this isn't happening to me. It's staged, it's fake. I think I just tried my best to understand that," she tells me. "I was always in an environment that was comfortable and my family and my new family on set made sure of that." In a time where actors are often encouraged to bring personal trauma into their work in order to 'be better actors', it's refreshing to hear of an environment where an actor's emotional privacy is as important as their performance.
From tense and frightening moments at the blockade to being encircled by a hate-filled mob, Beans is met with numerous challenges that no child should be subject to. Kiawentiio appreciates the horror that Beans has gone through, and chooses to honour her resilience instead of grieving her losses. "She gets out of the world of trauma that she's been put in and still puts her family first," she explains. "I really admire that about her."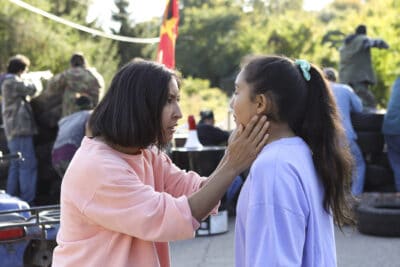 Both Tracey and Kiawentiio attended a Mohawk immersion school then transitioned into a primarily white high school. They come from similar communities, and share a love for the art of film. Without a doubt, having a director that's directing you to embody their younger self is an intimidating task, but Kiawentiio took it as an opportunity to improve her characterization, "On one side I didn't want to disappoint her, and on the other side it was helpful that it was her story, because she knew exactly what she wanted to see and she could describe it to me perfectly," she says, with an endearing smile.
When asked about why this film was so important for viewers to watch today Kiawentiio responds without hesitation. "​​What happened back then could easily happen now, and that's not right. There needs to be change. I hope that people watch the movie and understand that it happened and there's nothing they can do but try to change, and make sure that it never happens again," she shares, adding just how impactful the experiences has been. "Beans has opened up so many things….my mind, my experience, my opportunities. The people that I've met have made such an impact on my life. It's such a big part of my life now."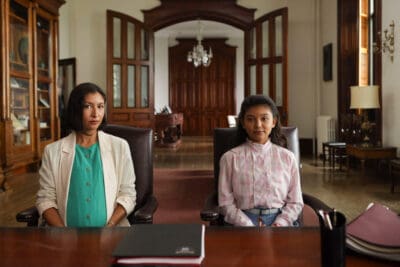 Our conversation will always stick with me, but what struck me the most in our interview was Kiawentiio's confidence. While a few years older than her, I am part of Kiawenttio's generation. She brings me hope for the kind of artists that are rising alongside her, alongside me, and who are the future. Like her, I want to tell stories that will change the world, and aim to do it with compassion, kindness and a desire for community. As I move towards my final years at York University I hope to create art like this, and to be more like Kiawentiio … and more like Beans—determined, honest and brave.
Kiawentiio is wise beyond her years and I can't wait to follow her journey and see where her career goes from here. If you haven't yet seen Beans, this is your formal invitation to watch the film at a theatre near you!