It's hard not to fall in love with The Balconies. When my friends went to see Cold War Kids in Toronto a few years ago and caught The Balcs as the opening act, they were all blown away. In fact, they said they liked this indie Canadian rock band more than the Kids. Seriously high praise.
It's a busy time for the quartet: Their new album, Fast Motions, comes out in the new year, and they're about to embark on a cross Canada tour. Born in Ottawa and now based in Toronto, The Balconies are the epitome of the Canadian music scene: Fun, young, talented, full of energy, and determined to succeed. We caught up with lead singer Jacquie O Neville before the band's Vancouver show on Thursday to discuss music, fashion, and the best advice she ever received.
Shedoesthecity: Talk a bit about how The Balconies came to be.
Jacquie Neville: In 2008 the band was formed in my parents basement. We started off as a three piece with Liam Jaeger on drums, [my younger brother] Steve on bass, and I played guitar. However, over the course of our career, the band's sound evolved so much that eventually we felt we were creating music that we wouldn't be able to achieve live. In late winter of this year, after recording our debut record with Arnold Lanni, we decided to add a new member to our family. Liam hopped on guitar (his primary instrument) and our friend Theo McKibbon joined on drums. This change not only enabled us to achieve the fuller, sonic evolution but also allowed me to have more freedom as a front-woman.
SDTC: You're a female lead singer with three male bandmates. What's that dynamic like?
JN: On the road it can be difficult at times, being surrounded by only men 24/7. But I knew what I was getting myself into. We've always worked well together, not only because we come from similar musical backgrounds and have similar visions, but also because we have so much respect for each other. We listen to each other and I feel that's why we are a successful team: everyone has a voice in the group.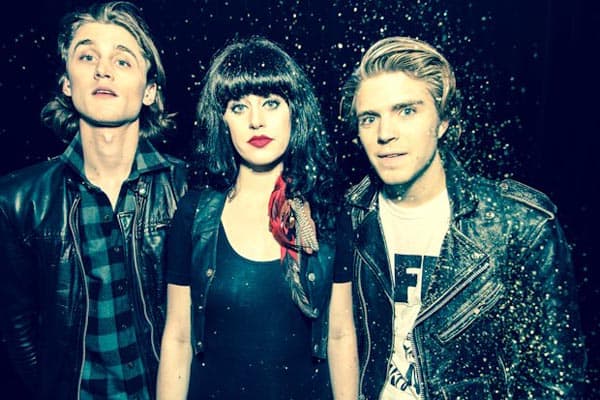 SDTC: Was it always pretty clear that you wanted to make music into a career?
JN: Yes. Our dad is a musician as well and was always playing guitar and piano and singing in the house. He is the reason why Steve and I were so drawn to music in the first place: we wanted to be just like our dad! We're also so lucky because all our families have always been extremely supportive of our musical undertakings.
SDTC: You've got an incredible presence and confidence on stage. Where does that come from?
I have an obscene amount of energy and to be honest, I have no clue where it comes from. I've always wanted to perform and I love engaging the audience. I grew up going to punk shows as a kid and was drawn to the raw energy, so I guess I just try to have fun and do the same!
SDTC: Any advice for other young women looking to break into music?
JN: Work hard. Practice every day. Don't take no for an answer. Don't compare yourself to others. Be yourself.
SDTC: What's the best piece of advice you were ever given?
JN: Good things come to those who work their ass off.
Catch The Balconies this Thursday, August 15 at Vancouver's Venue nightclub (881 Granville St.). Tickets here.
We're also running a contest with this awesome band! Take a picture or video at a Balconies show and post it on Instagram (be sure to include @Shedoesthecity and @TheBalconies) with the hashtag #Balcstagram. You could win a T-shirt, a signed copy of their upcoming CD, concert tickets, and a signed poster!