Originally from Sanikiluaq, Nunavut, Kelly Fraser has performed across Canada (especially the Arctic), and she is extremely well known in Nunavut and Nunavik. The Juno-nominated artist has just released an EDM single called "Rebound Girl."
Fraser has been through many personal struggles and uses her pain as inspiration to make art that can positively impact other native youth. She is currently completing her degree in Native Studies at NVIT in British Columbia and hopes to become a lawyer through the new Nunavut-based law program.
SDTC: Can you tell us the story behind "Rebound Girl"?
KF: I have been a rebound girl before, and I decided to make a song to warn myself to not become one. It's a deep, psychological song and people will understand it better when the music video comes out. Yes, it was an experience, but it was a positive one. I have no qualms with my exes.
When and where do you feel most content/at ease?
Anywhere in the Arctic, especially my land Sanikiluaq, Nunavut. If not up there, near the water anywhere.
Who or what has had the greatest influence on your music?
Rihanna, Joan Jett, Tina Turner, Amy Winehouse, Tanya Tagaq, Beatrice Deer and Buffy St. Marie. Charlie Adams.
What dish always satisfies you?
Reindeer meat, fish egg whipped cream with berries from the Arctic (suvalik is our traditional name for it) and beluga sausages. When my Inuit food is not available, lamb or steak.
What film/show has recently wowed you?
How To Get Away With Murder, The Grizzlies.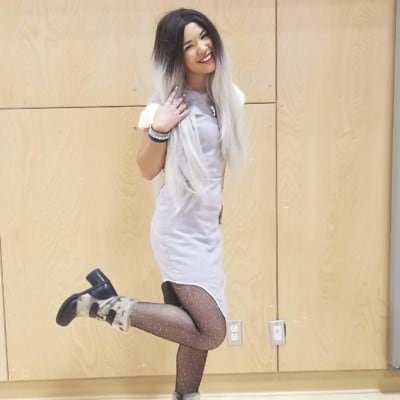 What's on your current reading list?
Tanya Tagaq's Split Tooth. Those Who Run in the Sky by Aviaq Johnston.
What Toronto spaces do you truly love?
I love going to Harbourfront. I want to perform there near the water, where I feel most content.
What are you dying to see?
I wish I could go see Alaska and Siberia and meet up with the Inuit there.
Your go-to coping mechanism/self-care?
Epsom salt baths, smoking weed, talking to people in my language Inuktitut, candlelit homemade dinners, exercising and singing.
What five things would you want if you were deserted on an island?
Food, weed, menstrual products(?!), a sexual partner (lol) and guitar/musical instruments.
What's a childhood memory that always brings a smile to your face?
When well-known Inuit artist Charlie Adams (now deceased) told me that he loves me and gave me an Inuk kiss (kunik, where we sniff children, babies or platonic friends on the face) whilst smelling strongly of vodka when I was six years old in Inukjuaq, where I went to go dance with my little square dance and Backstreet Boys dance group made of all my cousins.
What life philosophy is currently helping to guide your journey?
Everything all breathes out (Inuit proverb that makes sense in our language). Anirulangamijuk (this too shall pass/breathe out).
One skill you'd love to learn/nurture/improve this year?
Singing, the piano, making sick EDM beats, the guitar. I wanna learn how to sew with sealskins better and use a sewing machine to make my winter parka this year.
What's a piece of career advice that has served you well?
Build people up.
What outfit makes you feel the most you?
My outfit made by Nuvuja9 (a.k.a. my best friend Melissa Attagutsiaks). It's a great rabbit fur dress.
What toy/book have you held onto since you were small?
I always lose things, but one thing I'll always have is a sealskin carving made by an elder named Jimmy Iqaluk when I asked him about sled dogs and I gifted him with overpriced chocolate chip cookies from the local store we have. That carving is priceless to me. It shows how generous we Inuit are with each other.
What's a subject that is currently holding your attention?
Cultural appropriation. Making sure Inuit know they have rights in Canada and Indigenous people [have rights] to their culture and to have a healthy life provided by this country we have given so much to.
When you compare yourself now to where you were at ten years ago, what's a major change you can identify?
I was fifteen going on sixteen in a rock band and working as a cashier. I'm proud I make money entirely through music.
Goal(s) for 2019?
Get nominated for music awards. Tour in the fall. Release my Decolonize album and wow everyone and get people amped up by the strong subjects I choose to sing about. To continue this healthy relationship I have with myself.