It feels like lately, whenever we talk about climate change, sustainability, and climate justice, it's all doom and gloom. It's hard not to think about the state of our planet without feeling a consistent sense of dread, or breaking out into a cold sweat. As Earth Day approaches, and as climate change becomes a more real and urgent issue for every single one of us, it can be hard not to feel overwhelmed.
It's easy to feel hopeless. What's hard is choosing to hope, choosing to fight, and choosing to take action every day… and I hope these books will help! These books offer urgent and timely solutions and perspectives, but more importantly, they also offer hope, and inspiration, and a real, attainable light at the end of the (proverbial) tunnel.

The Intersectional Environmentalist: How to Dismantle Systems of Oppression to Protect People + Planet — Leah Thomas
The Intersectional Environmentalist is by environmental activist Leah Thomas, who also coined the term. It's an exploration of the intersections between environmentalism, racism, and privilege, addressing how we can't save the planet without uplifting its people — especially the most marginalized.
This book demonstrates how Black people, Indigenous people, and people of colour are unfairly and disparately affected by climate change and environmental injustice. Thomas argues that the fight for climate justice is inextricably and intrinsically linked to the fight for civil rights. It helps us discover the ways that environmentalism, anti-racism and feminism must work together, to help improve our planet, and the people on it. It shares data in an accessible, compelling, and engaging manner, and explores a variety of topics, including ableism, veganism, green energy, representation and more. It's dense, but not overwhelming, and it also provides a "tool kit" and a supplementary reading list, to help you expand your knowledge once you finish this book.
The Intersectional Environmentalist is at once a call to action, a guide to galvanize change, and a way to empower all people towards the betterment of the planet.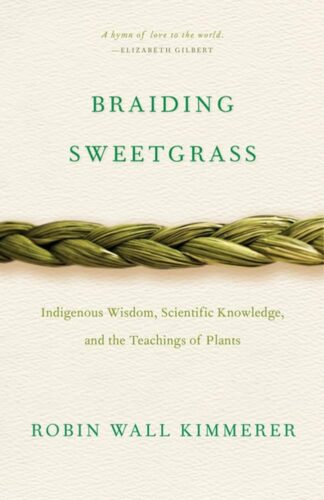 Braiding Sweetgrass: Indigenous Wisdom, Scientific Knowledge, and the Teachings of Plants — Robin Wall Kimmerer
I've spoken about this book before, and I'll probably speak about it again!
Robin Wall Kimmerer is an Indigenous botanist, who has been trained to ask questions of nature using science. Braiding Sweetgrass is a mix of nature, science, and spirituality, which will help you fall in love with the world, and with nature. Rooted in Indigenous history, botany, ecology, and Kimmerer's own stories — this book is simultaneously science and history, poetry and magic, and Kimmerer's storytelling is masterful.
Kimmerer is a keeper of traditional knowledge, and provides us with the tools to explore our relationship with the earth in a different way. She provides us with hope in the face of industrialization, through love and an appreciation for our natural world… exactly what we need to help us stay motivated in the face of climate change, and help us stay connected to each other, and the world around us.
Braiding Sweetgrass highlights a path towards a sustainable way of living, and a deeper understanding of our planet, and the plants and animals that inhabit it — all through a focus on harmony, gratitude, and reconciliation.

All We Can Save: Truth, Courage, and Solutions for the Climate Crisis — Ayana Elizabeth Johnson & Katharine K. Wilkinson
All We Can Save is a collection of essays, poetry, and art — all by women who are at the forefront of the climate movement. With contributions from Mary Oliver, Naomi Klein, Joy Harjo, and many more, this book is a celebration of the people and the hard work going into protecting our planet. While this book explores much of the bleakness of the climate crisis, importantly, it is a call not to give up — to have courage, and to support the hard and important work that is being done to help save our planet.
This book highlights a wide range of ideas and insights — from dozens of diverse women who are leading in the fight against climate change (in the United States). This book explores the various ways they are contributing to the fight, helping everyone to try to find their place in the movement, and answer the question "what difference can I make?" All We Can Save gives us language to talk about climate change, and it also gives us the tools and the inspiration to do MORE than just talk — to help catalyze action in the fight against the climate crisis.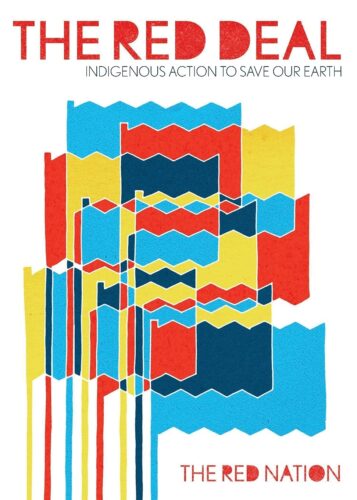 The Red Deal: Indigenous Action to Save Our Earth — The Red Nation
The Red Nation is a coalition of Native and non-Native activists, educators, and organizers dedicated to the liberation of Native peoples, from capitalism and colonialism, through advocacy, education, mobilization, and direct action. The Red Deal is a manifesto — part vision, part toolkit — for everyone who lives on Indigenous land.
Indigenous folks, Black folks, people of colour, migrants, women and trans folks, and working people did not create this disaster, but we have inherited it. This is a book about resistance and rising up to confront climate change and build a world where ALL life can thrive. It can feel easy to be disheartened when we see politicians continually make decisions that deprioritize the environment — building new pipelines, and showing leniency to high polluting industries and corporations. However, this book provides an answer to how to move forward and drive change, with or without politicians. The Red Deal proposes a mass movement led by [us], the people, calling for action beyond the scope of the US colonial state. It's a proposal on how colonialism and capitalism must be overturned, and how we can fight for climate justice, and create a better world for all life.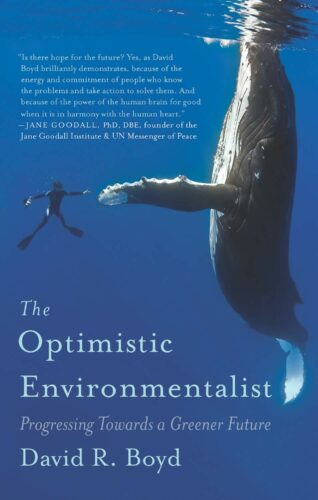 The Optimistic Environmentalist: Progressing Toward a Greener Future — David R. Boyd
David R. Boyd's The Optimistic Environmentalist is a hopeful and inspiring exploration of some of the most substantive success stories to environmental problems over the last ~50 years. This book explores some environmental problems that have been solved, and some of the issues that have had significant progress made towards solving them. Although this book was published in 2015, so there's the possibility that we're even further along at addressing some of these environmental issues!
This book is full of success stories — which I think we all need to hear right now. We hear about endangered species that have been pulled back from the precipice of going extinct. We learn about efforts taken to salvage the ozone layer, and the creation of many, many new parks meant to protect our land and our water.
Boyd explores many of the significant strides we've made in the fight against climate change, inspiring [us] to take action, and offering a balm against the climate anxiety so many of us are grappling with.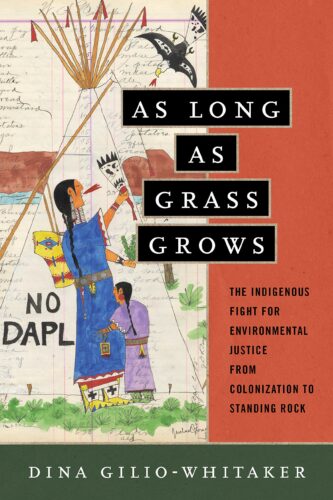 As Long as Grass Grows: The Indigenous Fight for Environmental Justice, from Colonization to Standing Rock — Dina Gilio-Whitaker
As Long as Grass Grows offers the story of the Indigenous community's rich history of activism and resistance to environmental injustice. Indigenous researcher and activist Dina Gilio-Whitaker uses the lens of "Indigenized environmental justice" to explore the history of treaty violations, and the struggles to protect sacred sites, food and water – while simultaneously celebrating the role of Indigenous women in leading this centuries-long struggle.
This book provides a compelling and thorough history of Indigenous resistance to corporate and government incursions on their lands, with a special focus on the Standing Rock protest in 2016. This protest skyrocketed Indigenous activists and activism to the mainstream media, but it also highlighted how little most of us knew about the long-standing tensions between Indigenous people and mainstream environmentalism. Informative, thoughtful, and powerful, As Long As Grass Grows argues that we must look to the history and legacy of Indigenous people's resistance, in order to gain the wisdom, perspectives, and inspiration we need to fight for a just and sustainable future.

World of Wonders: In Praise of Fireflies, Whale Sharks, and Other Astonishments — Aimee Nezhukumatathil (Illustrated by Fumi Nakamura)
At its core, World of Wonders is a love letter to the natural world. It's a memoir, an ode to family and nature, and a collection of essays by award-winning poet Aimee Nezhukumatathil. These essays all center around the natural world, and the way its inhabitants can teach, support, and inspire us.
In this book, Nezhukumatathil shares the story of her life, and the many places she called home — from the open skies and looming mountains of Arizona where she hiked with her father, to the grounds of the Kansas mental institution where her mother was a doctor. No matter where she went, she was able to turn to the weird, fierce, and beautiful creatures around her for guidance. In peacocks and axolotls, narwhals, and touch-me-not plants, she finds beauty, kinship, wonder — and an appreciation of the world and its gifts.
World of Wonders is lyrical, intimate, and inviting — and paired with stunning illustrations by Fumi Nakamura. This book is a lot of things, but most prevalently, it's a book of joy, love, and care — things we all need, to rebuild our relationships with our planet (and each other).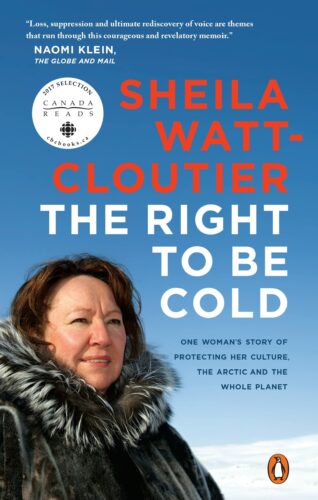 The Right To Be Cold: One Woman's Story of Protecting her Culture, the Arctic and the Whole Planet — Sheila Watt-Cloutier
Canadian environmental and human rights activist Sheila Watt-Cloutier's The Right To Be Cold is a memoir of growing up in the Arctic, then moving across Canada, as her advocacy takes her to the international stage (and an eventual Nobel Peace Prize nomination). Through this book, she explores the parallels between protecting the Arctic, and the survival of Inuit culture.
This book offers an in-depth exploration of policies, systemic contributors, and expansive issues, including mental health and addiction, human rights issues, housing issues, and of course — environmental issues. It explores the interconnectedness of colonialism and industrialism, and the significant harm they have caused to our environment. This book aims to educate, but it also fuels the urgency, the inspiration, and the drive to do something. The Right to be Cold is smart, thoughtful, and deeply human in its exploration of resilience, commitment, and survival.
Ameema Saeed (@ameemabackwards) is a storyteller, a Capricorn, an avid bookworm, and a curator of very specific playlists, customized book recommendations, and cool earrings. She's the cohost of the podcast High Low Brow, and the Books Editor for She Does the City. She enjoys bad puns, good food, dancing, and talking about feelings. She writes about books, unruly bodies, and her lived experiences, and hopes to write your next favourite book one day. When she's not reading books, or buying books (her other favourite hobby), she likes to talk about books (especially diverse books, and books by diverse authors) on her bookstagram: @ReadWithMeemz