Ice cross downhill is a sight to see. It involves racing downhill on skates, with death-defying vertical drops and hairpin turns – all within breathing distance of your competitors.
The women's division in ice cross downhill is growing. This season, for the first time ever, the women's races will be broadcast on TV alongside the men's races. Jacqueline Legere is the reigning world champion and has been competing at Red Bull Crashed Ice for the past six years. Outside of ice cross downhill, she is a stunt woman who dabbles in motocross, mountain biking, wakeboarding and skydiving.
We caught up with her this week.
SDTC: When did you first discover ice cross downhill?
JL: It was a YouTube ad I saw to sign up for the qualifiers. I was expecting there were tons of people who would sign up and I wouldn't get chosen to try out. But I did. I qualified in 2011.
So that was your first experience racing downhill on ice skates?
The qualifiers were on flat ice. The first time I actually tried it was at the race in Quebec City in 2011.
Whoa. What is it like?
It's a very weird feeling – you have no balance at first. It took some training to get used to that. It's a combo of skiing and skating. After doing it for so many years, you learn where you can and can't skate. You try to get strength in as many places as possible, to keep your speed up. But if you're in a really steep transition or really steep downhill, you can't really skate off it. You'd be better to keep your feet together, glide downhill and skate on the flat.
How does a race generally play out?
Thursday night we'd practice and do exploration runs; you go down in groups of ten and stop after every run so you can look at every feature, instead of going into it blindly and hitting them full speed. Then you have a few runs by yourself going down the track. Then you do your time qualifiers; you have to make top sixteen in order to race.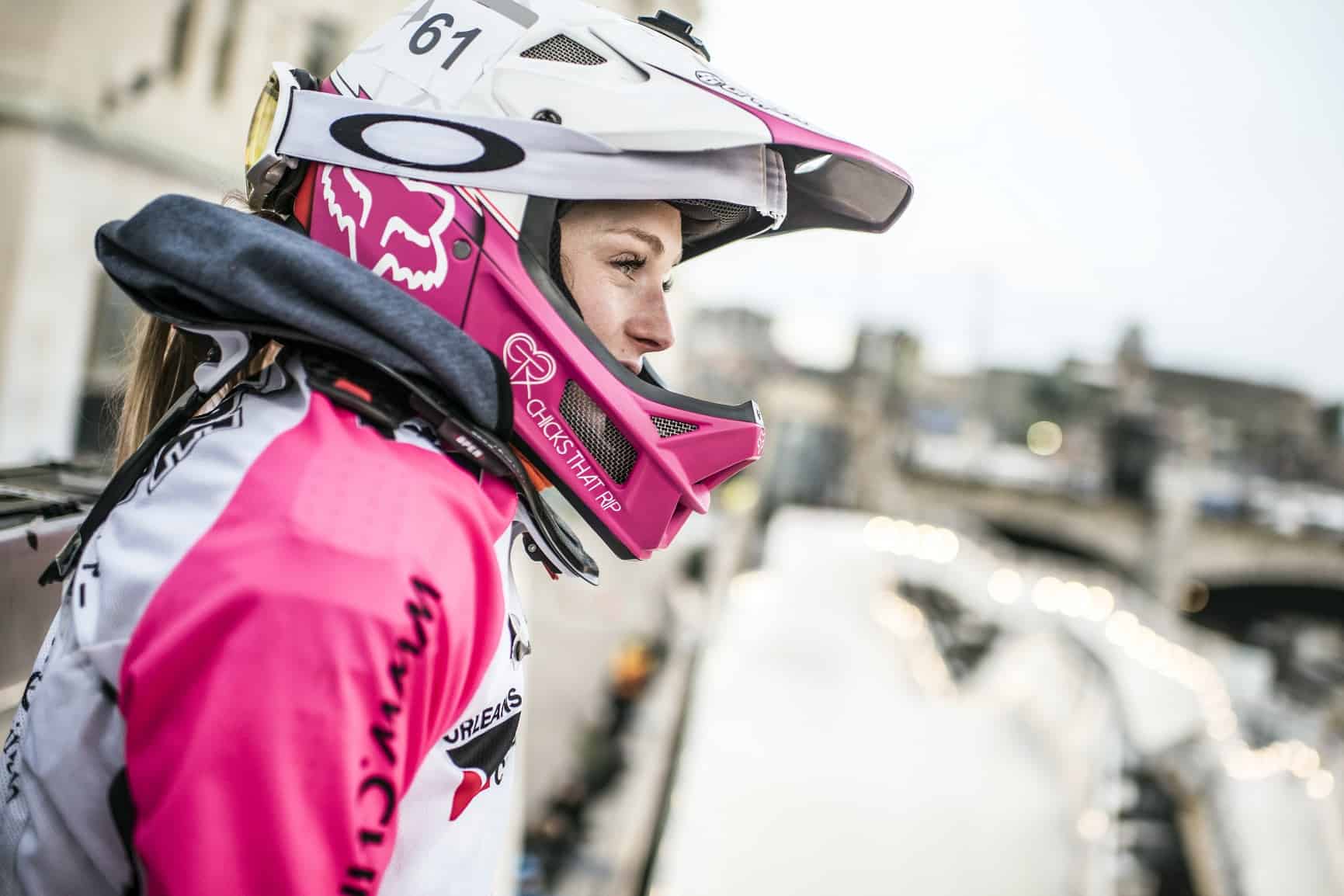 How does it feel now that you have six years under your belt?
Now, it feels much better. I know what to expect. The tracks are a lot crazier now but I look forward to it. You have to look at a track and feel it before you know exactly what it's like.
How do you prepare?
Once I go down the track once I can figure it out. I try to visualize my runs right before I do them; I visualize a nice, clean run and just follow through with that. During the race, I'm pretty in the moment, really just focusing on myself. I try to play out what I've visualized.
If there's someone beside of me or in front of me going into a feature, I'm definitely aware of them. They might fall in front of me. You have to watch out for other people; if there's a tight corner, you want to not bump into anyone. But it happens! You have to try and stay in your zone and watch out for everyone else.
After, I'll re-watch the race and see what I could have done differently and what I can learn from it. You can also learn about the other racers too – their style, and what they do in certain areas of the track. You keep that in mind – for opportunities where you could pass a person.
How do you prepare physically?
I do a lot of high-intensity workouts. I work on legs and core – squats and deadlifts. I do a lot of inline rollerblading at skateparks to learn transitions and jumps and features. I also go to a skating treadmill in Burlington called the Skating Lab. I have a coach there and he can change the speed and incline of the treadmill, and that works on the technique and sprints and duration of sprinting. It's fake ice – little strips of plastic on a treadmill. You wear your hockey skates and you're hooked into a harness and you can skate right on it.
Have you always been a pro on skates?
I was first on skates when I was really little – when I could walk, basically. I did figure skating then I switched to hockey.
How would you describe your skating style?
I like the more technical tracks; more features, difficult features. It's what I thrive at.
Are you worried about injuries?
There are a lot of [injuries to] shoulders, hands, wrists – also ankles and concussions. I try to have a safe, fun weekend and try not to injure myself! I've sprained my ankles really bad a few times. Last year I got bad whiplash and a concussion, so that wasn't fun.
What do you love about ice cross downhill?
It's just such a different sport. There are no permanent tracks where you can just try it out. Plus the speed of it and the flow of the tracks.
If we wanted to try it, how should we prep?
Work on skating. But I would recommend going to skate parks on rollerblades. Rollerblading is one of the best ways to prepare because you're not going to get that on flat ice. You have to learn to find the balance point on features; once you find that, you can progress a lot quicker.
You started a community called Chicks That Rip. Can you tell me a bit more about that?
I found myself always doing sports with guys, and I was losing the girlfriend time. Those were two separate things for me: hanging out with my friends, then doing all the sports stuff. I wanted to incorporate those. I had a lot of girls messaging me wondering about trying this sport. I started a couple events for all skills for girls to come try it in a less intimidating environment. I think that intimidation is a factor – they don't want to mess up and embarrass themselves. But I think it's important to try new things and challenge yourself. If you're not getting out of your comfort zone, then you're not going to move forward.
---
See Jacqueline in Red Bull Crashed Ice action from Saint Paul on Red Bull TV. Visit about.redbull.tv. Upcoming Red Bull Crashed Ice races will be live on Red Bull TV and CBCSports.ca. In addition, coverage of the season finale in Edmonton will be available on CBC TV on March 10 immediately following Hockey Night in Canada at approximately 12:45 a.m. EST.