Music has always played a major role in Jah'Mila's life. "I cannot remember a time when I wasn't singing," the award-winning reggae star tells me, from her home in Halifax. Born in Kingston, Jamaica as Jhamiela Smith Dunn, Jah'Mila moved to Halifax six years ago, and has quickly become a beloved performer on the East Coast music fest circuit. This week, she'll be in Toronto, joining the Toronto Symphony Orchestra onstage for their Reggae Roots Young People's Concert.
Conducted by Daniel Bartholomew-Poyser, the Reggae Roots concert will incorporate traditional styles of reggae, infused with elements of jazz and modern soul. Jah'Mila's powerful vocals combined with the full force of the orchestra promises a bright and energizing symphony of sounds—a terrific mix to inspire young hearts and minds.
Jah'Mila's early musical influences include the church and her father, Earl "Chinna" Smith, who was a well-known reggae guitarist. "One of my earliest memories on my dad's side was singing for him with my sisters and brothers. He has nine kids and six of us sing professionally. Music has been an inseparable part of my life for as long as I can remember."
Her debut album "Roots Girl" was released in the fall of 2022 and is as much about honouring the deep roots of reggae as it is about planting new roots in Canada.
Since arriving in Halifax in 2017, Jah'Mila has been enchanted with the vibrant music scene. "It's very close knit. It's very supportive. It's very eclectic," she shares, adding how a recent event spanned just about every genre, including rock, emo, Cape Breton kitchen party music, Cuban music, Afro beats, rap, and reggae. "900 people were there to celebrate… That weekend showed me why I live here and why I love it so much. Everyone knew everyone and everyone was singing everyone's song! And that's what I love about the East Coast."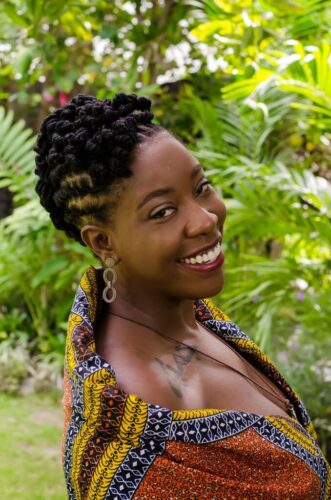 If you've attended a TSO Young People's Concert in the past, or checked out the diverse programming, you know that introducing kids to a variety of music is something the TSO does exceptionally well, with each concert being totally different from the next. Audience hits from the past year have included Peter, the Wolf, and the Kiwi, The Hockey Sweater, and Why Sci-Fi?.
In 2022, we spoke to Bartholomew-Poyser about mad.glad.sad, a concert that helped children understand a range of emotions through sound. "Feelings, for young children in particular, are hard to understand, and can be overwhelming—mad.sad.glad presents a magnificent opportunity to explore these big emotions."
So what can families expect at the Reggae Roots concert? Jah'Mila describes it as "an immersive journey into the depths of roots reggae". It's educational and energizing, but this TSO event will also encourage everyone to dance. "The orchestra adds a certain layer of magic to it, almost as if it were a fairytale…and then it ends with the biggest reggae party as we perform Bam Bam. We try to get the audience up to dance and hang out with us."
Truly, the TSO's Young People's Concerts are the best way to introduce children to orchestral music, and help nurture a lifelong appreciation and love for music, in its many, many forms.
"As a little girl growing up I did not see myself reflected on the stages of orchestras. If there was someone that looked like me, they certainly didn't sound like me—they weren't singing reggae music!," Jah'Mila exclaims. "I am hoping that a little girl or a little boy will see me and find inspiration to share their own originality. I want them to know that it's possible. As long as they can dream it, it's possible."
The TSO Reggae Roots Young People's Concert will take place on Saturday, April 15 at The Rose Brampton, and three times on Sunday, April 16 at Roy Thomson Hall, including a Relaxed Performance at 11AM. Buy your tickets now.