What's Love Got To Do With It? is an uplifting, emotional, smart, fresh and funny rom-com that asks: where do we find love in today's fast-paced tech-driven world? It's a question that British journalist and writer Jemima Khan has been thinking about long before writing the script.
Khan moved from London to Pakistan in her twenties, and spent a decade living in Lahore and Islamabad while married to Pakistan's former Prime Minister, the controversial Imran Khan, whom she divorced in 2004. During her time in Pakistan, Khan observed numerous families come together through traditional arranged marriages. At first, she considered it "mad and outdated and almost medieval", but after spending time with married couples who'd met this way, and listening to different points of view, Khan realized that having parents and family members suggest a life partner wasn't any weirder than frantically swiping right on Tinder and being fed strangers by an algorithm.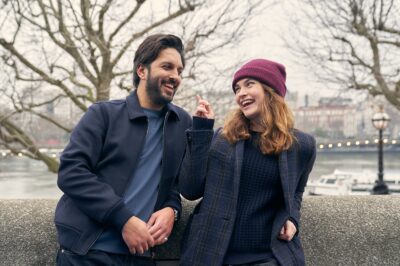 "The problem with too many options is that there is a tendency for love and romance to feel quite disposable, and for love and sex to become somewhat commodified. I think there is something about the simmer then boil approach, the walking into love rather than falling into love, and just stepping back and taking things a little more slowly, which is what I've taken from having seen the arranged marriage process," Khan shares, adding that both matchmaking methods have their pros and cons.
Directed by Shekhar Kapur (Elizabeth), the film stars Lily James as Zoe, an ambitious documentary filmmaker who is shocked to discover that her childhood friend and neighbour, Kaz (Shazad Latif), has decided to allow his parents to help him find a suitable partner, or what he calls "assisted" marriage. Pressed to secure funding for her next project, Zoe pitches Love Contractually, a doc that explores arranged marriages in a modern world, and convinces Kaz to be the main subject of her film, following him to Pakistan to meet his bride.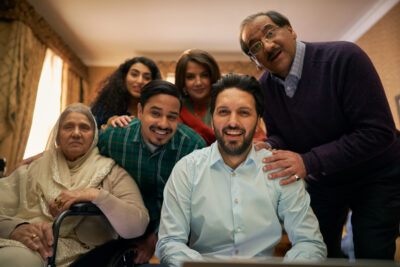 What's Love Got To Do With It? premiered at TIFF 2022, and received a standing ovation at Roy Thomson Hall (I know, I was there). During the Q&A, Khan passionately shared that the movie was "a love letter to Pakistan". It was a remark that received a wave of applause from the audience, which was predominantly South Asian. Of all the things I tweeted during TIFF, Khan's heartfelt message received the most traction online, and was shared thousands of times around the world.
"Part of my motivation for making this film, and particularly using the genre of a rom-com, was that I was responding to the lament of my Pakistani friends about the way that Pakistanis and Pakistan is usually depicted on screen in the west—as the bad guys, the terrorists, the shady ISA operatives, the backwards people. To make a rom-com about Pakistan seemed like the most subversive and surprising thing. With all the dark stuff out there, to show this vibrant, colourful, fun and hospitable side of Pakistan, which is also my experience of living there, it just felt like the most apt way to do that."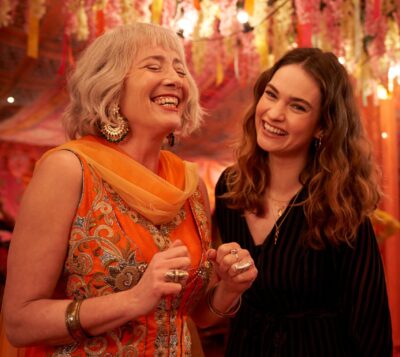 Both James and Latif give stunning performances, but the laughs and tears are also inspired by a brilliant supporting cast, including Emma Thompson, as Zoe's vivacious and slightly racist mother, as well as Shabana Azmi and Jeff Mirza as the doting parents of Kaz, who want the best for their son, but whose ideas of marriage, are conservative and outdated. These opposing views, between generations, are where some of the film's best and most relatable humour stems from, and also what inspires empathy, understanding, and thought-provoking discussion. What's Love Got To Do With It? is a rom-com with depth.
"People have said that watching the film has elicited conversations within families across generations that they might not have been able to have without seeing the film together," Khan says with a hand on her heart and a smile. "That has been incredibly touching and really really important to me, way beyond the general box office numbers."