The hilarious and whip-smart comedians who brought us She The People (our favourite sketch show of 2019) have been experimenting with a virtual interactive comedy show on Tuesday nights, and it's amazing.
Girls Night In has been bringing people much-needed laughs in lockdown each week, and this weekend, they are moving from their usual Tuesday time slot to Saturday midday (1PM EST) to give Canadians a very funny and thoughtful Valentine's Brunch Show with special guests—or comedy legends—Debra McGrath and Colin Mochrie!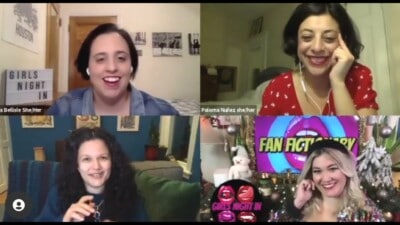 How to do this? Buy a ticket, cook up some French toast, or whatever you (or your loved one) enjoys for brunch, and then tune in at 1PM for games, improv, stories and so much more! You can even join in your jammies.
The crew behind Girls Night In is composed of alumna from he Canadian Comedy Award-winning She The People. The core cast is Alex Bellisle (Chicago), Ashley Comeau (Toronto), Sayjal Joshi (Chicago) and Carisa Barreca (Chicago). It is directed by Toronto's own Carly Heffernan, produced by Madison Falco (Toronto) and we have the incredible Ayaka Kinugawa (Toronto) as our Musical Director.
Tickets are $13, and we think this is a terrific way to have a memorable Valentine's weekend this year. WHAT ELSE ARE YOU DOING? Join and LAUGH. We need more laughter. More info
here
.