Making its world premiere at this year's TIFF, Volcano is a captivating short film by award-winning writer and filmmaker Karen Moore (Mary Kills People, Workin' Moms).
Volcano is Moore's directorial debut and uncovers the complexity of human relationships, the film showcases a strong female cast and crew, including its director, writer, producer, lead actors, cinematographer, production designer, and gaffer.
Shot locally on location in Toronto, the film follows the friendship of Hannah (played by Hannah Cheesman) and Jess (played by Jess Salgueiro), who meet up at a tiki bar, seeing each other for the first time since Hannah's romantic Mexico trip. As their conversation unravels, the audience will witness Jess and Hannah's complicated and messy relationship.
We caught up with Moore this week.
SDTC: Congrats on your directorial debut! Can you tell us how you got involved in this film?
KM: Thank you! I more so made everyone else get involved in this film. I was patient zero, if you will. Volcano is a deeply personal story that I self-financed and hand-picked everyone I wanted to surround myself with; basically a dream scenario for an anxious first-time director.
What do you love most about working on shows with a female-centric cast and crew?
I wrote on Workin' Moms for the first two seasons and loved writing all those unique women. It can sometimes be like writing conversations between different aspects of yourself, which is very much what Volcano is for me. For a show like Mary Kills People, there was something inherently more interesting to me about the character, not only because she was female, but a mother. It's like the extremely morally complicated version of Workin' Moms…with a lot more death.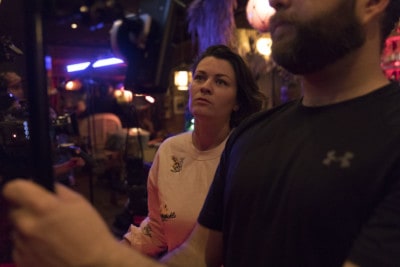 What did you learn after making this film?
Making this film was in large part about me giving voice to a relationship that I've had a hard time owning as being as bad as it was—bad enough to label as abusive. After sending the Volcano script out for notes, I learned that everyone has a different gauge for human behaviour—a specific lens based on their own lives—and that all I needed to make my experience feel like it was enough, was to decide it was enough.
What do you hope audiences will take away from Volcano?
Hopefully people see themselves in that friendship and connect to being the Jess or Hannah. I think sometimes we project onto those we want to be close to, and if we aren't careful, a distance creeps in that can threaten a once-strong bond. If people take away something like that &/or have a laugh, I'm good.
Any advice for aspiring female directors/filmmakers in Toronto looking to get their foot in the door?
There are all the usual suspects: Apply to the CFC, join WIFT-T if you can, apply to all the programs/grants (Arts Council, HGF, etc), join writing groups, take classes (LIFT, etc). I did a cocktail of all those things, and for a long time. Be patient. Run your own race. Try to make things. Breathe. You're closer than you think.
What philosophy is currently steering your life and helping you make choices?
"You only have to bloom" is a Cheryl Strayed quote I have up right now. I'll refrain from [taking] a deep dive into my therapy of the past six months, but essentially I've been trying to get out of my own way. To hear the different parts of myself that pop up in response to various life choices, and take the time to hear what I actually want to do. Somewhere along the way, I've kind of conflated my ambition with my intuition, if that makes sense, so I'm working on separating those distinct voices. From there, let it bloom.