This past summer, Evergreen Brickworks issued a call to artists to submit ideas for projects that addressed equity in public space. Artist Kristin Li responded; her striking Prison Dispatches was chosen, and is now on display for anyone who's out and about for a hike, or picking up food from the weekly farmers market.
At first glance, people may assume it's a map of trails or public green spaces, but upon closer inspection, the map reveals a picture of prison locations and detainment centres in Ontario. "I wanted to draw a spatial relationship between the people who are visiting Evergreen and the prisons that are in their proximity," says Li, who has made the map interactive. A quick scan of a QR code allows the public to read news stories and personal experiences about how life in prison has been affected since the onset of the pandemic.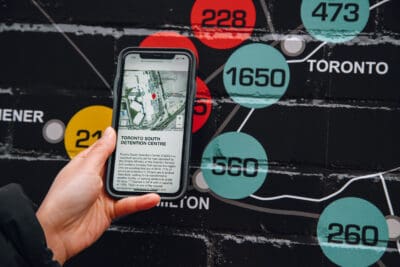 For many years, Li has been involved with supporting The Prisoner Correspondence Project, a solidarity project to support queer and transgender prisoners in Canada and the USA. "I'm interested in structures of power, and trying to understand the fundamental systems and hierarchies that maintain the existing social order," says Li. Her exhibit not only inspires conversations and ideas about prisoners rights, but also reveals numerous pandemic stories that have received little to no coverage in mainstream media.
In a video about the project, Li talks about how efforts to curb the spread of Covid-19 within prison walls has lead to increased deprivation, with reduced access to outdoor space and showers. "The unbearable conditions have led to organized resistance by prisoners," says Li, describing hunger strikes in prisons across Canada where desperate prisoners plea for fresh air.
Li's smart and impactful project stops people in their tracks and encourages the public to consider life in Ontario's prisons in a way most have likely not. As a public art project with the goal of illuminating issues of equity, Li's Prison Dispatches is outstanding. Plan a walk to check it out. More info on can be found on Li's website.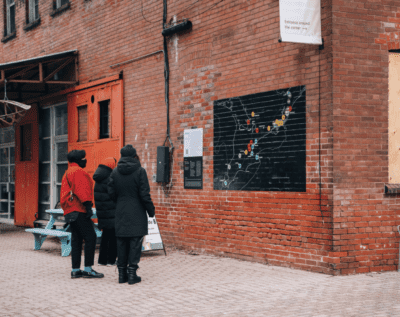 Kristin Li was born in Chengdu, China, and currently works in Toronto and Montreal. Li's work has been shown globally, including screenings at Oberhausen (Germany), National Contemporary Art Museum Bucharest (Romania), Cinémathèque quebécoise (Canada), MIX NYC (USA), Videoformes International Digital Arts Festival (France), Bucharest International Experimental Film Festival (Romania), Cinemateca de Curitiba (Brazil), Winnipeg Cinematheque (Canada), Laceno d'Oro (Italy) and Galerie Leonard & Bina Ellen (Canada). Li is currently pursuing an MFA in Film Production at York University.