What is happiness? Is it bright rainbow colours and a room full of cookies? Is it a perky pose in a yellow bathtub that receives 100+ likes? Or is it running around a mad hatter-like event, being wowed at every turn? It's definitely a subject that will be debated at the highly anticipated Happy Place Pop-Up arriving at Toronto's Harbourfront Centre November 1, 2018, and inviting all to explore until January 1, 2019.
First launched in Los Angeles, the multi-sensory event claims to have one main goal: "Spread happiness across the world." (With general admission costing $35.31, we can't help but think there are other motivational factors, too, but it does look fun.)
So what will you see? What will you experience? Go wild in the world's largest indoor confetti dome with half a million pieces of confetti, bliss out with a twenty-foot-tall double rainbow that invites you to "jump into a pot of happiness," measure up against seven-foot stilettos made of a million candies, or lose yourself in the superbloom room with over 15,000 immersive flowers. Happy Place boasts 20,000 square feet of sensory merriment, with ten extravagantly styled rooms offering extremely bright and over-the-top scenes to peruse. CAN YOU EVEN HANDLE IT??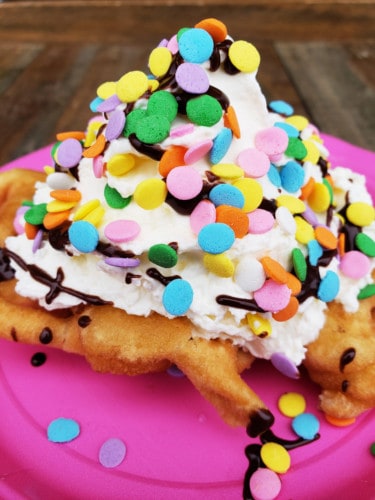 Other highlights to look forward to:
An all-new fully immersive Cookie Room, wrapped from floor to ceiling in chocolate chip cookie print and a six-foot-tall cookie. It's ideal for snapping photos and bound to make your tummy rumble and delight all your senses!
An interactive canoe installation by local Toronto artist Jasmin Pannu that pays tribute to the great white north's love of cottage country.
A Candy Room featuring 63 gumball machines filled with 22,500 white and yellow gumballs and an all-new pink and yellow Candy Café set the tone for the perfect sugary wonderland.
The X&O's Room with thousands of lit up mirrors, featuring a lip-shaped couch and a heart-shaped frame.
The new whimsical Happy Hallway, where guests will interact with HAPPY PLACE fan-favourite installations as well as new ones, including a custom maple leaf-themed mural designed by Toronto artist Jasmin Pannu.
The HAPPY PLACE signature Yellow Bathtub Cubby, filled with rubber ducks.
Dancing on the Ceiling, an upside-down room where you can rock out like Lionel Ritchie.
A Confetti Angels Room, where you can shake off the winter blues by making happy confetti angels.
A lemonade stand with all of the proceeds going to a local charity (charity TBA).
A snack bar featuring yummy treats like HAPPY PLACE staple Rainbow Grilled Cheese, "Fun"nel Cake and Happy Hot Chocolate by @foodstudioTO.
So who's going? If the mega-sized rubber duck and #InfiniteKusama are any indication of how much people in this city enjoy a good 'gram, these tickets will go fast.
Whether it will make you happy or not, we can't say, but it will be a colourful adventure that will undoubtedly arouse the senses.