Lauren Grant is a well known name in the Canadian film industry, who has established herself as one of our hardest working producers (Sugar Daddy, The Retreat, Riot Girls, Wet Bum, Picture Day). Things We Feel But Do Not Say is her powerful directorial debut, which had its world premiere at the Vancouver International Film Festival (and is available to screen digitally for the duration of the Festival).
Things We Feel But Do Not Say captures an invisible facet of life when Genevieve (Gita Miller) experiences a miscarriage, events inspired by Grant's own personal life. From the film's pacing to the outstanding performances, Things We Feel But Do Not Say is a quiet and deeply moving study on how we process grief.
With an estimated 15-20% of pregnancies ending in miscarriage, this is a subject that deserves more weight, and yet it is still considered taboo. The trauma is real, but most people still suffer alone.
We connected with Lauren to ask her about her poignant short film; her thoughtful responses spark much-needed dialogue.
Why were you compelled to make this film?
I wrote the film at the end of 2019 after producing two films and line producing another one that year. I was exhausted. It was a year where I was away from my family a lot and it made me reconsider how I wanted to work. At the same time, I had been considering directing a short for a few years to push myself creatively and to try something new. My plan was to focus 2020 on development and writing, which happened, but not in the way I could have imagined.
I also had been feeling ready to make something that was truly my voice. The idea for the film really came to me all in one night and I'm a very visual person so I could see it play out in my head before I wrote it down. I'm proud that the film I saw in my head, is the one now on screen. Right away, I knew it would start at a pool where Genevieve, the lead character, felt happy and it would be a journey of isolation in grief. The day after the film came to me, I went to the office to work on Sugar Daddy with producing partner Lori Lozinski and she said to me, "Let's stop what we are doing and set a timer and just write for 30 minutes". It was the push I needed, and the story really flowed from there.
With Producer Ashleigh Rains on board, we figured out how to make a short film in the pandemic. I felt really supported with my creative partners. Throughout the process, I continued to come back to the North Star for the project – the idea of isolation in the middle of grief and how lonely the experience can be. It felt like the story I needed to tell so I kept coming back to the North Star as the guide for my creative decisions. Ultimately it is a film about your body feeling like it is betraying you.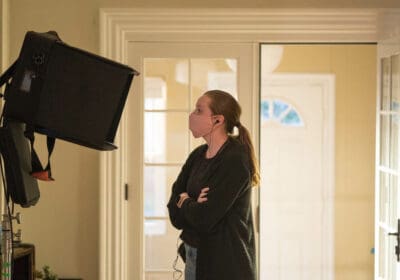 Your lead character never talks to anyone about what she's going through—can you tell us about that creative decision?
Originally, I considered having her speak constantly but never about her feelings, but that draft didn't feel truthful to the experience. Instead, I rewrote to focus on her silence throughout until she has to put the mask on at the end of the film to pretend everything is okay to her co-worker. Miscarriage can be a very silent experience and I wanted to capture how grief and pain is held in the body even as we try to navigate through it. For me, the film is about the moments in between – the silences, the moments alone, the physical suffering and the delay of acknowledging the grief. It is not about the plot of go to the doctor, then this test and this ultrasound, it is about the moments of banality that puncture through this experience of pain. Gita and I spoke about all of this ahead of filming and she is just such an incredible actor that she was able to capture all these emotions without any words.
The film is about a woman having a second miscarriage, one that she is expecting to happen. After having two myself, the first being a surprise, there was something even more painful about the second one when I knew it was coming but I had to wait weeks. It felt like the ultimate betrayal – my body couldn't even miscarry well! That is what I wanted to capture in the film – and I realize not everyone will get all that detail from it – but it is about this miscarriage to do list before she can process her grief. Grief limbo is an especially hard spot and that's when the silent spaces and moments alone feel so heavy.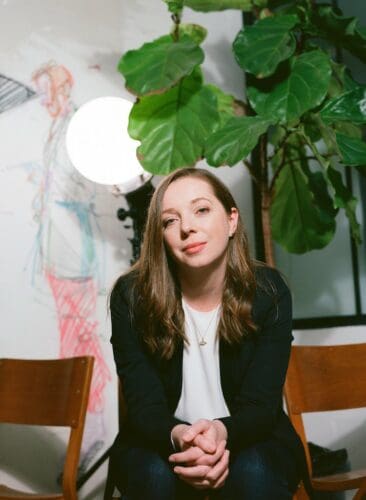 What did you enjoy about directing that felt very different to producing?
I felt like a nervous newbie again, which I really loved. One of the things I like about producing is that each project is different but stepping into directing was a big leap. The experience to prep and be on set was very different – yet the edit felt similar. I tried to embrace all the newness of it all and work hard to personally prep so I could show up prepared yet remain open to the ideas from the cast and crew that came up during filming. Back to the North Star idea, is believing that as a director you don't have to have all the answers, but you need to be always watching for tone and consistency across all the choices.
I love the collaboration of the team in both roles but having a group of people come together to make something that I wrote and is so personal was truly incredible. I felt I owed it to everyone who gave their time and creativity to the film to make it the best that I could. I'm always nervous for a premiere, but this does feel different. It was a special experience to make the film.
Are we okay with just feeling? Or do we need to say more?
Oh, we definitely need to say more, and as a society we need to create space for people to speak, and get comfortable with listening and 'uncomfortable silences'.
If the pandemic has taught us, reminded us, or showed us anything, it is that many people have been encouraged by society to move through the world as silent as possible. In white culture, we are (mostly) uncomfortable with grief and loss, but I see the shift happening. Even having gone through this terrible experience – one I wouldn't wish on my worst enemy – I don't think I'm naturally prepared to deal with others' grief.
I hope as we all move through this grief state that has been the pandemic, we recognize that we can get better at being a support for others and that silence from ourselves and to others is not the best solution. If you're looking to support yourself or someone else during miscarriage or any loss, I highly recommend the Toronto store Crying Out Loud and the book "There is No Good Card for This" by Kelsey Crowe, Ph.D. and Emily McCowell.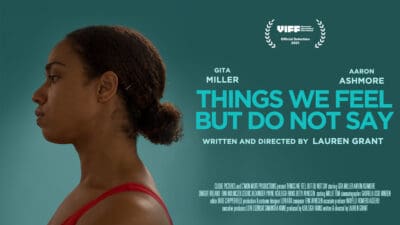 THINGS WE FEEL BUT DO NOT SAY is available to screen through the Vancouver International Film Festival (VIFF CONNECT) across Canada until October 11th as well as in person October 6th at 9:45 pm and October 7th at 4 pm for in person screenings in Vancouver at the Annex.