Our friends at League of Moms, Toronto's extremely helpful mom-rated directory, pulled together an amazing Mother's Day contest that we think any mama would want to win. Many of the prizes are from local female-founded businesses we love, and we think that winning all of this would be the ultimate pick-me-up.
"I decided to pull this giveaway together because this year more than ever we need to honour moms," says League of Moms Founder, Ronit Soroksky. "They are stretched to their limits with parenting their kids, teaching their kids, feeding their kids all while getting their work done too."
We aren't the first to notice, or say, that life right now feels like an endless Groundhog Day. Celebrating milestones and marking occasions is extra important, as it gives something that the whole family can look forward to, and help distinguish one day from the next. "I think for all of our mental health it goes a long way to mark little moments and bigger ones!" says Sororsky, who has taken things one step further by finding things to celebrate. "In our family, we really look forward to 'celebrating' Fridays when we get to order food from a local establishment. We celebrated my daughter's 'half birthday' with cake and I can't wait to see what my husband is planning for Mother's Day."
We hope your loved ones organize something special for you. In the meantime, toss your hat in the ring and try to score this major win. Enter now.
Here's what you could get if you win this amazing giveaway, valued over $1000.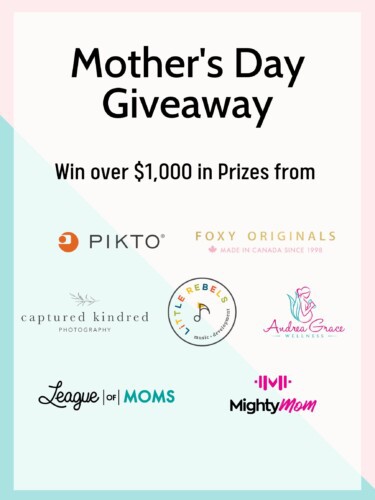 1 – A $150 gift card that can be used towards any of Pikto's premium print products.
A virtual gift card for $150 that can be used towards the purchase of any of Pikto's products from home decor to archival prints and premium quality handmade photobooks and albums.
For Mother's Day, Pitko is currently offering a buy one photobook and receive a second for 50%. Offer ends April 30th, use promo code: GRATITUDE2020.
2 – $50 gift card for Foxy Originals
The perfect gift for any Foxy mama in your life! Enjoy $50 to purchase from their full collection of locally made jewelry. Foxy Originals is designed and produced by two Toronto moms, their jewelry is trendy, affordable and made in Canada!
3 – $100 towards any product or service listed on League of Moms
League of Moms has over 350 services and products listed for moms and moms-to-be in the GTA. Get $100 to use towards one or more businesses listed from massage therapy, meal delivery services to sleep consultants.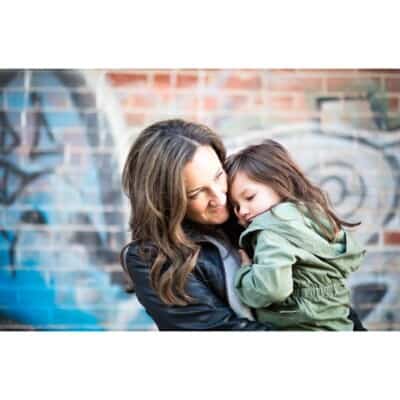 4 – Mommy and Me Session with lifestyle portrait photographer, Veronica Logue of Captured Kindred valued at $250
Once we are our safely out of quarantine, you'll enjoy a mommy and me session with lifestyle portrait photographer, Veronica Logue of Captured Kindred. Capture some sweet moments with the little people who call you mom (yes, those same little monsters you're social distancing with 24/7 right now!) or someone you call mom.
Here is what is included:
• 30 min outdoor photo session⁠
• 5 edited digital images chosen from an online selection gallery with the option to purchase additional images
• Photo session will take place after social distancing and must take place within 6 months post social distancing.
Note: This specific part of the prize will be awarded to only someone living in Toronto or willing to travel to Toronto. Alternatively, the winner can pay it forward to a frontline worker.
Captured Kindred is currently offering a buy one gift one offer. When you buy a photography session, you can gift a free one to a frontline worker of your choice. If you don't know a frontline worker, Veronica can find one.
5 – Mighty Mom 6-month Virtual Progressive Program valued at $150!⁠
⁠
Jessica Sennet's new 6-month virtual progressive training plan is perfect for the prenatal mom, postpartum moms, moms with toddlers, moms who haven't worked out in years and those we love a good challenge! So basically everyone!
With the Mighty Mom program, you get…⁠
• 3 x 30 min progressive workouts emailed to you weekly⁠
• Full descriptions and exercise videos included⁠
• Accountability emails to keep you on track⁠
• Membership in TRUECOACH APP included⁠
• Modifications for postpartum complications⁠
SPECIAL MOTHER'S DAY OFFER FOR EVERYONE –
2 FREE weeks of the HOME WORKOUT PROGRAM!!! A progressive program that is challenging for every exercise ability! 3 workouts a week with all modifications and exercise videos included! Learn more here.
6 – Personalized Nutritional Plan with Andrea Grace Wellness valued at $185
Get a 60-minute consultation valued at $185 with Andrea Grace Wellness. Nutritional consultations are conducted via phone or video call. During this hour, you will discuss your main health concerns, health goals and review your Health History intake forms. Following the consultation, you will receive a comprehensive, personalized protocol that covers dietary, lifestyle, supplement and fitness recommendations, tailored to achieve your health goals.
7 – Little Rebels Music and Development Instagram Live 2 month Session valued at $100
Little Rebels will be offering a spot to one lucky mama in one of their virtual classes for their standard 2 month session, worth $100+hst. Little Rebels classes are currently being offered on Instagram live. They have multiple classes on multiple days and times for you to choose from. You will get access to a private Instagram account which will allow you to, not only view your own live class, but will also allow you to tune into your teacher's other classes throughout the week at no extra cost. Their Instagram live classes are as interactive as possible, as they include your child's throughout the entirety of the class, so it feels like you are in the same room as your teacher. Their classes are saved for 24 hours, so you can also access them at a later time if you miss it.
Wow. All of that would sure make life a little easier. Enter now.