Lee Dekel is the founder of 100% SILK, a fantastic little shop on Toronto's Queen West. Dekel founded the shop last year as a way to showcase her textile-focused clothing line among a curated and eclectic group of artisans and designers who share an ethos of idiosyncratic beauty and craftsmanship. Part retail store, part textile gallery, part experiential venue, the space is dedicated to showcasing emerging brands from around the world that combine a distinctive vision with thoughtful construction and slow handmade processes.
We were curious to learn more.
SDTC: Tell us the story of how 100% SILK came to be.
LD: I went to King's College for History of Science, where I focused my studies in material culture, and how objects affect human history. Mid-degree I started taking courses in weaving, dyeing and pattern making at a nearby art college. It might seem like a surprising combination but the two really informed each other, you can learn so much about a society by examining how fabric and garments are made.
My first job after university was for the brand Osei-Duro in Ghana, I managed their production in Accra and developed textiles for them across the country. It was an incredible experience filled with as many surreal moments as frustrations. The owners have really poured their souls into with the project of merging traditional techniques with modern design and I learned a lot from their ability to balance creativity with hard work and realism.
In 2016 I moved back to Toronto and started 100% SILK the brand. I wanted to combine folk textile techniques with bold colour palettes and wearable shapes. The first collection was dyed, cut and sewn entirely in my apartment and the second was made in collaboration with artisans in Ghana and Uzbekistan. This past September I opened the shop as a way to showcase the line among a group of artisans and designers from around the world who shared my ethos towards idiosyncratic beauty and craftsmanship.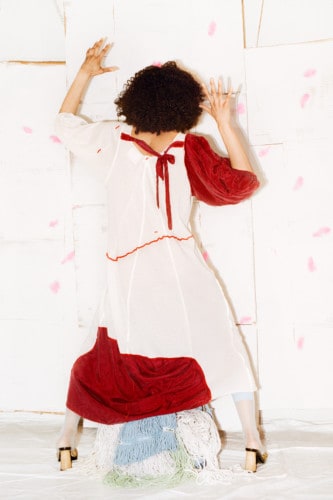 What sets 100% Silk apart from similar stores on the Queen West strip?
100% SILK is a multi-brand shop that showcases emerging brands and artisans from around the world that combine a distinctive vision with slow, handmade processes. It's also a gallery, with rotating exhibits. We just wrapped up a show of weavings from local artist and musician Anni Spadifora.
Aside from the selection of brands – most of which are not represented in Canada – I think the space is what really sets 100% SILK apart. I wanted to create a shop that felt like a world of its own – that was luxurious, personal and inclusive all at once. All of the furniture is custom – made by Toronto artists SPACED and Zachary Besner. And the sign and sandwich board garner a lot of attention, they were hand-painted Toronto institution Colin Campbell.
Walk us through a day in your life, from getting up until going to bed.
This is hard to answer, because I have the shop and the clothing line no two days look the same. But the first thing I always do when I wake up is dry brush and moisturize – my beauty routine is probably the only routine I have so I really prioritize it. Next I respond to emails and check in on textile production in Ghana and Uzbekistan, they're on opposite time zones so it has to happen first thing, and make a to do list. After that my goal is just to get as much done in the day until I hit a wall. This could mean prepping for a photoshoot with Luna Khods, managing the web store, rearranging merchandise with my other half Inez Genereux or helping customers from open to close. In the evenings I usually make an epic meal with my husband and roommate, watch a movie or babysit my nephew. I never sacrifice time with people I love for work – what doesn't get done in one day can always get done in the next.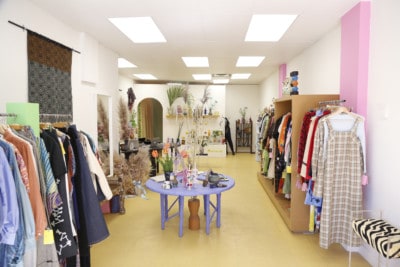 You also aim to tell the stories behind the textiles. Can you share with us the story behind one of your current fave garments?
One line we just started carrying is Carl Jan Cruz, headed by a young Filipino designer . His combination of grand silhouettes with everyday local textiles and lots of handsewn finishes is really fresh and exciting. My favourite piece is called the Dilag Dress, a maiden silhouette made from a patchwork of cotton piqué and red sueded silk. The piqué is milled at a polo shirt factory in Manila. He has another shirt that's made entirely of the dense material they use just for collars.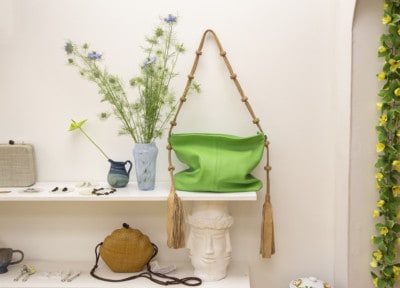 What's in the store right now that you find particularly captivating, and why?
We just had an opening for Nova Scotian artist Ian Funke-McKay, who installed an incredible collage of floor tiles, creature-like abstract figurines and large fabric banners that really take over the space. He's created a language that synthesizes medieval symbolism with shapes and palettes we'd think of as futuristic. I love coming in every day and getting seduced by a new piece I hadn't paid close enough attention to. It'll be up until the end of May!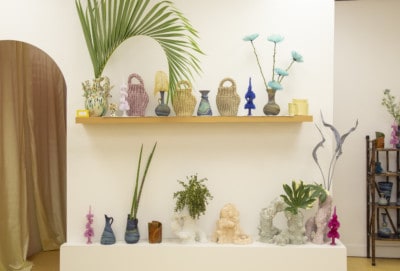 We tend to be moving away from fast fashion to more sustainable, quality pieces. Why is this important, and how does 100% SILK fit into this new shift?
I try to curate pieces based on the emotional reaction they elicit. The reason certain crafts have been around for so long is because they speak to the human spirit. I've had so many people tell me how they wear the pieces they got from the store like an heirloom, rarely taking it off. I think it's that kind of connection that will change someone's mind about fast fashion. Luckily quality and sustainability tend to go hand in hand. In the same way organic food tastes better, something that was made well by someone who was passionate about their craft will look and feel better than something made for quick consumption and disposal.
Anything else you want to add?
Yes! Just want to thank everyone who believed in the store's vision – I would never have been able to open the doors without the immense support of the community around me.