With her life split between the city and the country, designer Lyndsay Borschke inhabits a space between these two worlds and manages to reflect each in her new collection of luxurious accessories called Tuck Shop Trading Co.  Pulling from her family's glamorous past, adventures in the northern wilds of Ontario, and her life as a Torontonian, she designs beautiful and functional clothing that works just as well at the cottage as in the city.  Soft cashmere throws and scarves, warm jackets and those Toronto neighbourhood toques you may have seen, oh, EVERYWHERE, form part of her outdoor-inspired, backcountry-cool collection.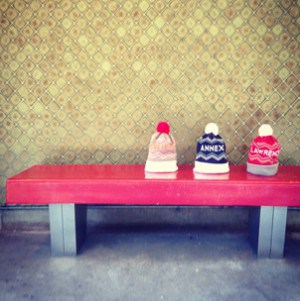 SDTC: What was the inspiration for your collection?
Lyndsay Borschke: I was shown a picture of my husband's grandmother arriving at Canoe Lake, Ontario by train circa 1948.  She was eloquently dressed and carrying a lovely suitcase over her paddle.  I loved that even while travelling from the city to the northern wilds of Algonquin Park that she still took the time to dress impeccably.
SDTC: What do you think distinguishes Tuck Shop Trading Co. from other collections?
LB: Tuck Shop Trading Co. strikes an unusual balance – it's casual wear that's ready for both town and country, but it's also elegant and made to a very high quality.  We source the best fabrics, and then manufacture locally to ensure that we can be selective about our manufacturers and build a relationship with them. That's the only way to produce a top quality product.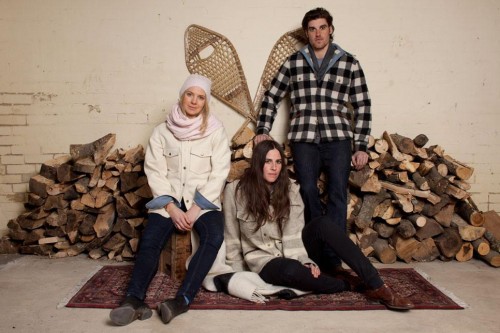 SDTC: What's the best advice you can provide for anyone looking to get into the industry?
LB: Work hard to build strong relationships with your suppliers and manufacturers – without them, you won't get very far. Also, ignore the haters!
SDTC: What has been your career highlight so far?
LB: Being featured in TIFF's 2013 Made in Canada lounge was awesome. It took place before we were officially launched so we were completely unknown at the time. More recently, NOW Magazine called us one of the "in" Made-in-Canada brands this year, alongside brands like Canada Goose, Mackage, and CMFR. That was big for me. I was also pleased to see that NOW thinks that our toques are one of the top things to buy for "rich hipsters"!
Finally, I smile every time I see a Tuck Shop toque or jacket being worn by someone "in the wild" – that's probably the most rewarding thing. It's about knowing that someone chose to buy our product over another option and chooses to wear it as part of his or her everyday wardrobe.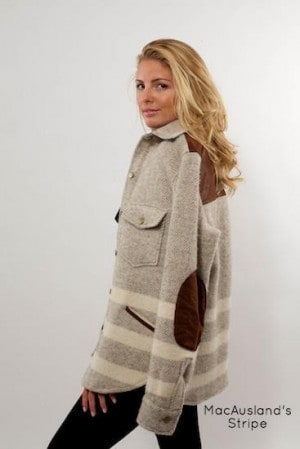 SDTC: What are some of your favourite places to go in Toronto? Where are we likely to find you?
LB: I live in Summerhill, and my husband and I spend a lot of time at Terroni & Bar Centrale on Price St. I conduct a lot of my meetings there. It's in our neighbourhood and it's Terroni, so you know you can count on good food & drink. My other go-to neighbourhood restaurant is Rose & Sons and Big Crow. We threw our launch party at Big Crow and Anthony Rose has been a huge supporter of ours from the beginning. I also spend quite a bit of time around Trinity-Bellwoods – I consider myself a downtown expat living abroad in Summerhill. I've been going to the Black Hoof since the beginning (even while a vegetarian, thanks to my husband), and it remains one of my favourite places in the city.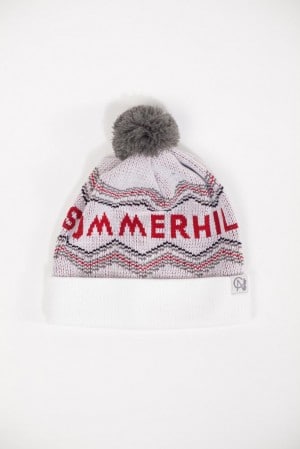 SDTC: What's your favourite thing about the design community in Toronto?
LB: I love the fact that it manages to be diverse and close-knit at the same time.  Being a new designer, I've been amazed at how welcoming and helpful everyone is.
SDTC: What's next for you?
LB: We are expanding our City of Neighbourhoods line to other cities soon: Montreal, Vancouver, NYC, Seattle, LA, Boston, and San Francisco.  You can also expect to see a much-expanded line of Tuck Shop this Fall/Winter season.