In 1981, legendary Blitz Kid Scarlett Cannon was just 18 when she ran Cha Cha Club, a weekly queer party at the back of Heaven, Europe's biggest gay club at the time.
For most of the week, the back room at Heaven was dark. "It's where the leather guys went. The lights very rarely went on, but they went on on a Tuesday night," Scarlett tells me, setting the scene of the subversive post-punk party night which she started with the late great fashion designer Judy Blame. "You didn't get there through the main club, you had to go down a little alley. It was a really dark alley…rocky and very ashy. There was a tiny light on the outside, but you had to knock on the door to get in. You had to know where it was."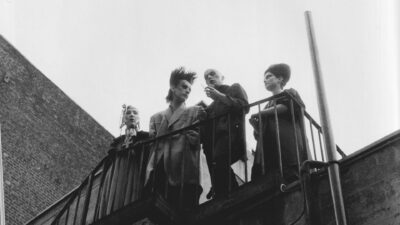 It was at the Cha Cha (1981-82) where so many of the artists, filmmakers, musicians and fashion designers associated with London's New Romantics movement first met. The vibrant people who partied in the smoke-filled hedonistic back bar went on to become some of the most influential artists of their time, and it is this eclectic mix of personalities that are the subjects of Kevin Hegge's exciting and fascinating documentary Tramps!, which is having its North American premiere at Inside Out, the largest 2SLGBTQ+ film festival in Canada.
"It was essentially a room full of queer culture, but if didn't have a name then, it was more to do with needing a place of safety," says Scarlett, who quickly became a style icon, with her severe makeup and shaved head—often decorated with a giant black crucifix. "I wanted to shock people, shake them up." To this day, she is a little stunned by the fearlessness she had at such a young age. "I think it was always inside of me and it was bubbling to get out."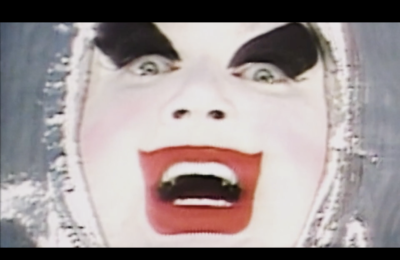 The New Romantics (a term coined by the press) was a style that was influenced by punk, some would call it a punk subculture, but it was also a resistance to the uniformity of punk. You didn't have to have a particular hair style, wear leather, or like the Sex Pistols—there were options, and fashion often veered on the side of outrageous, a kind of glamour that wasn't seen on the streets of London before.
At the time, London was very different from the international hotspot that it is today. Bombed out sites still remained from WWII; rent was affordable, and if you didn't want to pay rent, you could find an abandoned Georgian home to squat in, like the infamous Warren Street Squat, which is explored in detail in Tramps!.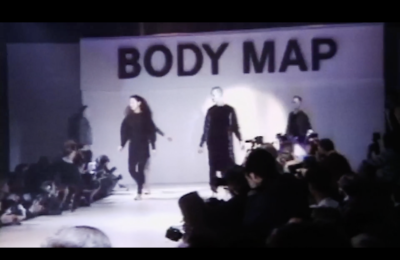 "There were cheap places to live. Anybody could find an old shop in a rundown area and get it for a song rent and start something. It was possible! Now it's just absolutely not possible because of the capitalist nature that has crept in here," says Scarlett, explaining how the ability to live with very little money combined with a rebelliousness against the conservative Thatcher government paved the way for a creative burgeoning. Education was also more affordable, with grants readily available for art students—a vastly different story to the mounds of debt young people are left with today.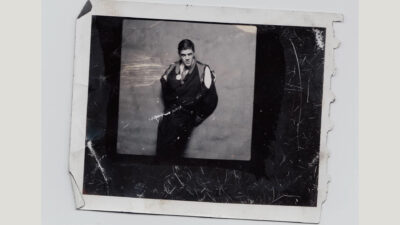 In the film, Judy Blame talks about how mainstream society viewed the New Romantics as a dark scene—perhaps because of the heavy black eye makeup and goth-like appearance—but he thought of it as a beautiful flowering, where individuals dressed how they wanted, becoming the art. For young queer folks, it was a particularly liberating time where expression, experimentation, and a sense of playfulness was encouraged within the tight-knit community of misfits, who often helped each other with hair and makeup, or designed clothes for one another. "We were all outside other norms. We didn't fit in with other groups, so the traditionally gay men were the handlebar leather queens or the jeans guys, and the traditional lesbians were kind of butch. We were our own crowd, our own people."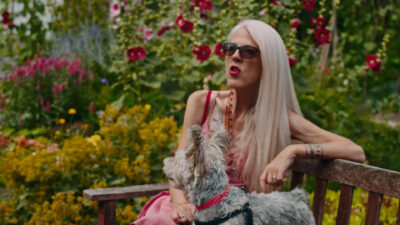 Scarlett shares that her style was influenced by countless individuals, dead and alive, including Bette Davis, Queen Elizabeth I, William Shakespeare and Muhammad Ali. In our Zoom call, I noticed that she was wearing an X-Ray Spex shirt, and asked her if Poly Styrene was an influence too. "I loved her because she made it okay to not be conventionally pretty or beautiful. I had grown up thinking I was ugly, because that's what I'd always been told, and she made it okay for that to be okay. I loved her for that. She was a genius."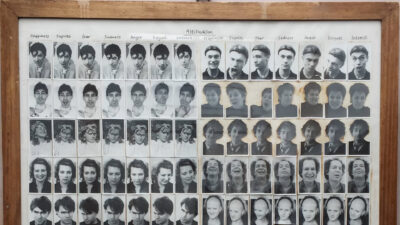 The documentary includes the notable figures of the era—like Leigh Bowery, Boy George and Princess Julia—but it also introduces audiences to characters who were influential players in the scene, but who haven't received the same attention. Tramps! also pays tribute to the many creatives who were lost to the AIDS epidemic, gone far too young, or before they could leave a permanent mark on the world, but were nevertheless every bit as talented. "One of the main reasons I love this film is because it's not all the usual suspects…these were the people who were there every week. I love that."
Tramps! spotlights a pivotal chapter in London life and queer culture. It's energizing and sparks crucial dialogue on how subcultures and movements are formed, examining how creativity is not only a vital form of expression, but a means for survival.
Tramps! will premiere on May 31st at TIFF Bell Lightbox at 7pm, and will also be released digitally.