The inaugural Blue Mountain Film Festival (BMFF) will take place June 1-5, 2022, and will present 25 feature films, along with 2 shorts packages. The festival will include films from all over the world, with a special spotlight on Ontario productions. For Canadian filmmakers, this is an exciting new opportunity; for film lovers, the news presents a brand new destination to enjoy great cinema, and the great outdoors.
Film fest veteran Helen du Toit saw great potential for a film fest in this area; having been the Artistic Director of the highly respected Palm Springs International Film Festival for over a decade, we can't wait to see her vision come to life. "When I first stepped foot in Blue Mountain my immediate thought was what an incredible location it would be to host an intimate film festival. Such a unique place calls for a unique experience," says du Toit.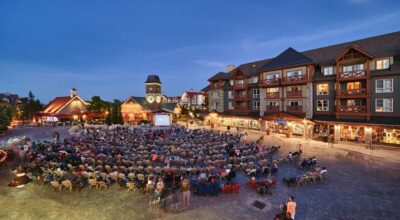 In the summer months, Blue Mountain is a popular destination for hiking, mountain biking, and beautiful beaches. The arrival of BMFF brings a compelling new dimension to the region, for both locals and visitors.
"Adding BMFF to our existing schedule of events is a unique opportunity to offer cinephiles from near and far the opportunity to experience an enlightening getaway in the intimate setting of the Village," said Andrew Siegwart, President, Blue Mountain Village Association. "With Helen at the helm bringing her depth of expertise and breadth of experience in film and festivals, BMFF is the perfect complement to our year-round music and event programming."
We anticipate that BMFF will have a distinct vibe, unlike any other Canadian film festival. Also, how cool is their logo?
Got a film that you'd like to submit for consideration? BMFF is now accepting early submissions, which can be made at discounted rates until January 31, 2022. Regular deadline to submit films is January 31, 2022, with a late deadline of February 21, 2022. Additional dates and information can be found at www.bluemtnfilmfest.ca.