Forest for the Trees opens with a birds-eye view of a logging truck, winding its way through the thick forests that surround Prince George, 783 km north of Vancouver. The film then moves to a remote tree planting work camp, where young people from all across Canada spend their days jabbing shovels into clear cut land, hoping to regenerate a massacred forest.
Rita Leistner's evocative and layered documentary provides spectacular footage of the remote and wild landscape in British Columbia, as well as an in-depth look at the the daily life of tree planters. The film is also a fascinating study on perseverance, and the deep connections between body and mind.
In Forest for the Trees, audiences are introduced to a dozen or so tree planters, from across Canada, who share their reasons for being there, and how being alone in the mountains, planting 1000 or so trees a day in sweltering heat has transformed them. Most admit that they came for the money, but remained for different reasons. "They become witnesses to the land, and to the clearcuts in particular, and no one knows the clearcuts better than the tree planter."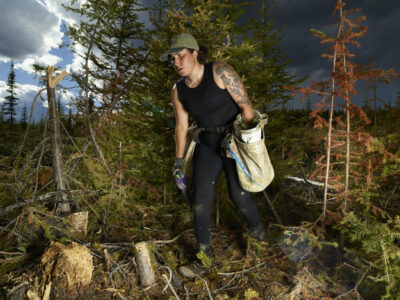 Before making this film, and the accompanying Tree Planting photography series, Rita spent years documenting soldiers in Iraq and Afghanistan. Before that, the award-winning photographer spent a decade in the BC wilderness as a tree planter—a much longer duration than most. "Tree planting prepared me physically and psychologically for many of the biggest challenges of my life. When I worked in war zones, people used to ask me what prepared me for that work. When I told them 'tree planting in Canada', they were surprised because tree planting didn't sound all that hard." If they didn't comprehend then, they will after watching Forest for the Trees.
Returning to the interior of BC to document the life of tree planters was a full-circle moment for Rita, who spent months on end running alongside tree planters, as they traversed the land, trying to capture the essence of what it is they do each and every day through her lens, as well as the challenging landscapes they move through. "The terrain is not anything like people imagine it is, it's nothing like a farmer's field," says Rita, explaining how tangled and gnarled the ground can be; how steep the hills can be. "No one would choose to walk through these areas."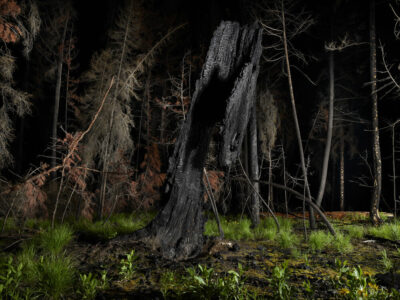 Audiences learn just how gruelling the work is, from the treacherous terrain to the nonstop hum of mosquitoes and black flies ("There's a reason we have the expression 'to drive someone buggy'"). But we also learn Rita's personal story, which draws several comparisons between tree planting and recovery.
"When I first started trying to get sober and I saw people who had a year of sobriety, I thought that could never be. I really believed with every fibre of my being it was impossible to stop drinking, and now I've been sober for fifteen years. Tree planting was like that. I wanted to draw allegorical parallels between this perseverance that you need to plant trees, and then it eventually grows a forest."
This fall, the renowned photographer and filmmaker will celebrate 15 years of sobriety. With each shot, and each frame, Rita captures much more than a moment in time, but a complicated relationship with the land, a possibility of renewal, and the strength and determination of individuals up against something much bigger than themselves.
Some of Rita's breathtaking photos have been recently acquired by The National Gallery, with the rest of the series available to purchase through Stephen Bulger Gallery, Toronto's preeminent gallery for fine art photography.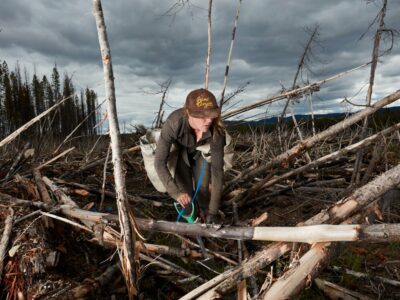 Forest for the Trees has travelled to film festivals all across North America. We hit the screening at the inaugural Blue Mountain Film Festival, and on Thursday, Oct 13, the doc will open this year's Planet in Focus Film Festival, with a screening at stackt market. Later this month, Rita will head to LA where the film will screen at the Reel Recovery Film Festival, dedicated to honest films about addiction, alcoholism, behavioural disorders, treatment and recovery.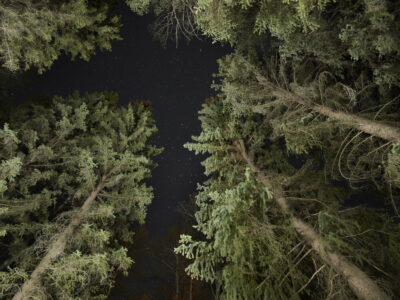 When you see the swaths of land that have been clear cut in Forest for the Trees, it's hard not to feel paralyzed with a sense of hopelessness, but as Rita says, "You plant one tree at a time. And that's the same way you get sober… one day at a time." Transformation starts with one step.
This piece was first published in June of 2022, in conjunction with the Blue Mountain Film Festival. Head to the Planet in Focus site to see ticketing information for the October 13th Toronto screening of Forest for the Trees.