Forest for the Trees opens with a birds-eye view of a logging truck, winding its way through the thick forests that surround Prince George, 783 km north of Vancouver. The film then moves to a remote tree planting work camp, where young people from all across Canada spend their days jabbing shovels into clear cut land, with the hope that their hard work regenerates a massacred forest.
Rita Leistner's evocative and layered documentary provides a detailed look at tree planting life by sharing the stories of people who sign up for this grueling work. But the film is also a fascinating study on perseverance, and the deep connections between body and mind.
In the documentary, we meet a dozen or so tree planters, who share how they ended up on the job, and what it's actually like to go out alone on the cut block and plant 1000 or so trees a day in sweltering heat. Most admit that they came for the money, but remained for different reasons. "They become witnesses to the land, and to the clearcuts in particular, and no one knows the clearcuts better than the tree planter."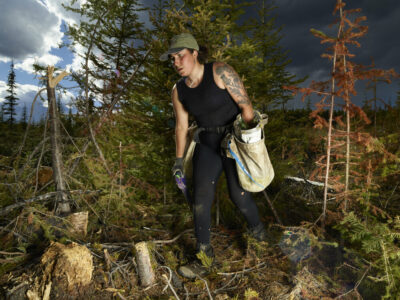 Before making this film, and the stunning Tree Planting photography series, The award-winning photojournalist spent years documenting soldiers in Iraq and Afghanistan. And before that, Rita spent a decade in the BC wilderness as a tree planter—a longer duration than most. "Tree planting prepared me physically and psychologically for many of the biggest challenges of my life. When I worked in war zones, people used to ask me what prepared me for that work. When I told them 'tree planting in Canada', they were surprised because tree planting didn't sound all that hard." If they didn't comprehend then, they will after watching Forest for the Trees.
Returning to the interior of BC to document the life of tree planters was a full-circle moment for Rita, who spent months on end running alongside tree planters, as they traversed the land, trying to capture the essence of what it is they do each and every day through her lens, as well as the challenging landscapes they move through. "The terrain is not anything like people imagine it is, it's nothing like a farmer's field," says Rita, explaining how tangled and gnarled the ground can be; how steep the hills can be. "No one would choose to walk through these areas."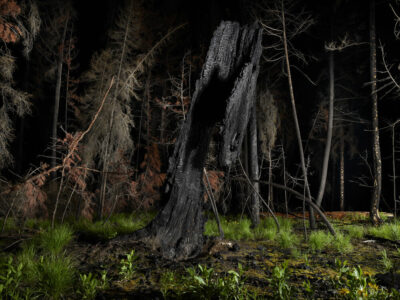 Audiences learn just how grueling the work is, from the treacherous terrain to the nonstop hum of mosquitoes and black flies ("There's a reason we have the expression 'to drive someone buggy'"). But we also learn Rita's personal story, which draws several comparisons between tree planting and recovery.
"When I first started trying to get sober and I saw people who had a year of sobriety, I thought that could never be. I really believed with every fiber of my being it was impossible to stop drinking, and now I've been sober for fifteen years. Tree planting was like that. I wanted to draw allegorical parallels between this perseverance that you need to plant trees, and then it eventually grows a forest."
The renowned photographer and filmmaker is now celebrating 15 years of sobriety. With each shot, and each frame, she captures much more than a moment in time, but a complicated history, the possibility of renewal, and the sheer determination required to get from one to the other.
Some of the breathtaking photos have been recently acquired by The National Gallery, with the rest of the series available to purchase through Stephen Bulger Gallery, Toronto's preeminent gallery for fine art photography.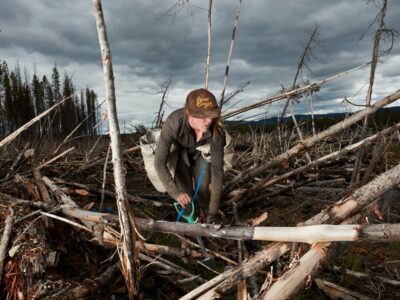 Forest for the Trees has traveled to film festivals all across North America, and this weekend, it will screen at the inaugural Blue Mountain Film Festival, a place that has special meaning for Rita, who spent her childhood and youth in the region as an avid alpine skier. Skiing is something she credits for helping her with her decade-long journey as a tree planter.
"When you're skiing, it's you and the terrain, you really develop a leg-mind-body connection to the ground, and when you're tree planting, you have to be really good on your feet too. We talk about having bush legs, and that means you can maneuver in this really rugged terrain without tripping or falling," says Rita, sharing how the strong leg muscles she acquired through skiing were vital when carrying 30-40 pounds of seedlings up and down the mountainous terrain.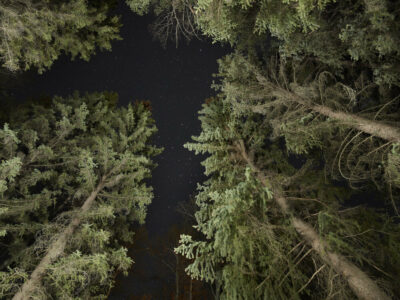 While the film shows thousands of trees being planted, the reality of the logging industry is difficult to compete with. First came chainsaws, which were a game changer, but as Rita says, "There's no comparison between a man with a chainsaw and a feller buncher that can fell hundreds of trees in a day, and doesn't have to sleep."
When you see the swaths of land that have been clear cut in Forest for the Trees, it's hard not to feel paralyzed with a sense of hopelessness, but as Rita says, "You plant one tree at a time. And that's the same way you get sober… one day at a time." Transformation starts with one step.
Purchase your tickets to see Forest for the Trees, screening at Blue Mountain Film Festival on June 2nd and June 5th.