Heather Marshall's spectacular debut novel Looking For Jane hooks from the very first line. The gripping historical fiction novel was recently awarded the #4 spot on Indigo's highly-anticipated Best Books of the Year list. Although it is set in Toronto over several decades (1960-2017), the book is proving to be extremely timely in 2022.
Looking For Jane is about motherhood and women's choices. The novel is based on real-life events, including the tireless work of the Jane Collective, an underground network of feminists who provided safe abortions—whose work also inspired the compelling new film Call Jane, in theatres now.
Marshall's background is not in creative writing; the author has a master's degree in Canadian history and political science. The inspiration for Looking For Jane began with researching the work of Dr. Morgentaler, and the pro-choice protests that supported his efforts.
"I did a paper on the legal challenges that Dr. Morgentaler underwent in the lead-up to the decriminalization of abortion in '88. And at the time I thought, I'd never seen this dramatized in any way or fictionalized, it's just such a compelling story, like it kind of writes itself," says Marshall. It wasn't until she read an article about Canada's maternity home system, years later, that the pieces of Looking For Jane started to fall into place. "I was frankly horrified by what I was reading and shocked that it was never in my history books. That I did a whole history master's degree and I'd never learned about this. And so I started doing a bit more research on that and realized that someone needs to tell this story and maybe that someone is me."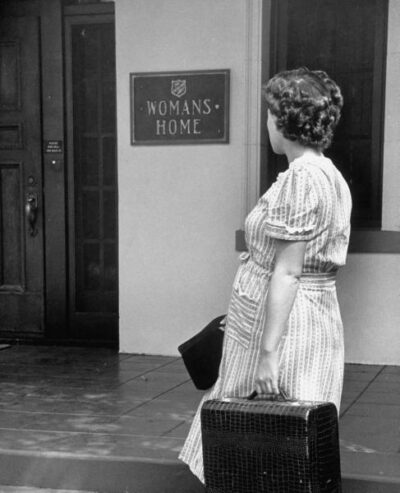 From the 1940s to the early 1970s, Canada operated dozens of 'maternity homes', where unwed mothers (many of them teenage girls and/or victims of rape) were sent to live when they were pregnant. Run by religious organizations (including Catholic, United, Anglican, Presbyterian churches and the Salvation Army), the expectant mothers were shamed and often emotionally and physically abused, with many of them coerced into giving up their babies for adoption programs funded by our provincial and federal governments.
In her author notes, Marshall shares that between 1945-1971, of the approximately 600,000 mothers who were sent to these maternity homes, over 300,000 were forced, or coerced, into surrendering their babies for adoption.
"The harrowing nature, the horrific nature of back-alley abortions was not a shock. I had done a lot of research on that academically and just for personal interest in previous years. So that was, although appalling and horrifying, not shocking to me. But when I really delved into the maternity homes systems, that was, I think, the most difficult research I've ever had to do from an emotional perspective."
In Looking For Jane, St. Agnes on Toronto's Seaton Street is a fictional maternity ward, based on research by Marshall. It's a location that those of us who grew up here, or who know the streets well, can easily imagine. And the book is full of references to various neighbourhoods, landmarks, and beloved gems like Harbord Bakery and Kensington Market. "I didn't want this to seem like just any city," Marshall tells me. "I wanted it to be very Toronto-centric and Toronto-specific to tell that story."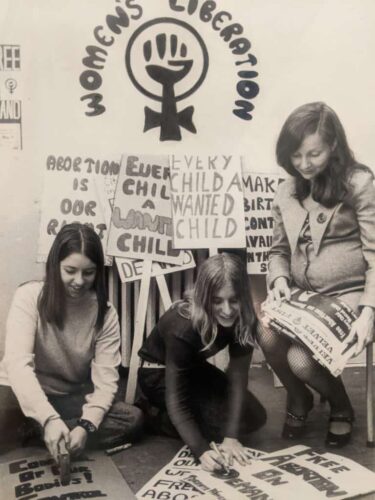 As the story weaves through time, tracing women and their biological mothers, or lost daughters, we move from the dark hallways of the maternity home into basements and offices around the city where abortions take place. Some are built as quick cash grabs, that endanger the lives of women. Others are illegal clinics run by feminist doctors and volunteers who are actively involved in trying to legalize abortion, like the Jane Collective.
From the fashion to the dialogue, the street signs to the way news is reported, Marshall's attention to detail, when it comes to the different eras, is remarkable. "That's the fun part of filling in the setting of historical novels," she says, sharing that she enjoyed this part of the research. And it shows—her book is as close to time travel in Toronto as one gets.
Those of us who are over the age of 34 had mothers who grew up in a time when having autonomy over their bodies, in this country, wasn't legal. While that may seem hard to believe, in recent years, the anti-abortion movement in Canada has grown louder, with protests regularly popping up at busy downtown intersections. In the states, access to abortion has been steadily on the decline for the past decade. Now, in the aftermath of the Supreme Court's decision to overturn Roe vs. Wade, abortion is completely illegal in several states.
"In terms of the timing, I never could have predicted that it would be this timely in 2022," says Marshall. "We can't get complacent. We can't assume that would never happen in Canada and that we have this right and therefore, we will always have this right. We can't take these things for granted. There were real living breathing women who made these incredible sacrifices to try to secure that for us and I think we owe it to them to defend it."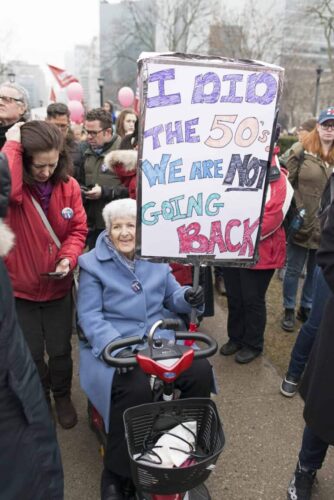 Looking For Jane is an enthralling read, and it does what great fiction is supposed to – pulls you into an incredible story, where you feel like you're walking beside the characters, or inside their heads. But Marshall also wrote this book to spotlight an ugly chapter of Canadian history that is glaringly missing from most textbooks. "I have an agenda with this book. And that is to try to secure these women the government apology. Mr. Trudeau talks all the time about how he's a feminist and I think this would be an opportunity to really come through on those claims. Some of the homes were open into the 70s. But (for) the women who attended them in 45, 50, time is running out."
Looking For Jane is on sale now. If you are looking for a title that will spark big conversations at your next book club, this is it.
Photo 1, of woman entering maternity home, from Origins Canada site; photo 2 of three women organizing pro-choice rally from Toronto Star archives; woman on scooter in 2017 Women's March taken by Solana Cain for Shedoesthecity.
This piece was first published in March 2022, and republished in October 2022 to mark Looking For Jane being awarded a spot on Indigo's 2022 Best Books of the Year list.