Breaking up is hard to do. Even the most magnanimous split can take a toll on your self-worth (and your wallet). When faced with the spectre of a looming divorce, most of us wouldn't know where to turn. That's why the Divorce Angels want to help.
DivorceAngels.ca is a new website geared at recently divorced people (or those on the cusp) living in Ontario. It is the first dedicated online divorce support network of its kind. Its founders – Marni Sky, Mara Marcello, and Shari Wagman – are not divorced themselves but have been affected by the divorces of those close to them. At different times, each of them were able to offer support and guidance on everything from "lawyers, financial planners, therapists, career counselors, real estate agents to child care, makeovers and dating." They decided to focus their expertise on one combined resource that acts as a one-stop shop for people going through a divorce to find support, guidance and comfort. SDTC chatted with them about their venture.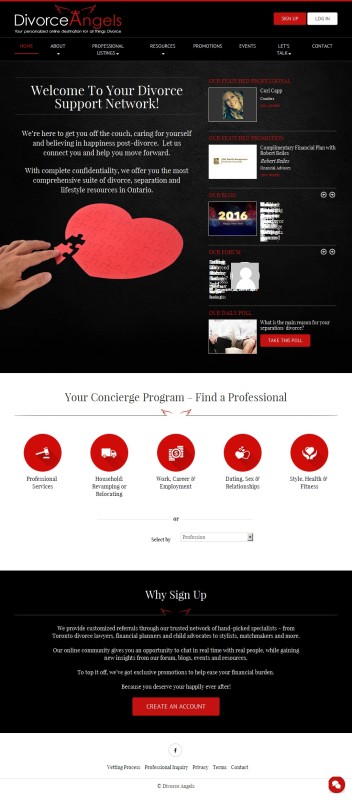 SDTC: What surprised you the most during this process? 
DA: What surprised us the most putting together Divorce Angels is how many people began reaching out to us immediately. During our soft launch we were flooded with emails from people eager to connect. We knew there was a need but we were shocked by the overwhelming positive response.
What are you hearing from your clients?
Divorce is an unfortunate, but seemingly unavoidable, fact of modern life. We have found that people are coming to Divorce Angels for both direction and connection. They are looking to us for support to help them find professionals that match their needs.
Our site is one of its kind. It was developed after a number of close friends and family went through their own divorces, and their common complaint was that when they woke up at 2 a.m. panic stricken there was nowhere for them to go online. When they Googled for help, they landed on Government of Canada sites outlining the legal ramifications of divorce, but nothing that covered the modern day realities.
Can you share a recent story of how Divorce Angels was able to help?
Recently a man reached out to us via email. He was in the midst of therapy with his wife and has two young boys. They were trying to work on their marriage but he was pretty sure that it was over. His wife had already seen a lawyer and he was not financially sound. He was overwhelmed and heartbroken and didn't want to burden his friends and family at this point as they weren't ready to announce the dissolution of their marriage.
We listened to his story and directed him to a divorce coach, someone who is qualified to walk a client through the steps of divorce with expert knowledge and patience. We referred him to three coaches and he selected the one who was best suited to helping him build a strategy around his emotional and financial needs. We have since heard from him and he is thrilled with his choice and feels that he can now move forward in a more clear fashion. He was grateful to us for being there at a time when everything was so out of control for him.
If my friend is going through a divorce, what is the best way to support her?
The first way you can help is to listen and try not to judge. Then you need to send her to Divorce Angels.
If I am thinking of filing for divorce, what is the first step I should take?
We believe strongly in all our professionals on our site. We don't give professional advice directly, as our role is to provide connections; however, before filing we highly recommend a consult with either a divorce coach, a family mediator or a lawyer. Many of these professionals offer promotions on our site to help ease the financial burden.
What do you anticipate will be the most trafficked sections of your site?
Right now it is our Blogs and Concierge Service. Our users are also connecting with our professionals and their feedback has been tremendous. Our stories resonate with our audience and make them feel that they are not alone in this journey.
What have you learned about divorce from listening to so many stories via your site? 
We have learned that there are three sides to every story when dealing with divorce. There is a lot of pain, anger and shame when going through divorce. Most people feel overwhelmed and unsure of themselves. They often just need to talk to someone and connect with people who have gone through it, are going through it, or understand them. They are looking for a clear path that eases the stress and confusion. They typically seek advice and help and rely on expert advice to get them through.
Do you find that running a business based around divorce services has tainted your view of marriage?
We are all married and believe in the institution. Our view isn't tainted per se, but we have realized that a lot of people marry for all the wrong reasons. It seems to be a common theme that we hear that people say they knew it was wrong when they walked down the aisle. If the marriage dissolves because the couple is no longer in love, it seems sad, yet workable. It's when infidelity, abuse and addiction play into the mix that most divorces turn nasty.
What did you do before starting this site?
Before starting Divorce Angels we were all working in different fields. Marni built a career in marketing and advertising. Mara was in technology, finance and real estate, and Shari was in PR and real estate.