With an extraordinary menu inspired by traditional Canadian recipes, Evelyn Wu and husband Wayne Morris are giving us a new and exciting cultural identity to cling to. Without a doubt, Borealia will quickly become the restaurant you'll call when looking to impress high-flying friends visiting from abroad, with some local cuisine that is authentic and innovative. Oddly, the journey to show off the best of Canadian cuisine started south of the border.
After years of working behind a desk at a fast-paced corporate giant, it was a Saturday morning cooking class in Manhattan that inspired Evelyn to veer away from the professional life she had carefully built, switching directions entirely.
Evelyn took years to understand all aspects of the hospitality industry, and in doing so managed to gain experience from some of the best kitchens around the world: from San Francisco's COI to London's Fat Duck.
SDTC: You had a major career shift in your mid-twenties. What happened?
EW: I graduated with a degree in marketing and management from the University of Pennsylvania.  Most of my friends and I had the same goal – to get a corporate job and move to Manhattan. And that's what I did; I lived in Manhattan and worked in Connecticut at a $500 million marketing company. But after a year and a half of dealing with the bureaucracy that comes with large companies, I realized I was bored and wanted to do something that would give me more immediate gratification.  I wanted to do something where I could see it through from start to finish and it wouldn't take weeks or months of revisions before anything got approved.
I had taken a weekend cooking class while living in NYC and I looked forward to that Saturday morning class more than anything else.  I knew it was something I wanted to pursue. So I quit the marketing job and took a job as Special Events Manager at a fine-dining Italian restaurant in Washington DC. I would fill in on the cold station when they were understaffed in the kitchen. I loved the rush of service and knowing that customers were enjoying something that I had made just moments before. It wasn't long before I moved to San Francisco for cooking school.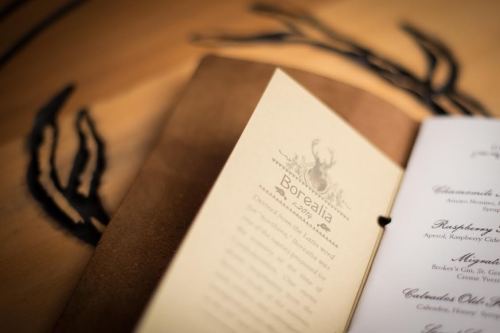 What has transpired since that initial move to San Francisco? 
I worked for Chef Daniel Patterson at Coi (which now has 2 Michelin stars). I then returned to Toronto for 6 months and worked for David Lee at Nota Bene, moved to England to work as chef de partie at Heston Blumenthal's The Fat Duck, and then did dessert development for Heston's new restaurant, Dinner. After arriving back in Toronto in 2011, I made the switch back to front of house to learn about customer service, spent a year with Oliver & Bonacini as supervisory employee, and then moved west to Kelowna and worked for Mark Filatow at Waterfront Wines as a server where I met Wayne, who was chef de cuisine.
Borealia specializes in recipes from Canadian history. Can you explain this? 
This is probably best explained with examples. At Borealia, we're serving modern interpretations of historic recipes that we've found through months of researching history books and old cookbooks (like The Home Cook Book, which was the first cookbook published in Canada, in 1877 and another book called Origins of Quebec Gastronomy which traces Upper Canada's gastronomic history over 400 years).  We take the components of these antiquated recipes and re-imagine them in another form.  For example, our Louisbourg Hot Chocolate Beignets are based on an old recipe for a spiced hot chocolate from the 1700's in Louisbourg, Nova Scotia. We've made a spiced chocolate ganache that's dipped in beer batter and fried, and dusted in lemon sugar. Same flavours, different form.
Our chopsuey croquettes are a play on the dish that the Chinese immigrants popularized when they came over in the 1800's to build the railroads. Historically, it is a dish of rice and stir-fried meat scraps and vegetables covered in a brown sauce. We've made deep-fried croquettes of sticky rice with Chinese sausage, beef, celery and onions with a liquid saucy center.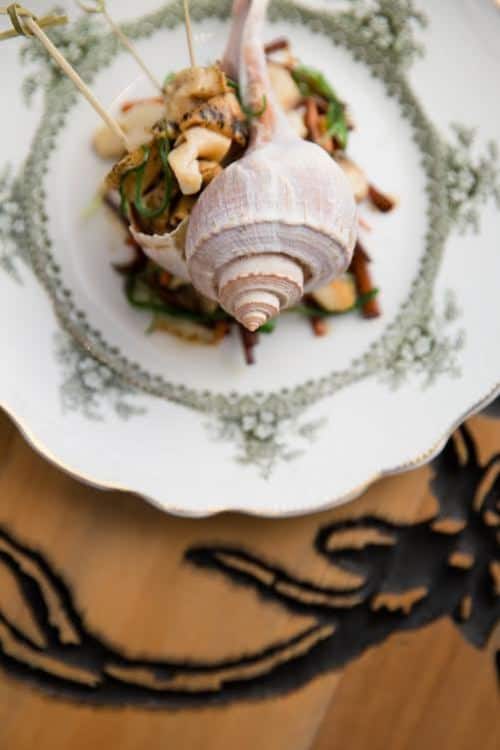 L'eclade was a dish that Samuel de Champlain introduced in 1605 to the men at Port Royal. It is traditionally a dish where mussels are buried in pine needles that are then set on fire, which simultaneously smokes and cooks the mussels underneath. Our version of it replicates the flavours without having to worry about 10 ft. flames in our kitchen – we've used the same smoking technique to flavour our butter used to cook the mussels, and we further infuse them with pine smoke under a cloche right before they're taken out to the dining room.
Some of our dishes are created with the historic recipe as a base, and adapted with locally-sourced ingredients. The salt cod quenelles are a twist on the Lyonnaise dish that traditionally uses pike fish in the dumplings and crayfish in the sauce – our Canadianized version uses salt cod instead of pike, and Atlantic lobster instead of crayfish.
And when it comes to the Native-inspired dishes, like the venison with wild-rice encrusted egg, or the local trout with Iroquois popcorn grits, we're taking Native cooking techniques and ingredients and putting them on centre stage.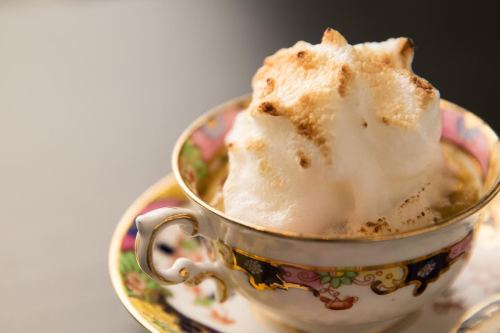 What dishes on the menu are you most excited about?
It's hard to pick a few, but definitely the l'eclade – it's so cool to know that Samuel de Champlain served this dish over 400 years ago.
The bison "pemmican" bresaola is another dish we're really proud of – we've taken all the components of traditional pemmican, which was essentially a protein bar of dehydrated meat mixed with melted fat and berries, and prepared them in a completely different way by curing and air-drying the bison in the style of bresaola, and pairing it with thinly sliced lardo and a wild blueberry-juniper vinaigrette.
The whelk in kombu beurre blanc is another one. The whelk is something not everyone is familiar with. It has a tender but firm texture and a mild sea flavor, and the richness of the butter sauce really complements it.
Borealia has only been open for a few days, but the work and planning has been ongoing for years. What are you enjoying most about being a new restaurant owner? 
I think the fact that this concept we started developing 2 years ago is finally a real, tangible restaurant with actual furniture and equipment and staff is overwhelming and unbelievable and crazy and awesome at the same time. It's been extremely rewarding and encouraging to know that there's such genuine interest in the food that we are cooking, and it balances out the moments when we're scared and totally freaked out about what we've gotten ourselves into! And obviously the hours that we've put in have been insane, but at the end of the day, it's gratifying knowing that the hard work is being put towards something that's ours.
Any lasting remarks you want to share with our readers?
We really want to contribute something different to the Toronto food scene.  Too many people are at a loss when they think about what Canadian cuisine is, and we hope people realize through eating at Borealia that we are much more than poutine and maple syrup. We may not have the centuries of culinary history that Britain or France has, but we have something even cooler – the culinary history of each and every immigrant group that came here.
Borealia is located at 59 Ossington Avenue. For reservations, call 647-351-5100.
Follow them on Instagram or Twitter with @Borealia_TO