Sex-positive married pair Murf Meyer (The Chris Gethard Show, Broad City) and Diana Kolsky (UCB, The Chris Gethard Show) are the hosts and creators of the critically acclaimed sex/comedy podcast, Ménage à Trois Radio. We love their sassy approach in discussing matters 'of hearts and parts'. SDTC caught up with them last week.
What led you to start this podcast?
We met in an improv class at UCB and immediately fell in love with each other's comedic sensibilities. Even before we started humping we wanted to collaborate on something. At first we actually tried to just be creative partners, so we wouldn't muddy the waters, but after a few boozy late evenings together doing comedy shows, well…the body wants what the body wants. Once we got it on, a sex & relationship podcast felt like the perfect project for us.
What is your all-time fave episode and why?
Damn, that's like picking your favourite child! We love them all because each one is special in their own way. But…we had a blast with Bridget Everett, Henry Zebrowski, Amy Poehler, Nicole Byer, Champagne Jerry, Mikey Erg, Ilana Glazer, Colt Cabana, Murray Hill, to name just a few.
Have you ever discussed things on-air that you fought about later? Any touchy topics? Or is it all good?
We're very open and truthful with each other on and off the show, so it's all good. Maybe that's a shit annoying answer, but it's sincere. The only thing we strongly disagree on, and this has come up several times over the course of our 100+ episodes, is animal consent. I (Murf) believe there is nothing wrong with a consensual interspecies sexual relationship. I (Diana) believe animals do not have the ability to consent, and therefore bestiality is always off the table. We'll probably be agreeing to disagree on that one forever.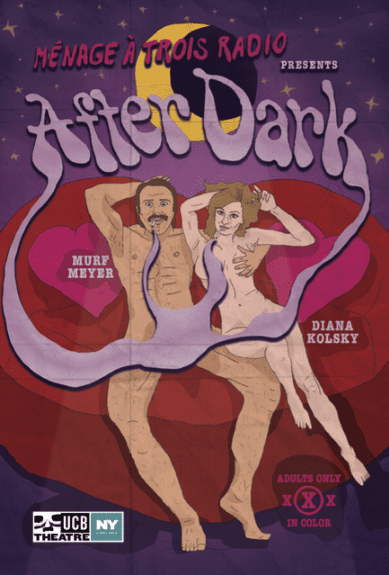 Any tips for readers on how to keep their relationships strong?
Fuck hard, be honest, and always have each other's back.
What is the most underrated sex move/position/configuration? Most overrated?
Most underrated is definitely missionary. It's a highly enjoyable sex position, especially when you're in your thirties and not in great shape. Most overrated might be the standing 69. People see adult film actors pulling it off in a porno flick and assume it's easy, but those talented men and women are professionals. Nobody attempts a 360 dunk while blind folded after watching NBA basketball players do it in the slam dunk contest, so let's also leave the more athletic sex moves to the pros.
What is the most outrageous thing you've learned about sex from doing this podcast?
In a rollicking conversation we had with Vietnam veteran and perennial NYC mayoral candidate Jimmy McMillan (who is also a former postal worker, stripper, and private investigator) we learned one of the sex moves that was popular among American troops during the Vietnam War. When soldiers were stuck taking cover in a foxhole for days on end, they would dig out small, vagina shaped pockets in the surrounding mud and make love to the earth. Even in a time of war, ya still gotta get off somehow.