Mariam Ghani's previous projects in Afghanistan have documented everything from the forgotten histories of Afghan artists to the afterlives of former secret prisons. Her first feature, What We Left Unfinished, is coming to Toronto Reel Asian International Film Festival this November. The film pieces together fragments of once-lost propaganda footage from Afghanistan's Communist era, in order to catch a glimpse of what life may have really been like under the regime.
We asked her about the film this week.
SDTC: What was the first film you saw as a kid?
MG: The first film I can remember being aware of as a film is A Woman Under the Influence because of an argument that my parents had when it was broadcast on television about whether they had already seen it in the theater – my mother said no, and my father proceeded to recite the entire plot.
Which film made you want to become a filmmaker yourself?
The films that made me want to be a filmmaker were Elia Suleiman's Chronicle of a Disappearance, Jayce Salloum and Elia Suleiman's Introduction to the End of an Argument, Walid Raad and Jayce Salloum's Up to the South, Jocelyne Saab's A Suspended Life, Moufida Tlatli's The Silences of the Palace, and Measures of Distance by Mona Hatoum, all of which I saw in class taught by Janine Dallal at NYU in 1998.
How did What We Left Unfinished come together?
I started working with the Afghan national film archive back in 2012, helping them to put together a digitization project. That's when I first saw a number of finished films from the era – it was, as Latif Ahmadi says in the film, a "golden time" for Afghan cinema – and first heard a rumor of the existence of several unfinished films. Some of the finished films function as propaganda in really obvious ways, which is to say that they are pure agitprop films in the Soviet style, while others are more subtle blends of fiction and documentary. I was particularly interested in the possibilities presented by these five unfinished fiction feature films, because they had escaped the final censor's cut imposed on all finished films of the time, and so their raw footage might contain more traces of the actual history of the time. I started looking for the films and the people who made them. And then a few years later, while the archive was re-cataloguing all their reels to prepare for digitization, a number of films turned up that had been believed lost – including most of the negatives for the five unfinished films.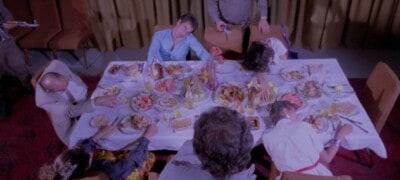 Why is it important for you to make this film now?
The difficult questions these filmmakers had to ask themselves at the time are still very much alive and urgent today, and were questions I was asking myself constantly at the time I started work on the film. In particular: what are the roles and responsibilities of artists in times of war and conditions of political repression, and where is the line between political art and propaganda? The histories addressed in this film are also not finished or settled histories in Afghanistan – they still haunt our present-day political discourse, and are felt as gaps in the way the rest of the world understands us.
What surprised you when you were doing research for this project?
How few of these filmmakers remembered the original plots of their unfinished films! We really had to construct most of the narrative scenes you see in the film by intuition, letting the material itself and the spirit of filmmaking in that period be our guides.
What do you hope viewers take away from this film?
I hope that viewers walk away from What We Left Unfinished with different visions of Afghanistan in their heads – some real, some imagined, some hovering between fiction and fact – and the knowledge that many different Afghanistans have been and are still being imagined.