The continued potency of #MeToo and #TimesUp have emboldened women from all walks of life to share their experiences of being mistreated, abused and objectified. This International Women's Day, MATCH International Women's Fund wants to take that to the next level. Much of the marginalization that occurs hides in plain sight with the words that we use every day. MATCH's new #RestingStitchFace campaign subverts traditional cross-stitching to confront us with the blatantly oppressive language that is woven into our social fabric.
We caught up with MATCH president and CEO, Jess Tomlin, this week.
SDTC: Why is "cultural language" in the cross hairs of The MATCH Fund this year?
JT: When we say, "cultural language," we're talking about the everyday stuff we hear and say that reinforces harmful attitudes toward women. This is our focus for International Women's Day 2018 precisely because it so often flies under the radar.
Listen, I've been a proud feminist for years. I was a gender studies major in university. I've fought for women's rights my whole career, in Canada and abroad. And I still catch myself saying things to my own daughter like, "He only teases you because he likes you." Where does this stuff come from and, after years of activism for women's rights, why is it still coming out of my mouth?
The thing is, these are unchecked notions we have been spoon-fed from birth. We don't even think about how sayings such as, "Boys will be boys" or "Would it kill you to smile?" teach girls to accept gender norms from a very young age. And what is especially troubling is the way these ideas are passed from generation to generation. We cannot hope for gender equality for women and girls until we address the beliefs and norms hiding deep below the surface.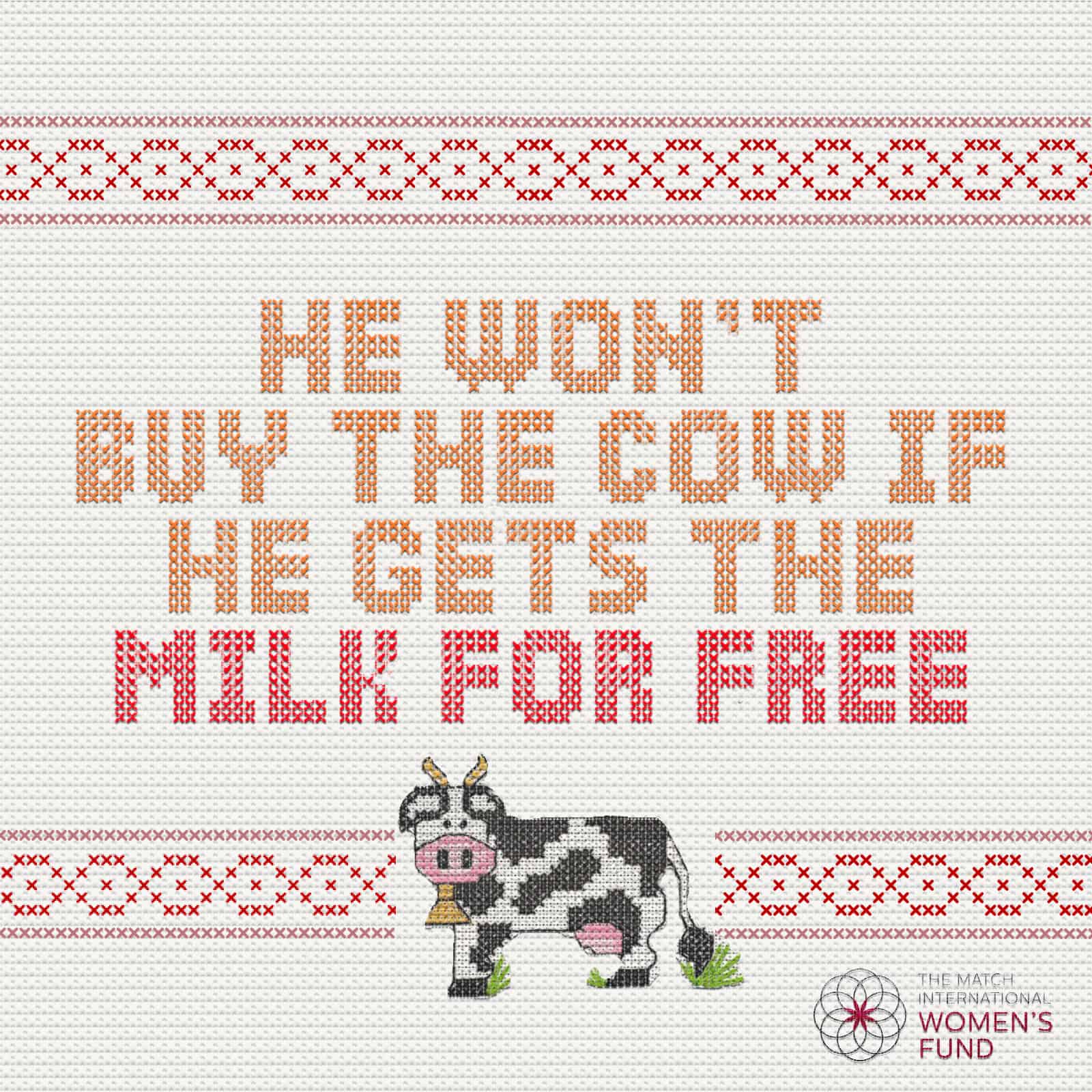 What do you hope comes of #RestingStitchFace?
We're at a tipping point. Movements like #MeToo and #TimesUp have recently exposed sexual harassment in a very big way. Women are sharing their stories more than ever. I cannot tell you how, as someone with my own #MeToo story, I draw hope from this moment.
#RestingStitchFace builds upon the momentum of #MeToo and #TimesUp, highlighting the less-obvious ways that behaviours are perpetuated. In its very name, #RestingStitchFace makes people pause and think, hey, I've heard that. Or, wow, I just said that the other day.
The campaign asks people to generate their own virtual cross-stitch patterns via our meme generator. It's an opportunity to change the literal pattern of what we pass on and then to pass on something new. We hope that people will share their memes and keep the conversation live.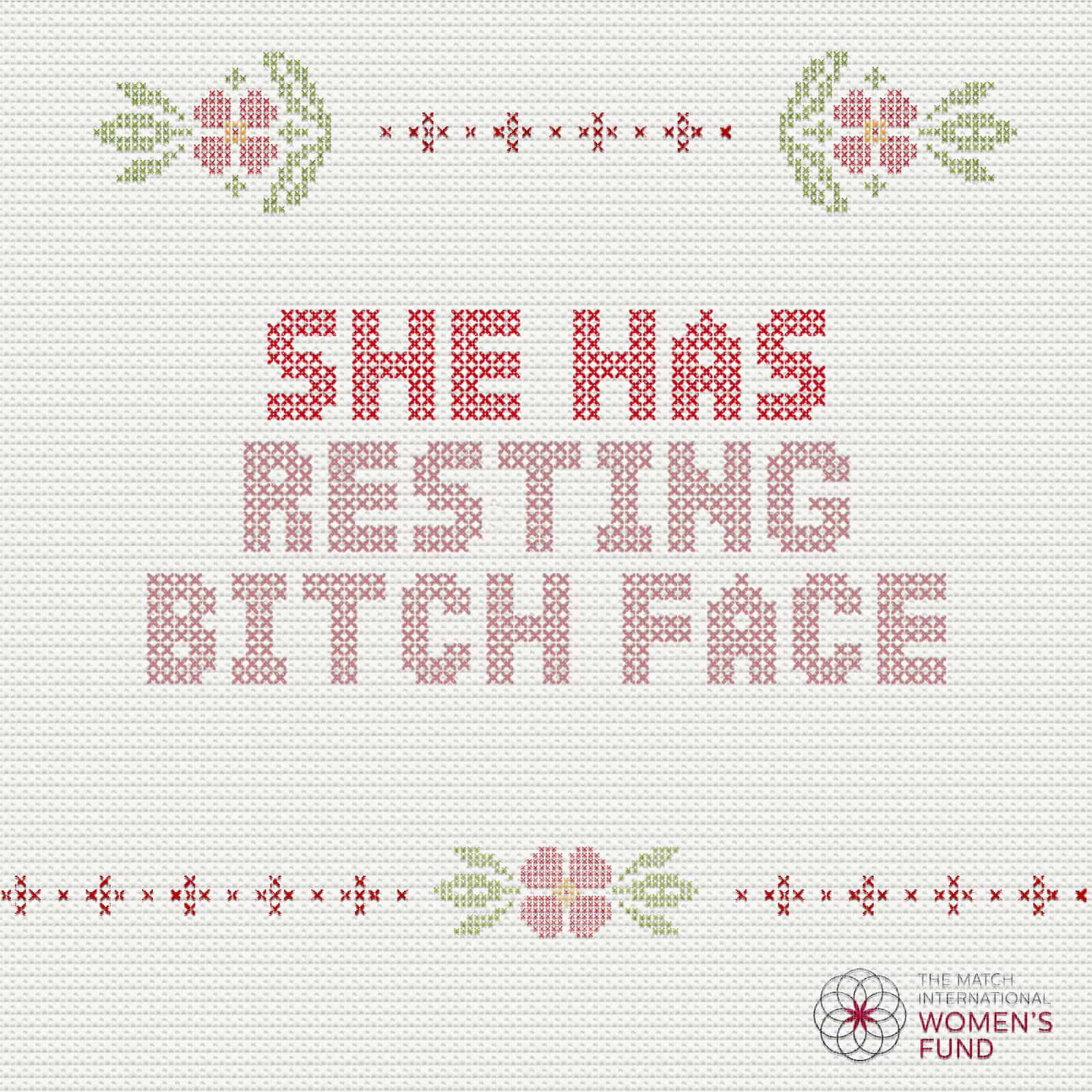 Which projects/individuals will The MATCH Fund be funding this year that we should be aware of?
The MATCH Fund supports women-led innovations that are changing the world, one idea at a time. This year, we'll be funding more women's groups in Francophone Africa and the Middle East in addition to our partners from more than twenty-five countries around the world. I can't even begin to tell you how excited I am. For example, one of the organizations we will support has created a prototype for mapping street harassment by using anonymous reports sent in by cell phones. When harassment can be mapped and visualized, structures can be put in place to end harassment all together. This platform has taken off, and it will be replicated in two other countries in the Middle East this year.
What policy changes would you like to see implemented now when it comes to women's issues in Canada?
The Canada's Feminist International Assistance Policy announced last June provides a good starting point for addressing women's issues. I'm encouraged by the government's emerging commitment to a feminist foreign policy; however, in order to be effective, policy frameworks have to be backed up by investments and resources. I'm still waiting to see if the global women's movement will receive a much-needed boost from Canada's 2018 international assistance budget.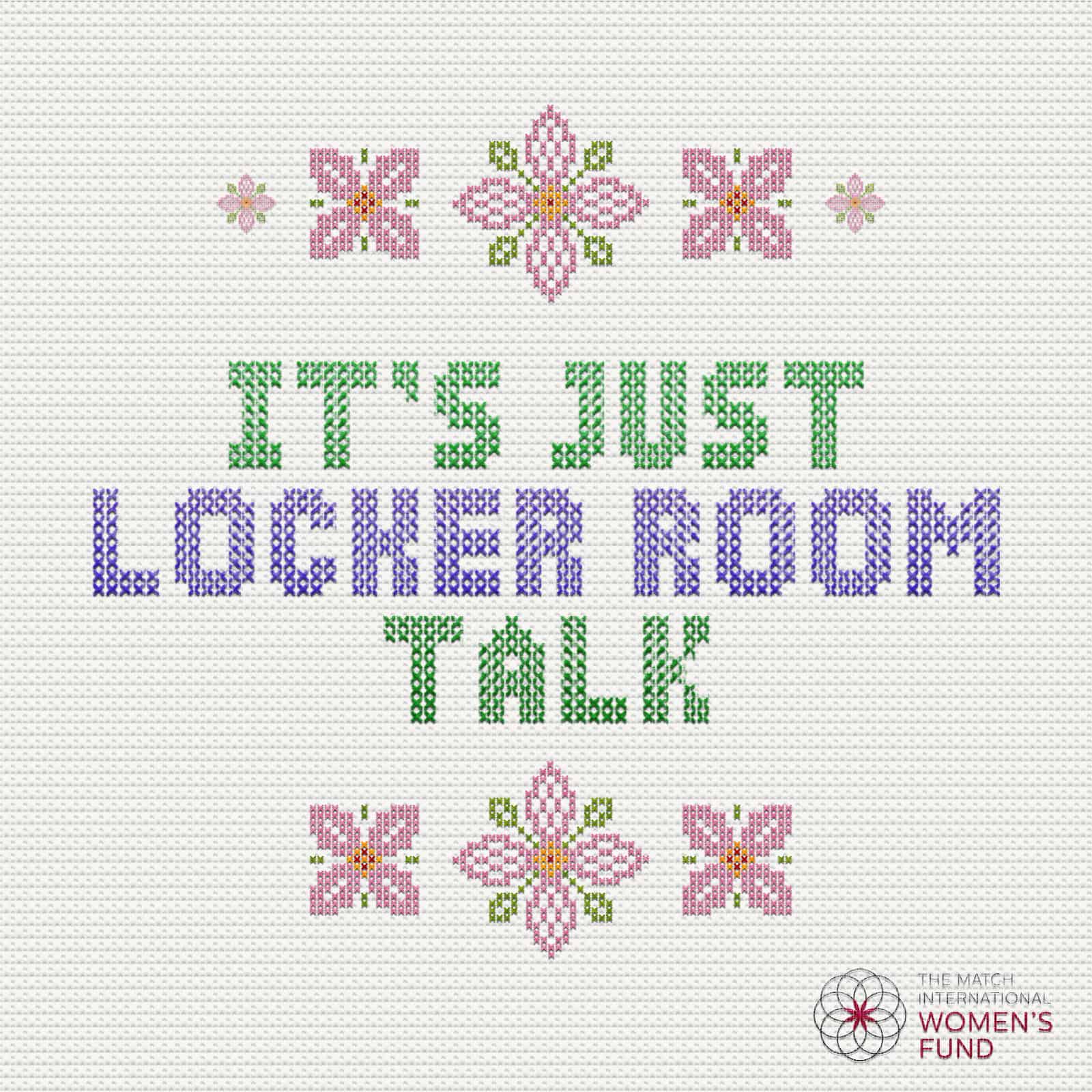 What are the most pressing issues that women abroad are dealing with, and what are practical ways we can help?
I wish I could give you just a short list. The thing is, women around the world face issues that vary from context to context, from community to community. And what is most pressing often varies even within communities. Ask the young girl who just wants to go to school and the trans woman who has lived her whole life in hiding, and you'll get very different answers.
But I can offer practical advice for Canadians to support women: fund them. Women already know what they need to solve the problems they face. They just need the resources to put their ideas into action. I truly believe that we can see an end to issues like child marriage or sexual harassment in our lifetime, but solutions don't come on a shoestring.
This is The MATCH Fund's raison d'être. We must remember that the momentum we are experiencing does not come out of a silo, rather we are here now because activists the world over have been fighting tooth and nail to challenge the status quo. These very same organizations have annual budgets of between $15,000 and $20,0000 a year. Imagine the possibilities if these activists were properly supported to scale their work. The impact could be transformational, and the world would be a lot more equal.
Find out more about MATCH here.