When I first started out full-time in the work force, I remember feeling somewhat overwhelmed by what professional life was supposed to entail. Early in my career, when I worked on Bay Street, there was a lot of talk among my colleagues about grinding out fourteen-hour days at the office and putting in enough "face time." Bragging rights were accorded to those who worked all night in order to complete a transaction.
I couldn't have been too shocked and dismayed by these realities; I had signed up for a highly demanding job with my eyes wide open. Still, these demands were starting to take their toll on me. My diet, courtesy of the nearby food court, was fairly atrocious; and time spent exercising was almost non-existent. So I got in touch with a mentor from my profession and she suggested I try going away to a health spa. She swore by the health and wellness benefits they provided. At that time, I had always pictured health spas as places where you'd find housewives of the rich and famous and Hollywood celebrities traipsing around in fluffy bathrobes. Having completed not one but two university degrees, I was feeling the financial pressures of a sizeable student loan on top of the pressures of my actual job (it literally felt like both the government and my bank had a mortgage on my head). Since my mentor and I had a close enough relationship, I replied to her suggestion sarcastically: "Hmm, I'll get on to that – right after I ring the valet to pick up my dry cleaning." She laughed a bit and then advised me that not all spa trips had to be at far-away places. There were also day spa options nearby.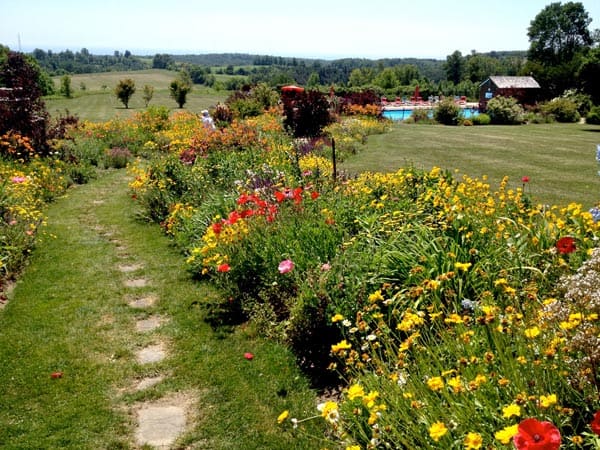 And so, after researching the topic a bit online I noticed that Ste. Anne's Spa located in Grafton, Ontario, was repeatedly recommended as a great escape, and included day spa options (they also advertised some sweet mid-week specials). And so, I booked a day off work and decided to give it a try.
When I arrived at Ste. Anne's, built in a 19th Century fieldstone castle on the gentle rolling hills of Northumberland County, I breathed in the fresh country air and breathed out a sigh of relief. I was given my customized itinerary and a brief orientation tour around the serene surroundings. I had signed up for a guided hike on the outdoor trails which was followed by a health-smart lunch, followed by my chosen spa treatment and a quick stop in the Eucalyptus steam room. A couple of hours were then spent lying by the outdoor pool and then on one of the lounging chairs under the trees reading magazines that had nothing to with work.
At about 4:00 pm, Ste. Anne's trademark afternoon tea was served, complete with a selection of specialty teas, scones with fresh cream and fruit preserves; a side of fresh fruit and veggie snacks along with toy-size cream cheese and cucumber sandwiches and pastries. It was delectable. And while there was no mention of calorie counts, everything I was ingesting was made with fresh, simple ingredients. I was now light years away from the food courts.
Throughout the day, I felt like I had been transported to some kind of alternate reality, where no one talked about work, everyone was adorned in white, fluffy robes and had the same blissful expression on their faces. The spa staff took care of everything for the guests; our only "job" was to gently float from one low-key activity to the next, just like one of the loons on nearby Lake Ontario. And maybe I had taken my cues from the English-style tea, but I truly felt like a queen.
This spa trip ignited a lasting love affair with Ste. Anne's. About an hour and a half outside the city, it is one of easiest ways to escape the daily grind. Even after so many years, it still manages to come up with interesting treatments and new ways to promote healthy living (during my most recent trip there, I sampled the seasonal "Chocolate Strawberry Body Scrub" as well as products from the new skincare line. I also took home some treats from the property's new onsite bakery).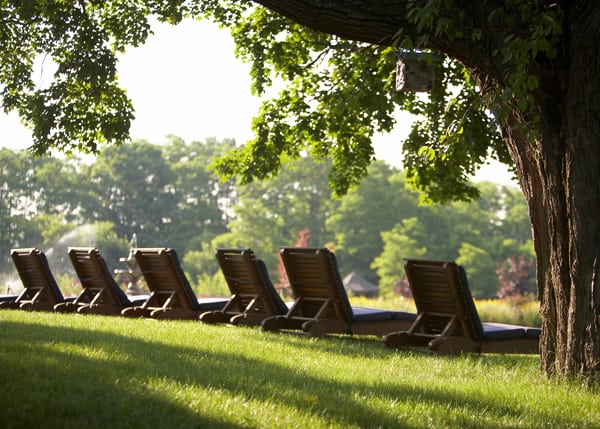 Though many companies have wisely embraced a more reasonable work-life balance in recent years, the work world is still demanding at any level, and this doesn't appear to be changing any time soon. So now that I've advanced a little in my career, I might become the one who suggests a spa trip to recent graduates who are feeling a bit overwhelmed. And I won't be surprised if they too roll their eyes at the prospect of spending the little discretionary income they have on something that seems so decadent. To this I will tell them that if they are able to sacrifice one night on the town and/or that new pair of shoes, both their body and mind will thank them later.