The 2014 Toronto Sketch Comedy Festival is currently in full-swing. The city is now packed with some of the funniest comedy writers and performers from all over the continent. Amongst these great troupes is a group of fierce, funny and fucking awesome women who spend their time cracking up audiences literally the world over. I spoke with the five all-female sketch comedy troupes performing in this year's Sketchfest to find out what it takes to make Toronto laugh and why they think you should get off your butt and over to Comedy Bar or the Lower Ossington Theatre over the next 10 days to have your mind blown and your gut busted by (at the very least) one of the over 40 troupes performing at this year's Sketchfest.
****
The Templeton Philharmonic (pictured above)
Comprised of Briana Templeton and Gwynne Philipps, this duo has been gracing the comedy clubs of Toronto and the US since June 2011. The pair met at University of Toronto's theatre school and decided their passions lay not only in drama, but also on the opposite end of the Janus masks in comedy. Their unique characters, writing style, and theatrical ability make for a truly wonderful performance experience. Their shows are always polished, and make use of incredible choreographed dances in addition to the witty writing.
"We're kind of just annoying perfectionists," said Templeton, "We get a little bit obsessed when we have a project. We've done site-specific theatre at the Campbell House Museum with a cast of nine people. People got to experience that they were in a 1920s fancy party in this dark comedy. We researched it, produced it, wrote it and did the costumes. (When we have a new project) we keep working at it. It bleeds into our everyday lives. Our apartment becomes the project. Dollhouses and mannequins are the best decor when you come home!"
The two are some of the hardest working comedians on the scene, and it's paying off. Their newest dark comedy play, "An Evening in July," will be featured at the Toronto Fringe Festival this summer, and the duo are Canadian Stage's 2013-14 GYM Team (Emerging Artist Company in Residence); they were also recently named 'Best Comedy Duo' at the LA Comedy Festival. This will be their third year at Toronto Sketchfest.
But success has not come without a number of gender-based challenges. The duo said gender issues within the community can be summed up in a recent onstage introduction for the group: "Next up, two hot chicks from Toronto. I don't know what else to tell you, but they're good-looking, now get your skinny asses over here!"
"We get a bit miffed when we're introduced that way," said Philipps. "Male comics are judged based on their mind or their writing. The way we battle that stuff is by doing the best, most kick ass show possible!"
Check out their ass-kicking Sketchfest performances Sunday, March 9th at 8PM at Comedy Bar, Thursday March 13th at 8PM at Lower Ossington Theatre and as part of the Sirius XM Sketch Off on Wednesday March 12th at 8PM at Comedy Bar.
****
"I LOVE being an all-female sketch troupe!"
These are the words of Carly Heffernan, one of the four members of She Said What?, a veteran sketch comedy troupe who have graced the stages of Toronto for the past 10 years. Individually, they are Carly Heffernan, Emma Hunter, Megan MacKeigan and Marni Van Dyk. The quartet met while attending the University of Queen's in Kingston, Ontario as members of popular on-campus musical revue, the Queen's Players.
The women said an important lesson they took from their Queen's drama education was the need to produce their own shows. For a troupe of sketch comedians trying to make a name for themselves in Toronto, this is an absolutely vital skill. As a nice change, at Sketchfest, they've got the a little help."Sketchfest is really placed on a professional platform. Audiences that are completely brand new to sketch comedy can appreciate that the festival is intended, very purposefully, to be as professional as going to see any other theatre show in the city," said Heffernan, adding that if a troupe does well at the festival it can lead to bigger and better things within the industry. "So many alumni of Sketchfest have gone on to do good things; and they still come back to perform at Sketchfest."
Heffernan has no problem labeling her troupe specifically as a "female sketch troupe" and stressed that the distinction is important. She embraces the fact that the troupe consists only of women because she knows the quality of the comedy produced in She Said What can rival the hilarity of any other sketch troupe in the city. Together, the combined credits of She Said What? include the Second City, George Stromboulopoulos Tonight, This Hour Has 22 Minutes, and an actual, legitimate law-firm. This female sketch troupe is doing just fine.
She Said What performs as part of the Sirius XM Sketch Off on Wednesday March 12th at 8PM at Comedy Bar and on Thursday March 13th at 10PM at the Lower Ossington Theatre.
***
The fates aligned at the Toronto Sketch Comedy Festival in November of 2010 and brought together Mandy Sellers and Laura Salvas, now known as Two Weird Ladies. At the time the two were students in the Second City Conservatory Program, and bonded while volunteering at Sketchfest, where they found they shared a comedic sensibility. "Our ideas were often based in real life situations, and often involved us getting enraged about them. I understood Mandy's rage, and I appreciated it," said Salvas.
Speaking of rage, Two Weird Ladies understand the need to break free, creatively, from the typical 9-5 lifestyle. Maybe you yourself work a 9-5 office job and you've never spent a single night at a comedy club because you're concerned about being awake and alert the next day at work. Well Two Weird Ladies draw from their real-life experiences to entertain you and make the office world a little more weird and a little more wacky. This duo of professionals-by-day, comics-by-night believe the very fact of having a day job makes their ability to write and perform as a sketch duo easier as they've become dependent on the routine to get their work done. They take advantage of the limited time they have in the evenings to rehearse, write, and perform their sketches.
On working together as an all-female duo, the gals had this to say: "Toronto is so full of talented, funny, hilarious, amazing women. We found that we seemed to be on the same page with one another and have the same sense of humour. The hope is that you're watching best friends performing on stage. If you're not best friends, then why are you doing this?"
Catch these weird ladies next Thursday, March 15 at 8PM at Comedy Bar.
***
Steph Tolev and Alisson Hogg. Individually, Tolev regularly performs stand-up comedy and has opened for such huge acts as Eugene Mirman and Rob Delaney. Hogg is a part of the award-winning weekly sketch phenomenon The Sketchersons. Together, their natural, silly and often playful style has won over the hearts of (really) young and old on this continent and the next.
The duo met at Humber College's Comedy: Writing & Performance program almost 10 years ago, and a bond was formed well, not quite immediately.
Tolev: I didn't like Allison when I was at school.
Hogg: That's fine, you can say it. It just makes you sound like an asshole. We were kind of in different crowds in school.
Tolev: I was actually surprised when you asked me (to be in an improv troupe after we graduated.)
Hogg: You were funny. I knew that!
They scaled down from a 4-person improv troupe and began writing sketches in order to begin attending festivals and to build up a repertoire of scenes they could take with them on the road. Most recently, they traveled to Vancouver and San Francisco for their respective Sketch Comedy Festivals and stopped over in Los Angeles to perform to do a couple sets.
Ladystache also performed at the world-renowned Edinburgh Fringe Festival in 2012. "We tried to get as many shows as possible in Scotland. We signed up for a show that we thought was an all-ages show; they said the age was from 11 to 18 years of age; teenagers and their parents. We get there and it's a double decker bus, called Huggies, or Huggles or something like that. And it's a guy with a guitar singing sing-a-long songs; he's a children's entertainer for the Kids Fringe. It turns out the average age of the children was about 3 to 4 years old, and you know… we're a bit blue…especially for a three year old! Luckily we have a puppet and they liked the sketches when I sing well and Steph sings badly. Children are very honest."
Check them out at Comedy Bar on Saturday March 8th at 10:00PM and Friday March 14th at 8:00PM. And look out for their professionally recorded comedy album being released by Comedy Records, resulting from their win at last year's SketchOff broadcast on SiriusXM.
***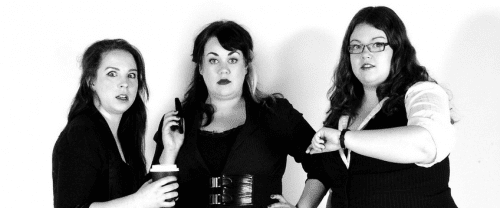 LadyBusiness
Deborah Ring, Laura Bonang and Alexandra Hurley, known collectively as LadyBusiness, are performing at the Toronto Sketch Comedy Festival for their second time. They said their selling point is the diversity in their set, which includes music, satire, and zany characters in weird hats."We want to run the gamut of comedy, so there's something for everyone."
While many sketch troupes like to draw from real-life experiences to influence their comic sensibilities, Alexandra Hurley said she takes a different approach: "My premises are weird because I don't take them from real life. I see… (she looks around the room) …a lantern and I get inspired by that!"
Still a relatively new troupe on the scene, these girls set goals and stick to them. The biggest of which to date was performing in the Edinburgh Fringe Festival in Scotland. Laura Bonang said: "Me and Alex went to Humber [College's Acting for Film and Television program] together and became friends. We performed a two-woman sketch show in the 2011 Toronto Fringe Festival called "Fatastrophe," which Deb had come to see. Deb and Alex took classes together at the Second City. Deb wanted to go to the Edinburgh Fringe and she wanted to take a lady-centric troupe there." Edinburgh was the goal from the beginning as they began performing together in early 2012. By the summer of that year they had written and rehearsed a full-length show, which they took to Scotland and performed at the world's largest Fringe Festival. This year, LadyBusiness brings a brand-new set to Sketchfest.
About being a trio of women performers, Deborah Ring said: "women play women better. When you're a troupe of just women, whatever you do ends up being inherently about being women. We do what we find funny and it will say what it says because of the fact that we are all women. In our troupe, we are never relegated to the "token girlfriend" (in any scene.)"
Get out your pantsuit and join LadyBusiness on Thursday, March 13th at 10PM at the Lower Ossington Theatre.
The Toronto Sketch Comedy Festival runs until Sunday March 16th.