Melanie Rose has been designing sex rooms for over a decade. In the new Netflix series How To Build A Sex Room, audiences get to see how she transforms bedrooms, garden sheds, basement cellars and other spaces (even a van), into kinky areas that invite erotic pleasure, rooms where people can live out their wildest fantasies. Fun.
Before she became an expert in "elevated dungeons", Melanie redesigned kitchens, bathrooms, and other predictable spaces. After a client asked her if she'd be up for designing their sex room, she thought why not. The career pivot allowed her to flex different muscles and dabble in new worlds. "A kitchen comes with a fridge or a microwave," explaining that a sex room requires different things. "It opens up to the world of floggers and butt plugs and cock rings and BDSM furniture, so it was really exciting."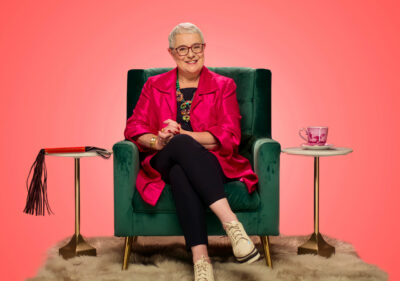 In How To Build A Sex Room, Melanie kits out rooms with hooks, swings, ropes, pony chairs, and bondage beds. "Because I'm dealing with people who are experienced in the BDSM world, I'm bringing in furniture that caters to their wants, needs and desires. I'm creating fantasy rooms, rooms that you can roleplay in. I want to provide them with adult toys that will stand the test of time." She makes it clear that the unique items she sources are not from "your average mom and pop adult toy store," and shares that boudoir photography and glass dildos are her favourite decor items to work with.
It's obvious that Melanie takes pleasure in bringing fantasy rooms to life, but sex rooms also require considerable engineering. "You need to establish where your hard points are going to be, and those all need to be reinforced as you're not just holding up one person, but two, and sometimes three or even four," Melanie says, adding that proper flooring is also essential. "Are there going to be a lot of bodily fluids around? If so, I don't want carpet, because that's not going to work. Do I need a drain in this room for good cleanup? That's a real consideration!" Her questions feed our imagination.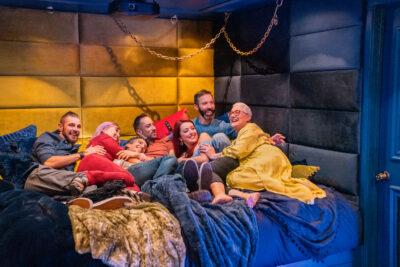 It's fun to see how Melanie goes about selecting dildos and throw pillows (should they match?), but the fascinating and thoughtful conversations she has with her clients—a wonderfully diverse group of people—is what gives the series depth. "It is important to spend as much time as you can with the clients to really get down to what they want in their rooms and observe what's happening in the relationship, or whatever partner, and that takes time."
With the sex toy industry seeing a 400% growth during the pandemic (people bored in lockdown!), it only makes sense that more people are building sex rooms. In How To Build a Sex Room, we meet couples who want to create a space to push their boundaries or take their already very kinky sex lives to new heights; we're introduced to a single fifty-something woman who is determined to have better and more daring sex for the second half of her life; we also meet married couples trying to rekindle their passion to save the marriage.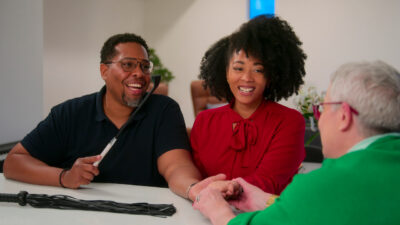 Building a sex room doesn't necessarily mean that more sex or better sex will happen—a room is just a room—but it definitely gets people talking. "It opens up conversation between the couple. That's the really grounding point—having that conversation of what would you like, what would you like to try… that's the starting point. Some people can't do that. Some people can't even talk about sex, because of the taboo behind that… sex is just procreation and that's it. It doesn't have to be that! It can be a wonderful enlightening experience."
Pleasure is important. Hammering out a wall to hoist up a sex swing is one way to get the conversation about wants and needs started, but watching How To Build A Sex Room can also help achieve the same goal.