Melxdie is a Toronto-based singer, dancer and performer whose latest track, "Summer Love," dropped last month. With her sweet, sultry voice and nuanced compositions, we can guarantee you'll be hearing a lot more of her to come. She'll be performing this year at T.DOT Fest, Canada's Premiere Urban music festival coming to Ontario Place (West Island) August 17-18.
We caught up with her this week.
SDTC: Describe your dream vacation scenario.
Melxdie: My dream vacation would probably be going back to my homelands in Peru, back to Machu Picchu, and do some shamanic meditational journeys with the native incense there. That would be insane.
What is commanding a lot of attention in your life lately?
My attention right now is focused a lot on my music. Making music, rehearsals, and also a lot of attention towards myself. I'm trying to balance myself out by paying attention to what I need while still putting my 100% in anything relative to my future.
What have you learned about yourself in the past year?
I don't like to slow down. There have been a lot of obstacles that have come my way this year. Trying to overcome problems with my jaw and my spine have made it more difficult to do things. Nonetheless, it's taught me to pay attention to my mind, body and soul in order to stay happy and healthy.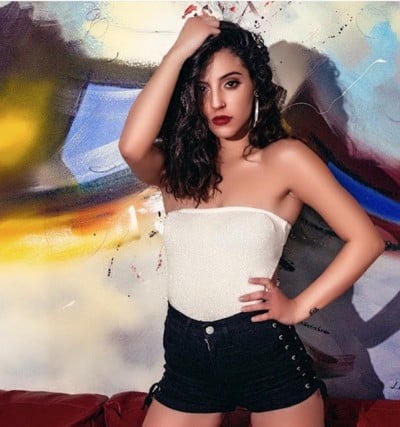 What is a fun little-known fact about you?
I taught myself how to juggle when I was little by pretending I had a headache so my mom would let me stay home. I guess I'm really impulsive in that respect and like to learn things quick. Once I have my heart set on something, I have a hard time letting it go.
What's the worst piece of advice you've been given?
Thankfully I've never had anyone give me poor advice, but there are many people in my life that do have opinions about what I do. I've just learned to identify what is meant to help elevate me and what is meant to put me down. I'm all for criticism and learning how to be better, with respect to staying true to the person that I am.
What is your motto at the moment?
"Go for what you want."
Any plans for the summer?
A lot of performances! On July 19, I'll be opening up for Stefflon Don at Rebel Nightclub, which is a dream come true…kind of seems surreal. Then headed to Morocco to perform at Niki Beach, and then T.DOT Fest, which is taking place at Ontario Place August 17-18. This summer is going to be EPIC.
What are the qualities you like least and most about your parents?
I love how hard-working they are. They're both immigrants into Canada and have created a life for me. My father was a musician and vocalist ever since he was young, so I look up to him a lot when it comes to music. I love my mom for her pure heart and because she has stuck by my side through thick and thin, even when she disagrees with me. They birthed me, so I ain't in no place to say anything bad about them. At the end of the day, they're family.
Rewind five years. What advice would you give yourself?
"FORGIVE YOURSELF, BE KIND TO YOURSELF & LOVE YOURSELF. You will get to wherever you need to be when the time is right. You don't even know what's headed your way. You will be okay."
What is the most courageous thing you've ever done?
Stood up for people that didn't have a voice. I got shit for it at the time, but I did what I felt was right. Also, standing up for myself is something I'll never regret doing.
What unnecessary object would you love to own?
A hot air balloon. No idea why, but that would be mad cool.
What tip, technique or hack has made your life better in the past year?
Trust in the universe and your world will begin to align. Letting go of what you can't control and controlling the way you react to what life throws at you. These mindsets have helped me overcome a lot in the past year. It's all about your state of mind.
What issue do you wish people took more seriously?
The way people treat each other based on age, sex, race, and gender. We're all different, but we're all equal.
What outfit makes you feel the most you?
I switch it up daily depending on my mood.
Who has surprised you lately, and how?
How far my team and I have come given the obstacles we've had to face this year. I'm really proud of them and grateful for everything that they do to help achieve our unified goal. I'm not surprised I guess, just thankful.