Today marks Menstrual Hygiene Day, and global gender equality organization Plan International Canada is releasing national survey results that reveal the social, emotional and financial costs of menstruation.
For some, periods are simply a recurring non-event; for others, the stakes are higher. Menstruation can act as a lightning rod that illuminates where injustice and discrimination against women still persists–both in Canada and around the world.
We chatted with Saadya Hamdani, Director of Gender Equality at Plan International Canada, to find out more.
SDTC: What surprised you most in the survey answers you received from young women in Canada?
SH: Period stigma, taboos, lack of access to menstrual hygiene products and the resulting loss of opportunities to participate effectively in many things such as school, work or social events are all part of the mix of the day-to-day gender-based discrimination that affects girls globally.
It's important to see these things as part of a bigger picture of how girls are discriminated against on a variety of levels, including how a natural biological function like menstruation becomes a means to control the mobility of girls and women, and how it is a major barrier for girls and women in accessing and realizing their fundamental rights.
One of the most alarming stats from Plan International Canada's survey was that one third (33%) of women in Canada under 25 have struggled to afford menstrual products for themselves or their dependants. In fact, 77% of women under 25 identified feminine hygiene products as one of the top three material costs of being a woman, significantly ahead of cosmetic products and hair and beauty services. Hygiene products, however, are not a luxury item. They are essential to health and social participation as sanitation necessities–including water, soap or toilet paper–and not having access to them can have devastating effects on a girl's ability to fulfill her potential.
We know that this issue is not limited to Canada. Globally, one in 10 girls do not have access to menstrual hygiene products, which can prevent them from going to school while menstruating. If a girl misses school every time she has her period, she can lose about one quarter of her school year, putting her far behind her male peers.
Girls' health and education are fundamental rights. They are the cornerstones of development and gateways to the full participation of women in political, economic and cultural spheres of life. If unaddressed, the challenges posed by limited access to resources and poor menstrual hygiene management will continue to jeopardize the potential of girls.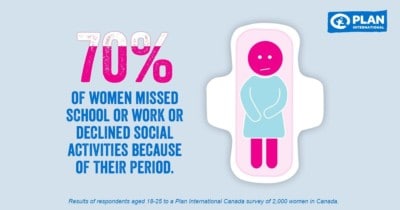 Did you get a sense as to why young women felt that their periods prevented them from participating in an activity?
Menstruation remains taboo in societies around the world (including Canada), and it can have a devastating impact on a girl's life. Whether it's the physical toll of cramps or lack of access to pain killers or hygiene products, the reality is that girls' participation in school, work and society is affected by menstruation.
Our survey results indicate that 70% of women under 25 in Canada have missed work, school or declined social activities because of their period; more than 80% had experienced leaks at work or school and report having been unprepared when their period started.
Again, this is not unique to Canada. Worldwide, it's estimated that 500 million women and girls lack the means to manage their monthly periods. Globally, the social, emotional and physical stresses can be exacerbated by cultural beliefs that greatly limit girls' mobility during menstruation. For example, in some parts of the world, women and girls may be forced into seclusion during the days they menstruate because they are considered "impure" or "contaminated." From a mental and emotional health perspective, this can fuel a sense of being inferior and unworthy in many ways.
Fear, shame and embarrassment are widely experienced by young women. In Malawi, 30% of girls say they were scared when they first started their period; in rural Ghana, 95% of girls say they experience embarrassment when they menstruate.
This is unacceptable. No woman or girl anywhere in the world should be made to feel ashamed or be excluded because of an entirely natural and healthy process that is universal.
What steps should be taken to increase access/improve affordability to menstrual products for young women in Canada?
In recent years, the federal government's decision to remove the tax from certain menstrual hygiene products was a step in the right direction, but they still represent a significant cost for many women and girls in Canada and around the world.
In North America, we are seeing progress towards making these essential products free for those who menstruate, particularly in public spaces. For example, at its annual convention in February, the NDP adopted a resolution to make menstrual products free to Canadians. Similarly, New York state announced in April that it is requiring schools to provide free menstrual products in restrooms for girls in grades six through twelve. Last month, Centennial College in Toronto announced that it is making pads and tampons free in all of its washrooms through its Free the Tampon project.
These steps send a strong message that menstruation should never be a barrier in the free participation of girls and women in public life; however, they are isolated efforts and should become part of the broader public health policy to make menstrual hygiene products available to women and girls free in every public space including the workplace.
It is also critical that we begin engaging everyone–particularly men and boys–to better understand menstruation, prevent and challenge social myths and taboos, and prioritize menstrual hygiene, because if it's affecting half of our population's ability to participate in school, work or society, it's affecting us all. At Plan International, we work with youth advocates of all genders as well as social influencers who are calling for more action on this issue to remove barriers to gender equality both in Canada and abroad.
What were the major takeaways from this survey?
One of the key findings of the survey was that one third (33%) of women in Canada under 25 have struggled to afford menstrual products for themselves or their dependants, highlighting the fact that period poverty exists here in Canada. Without affordable access to menstrual hygiene products, girls and women everywhere are prevented from fulfilling their potential and from being able to actively participate in all spheres of life. Furthermore, the survey confirms that menstruation continues to be a potent barrier for Canadian women and girls under 25 years from fully participating in an activity, affirmed by 83% of them.
Another major takeaway from the research is that periods and the stereotypes, stigma and taboos that surround them continue unabated and are a source of anxiety for girls in Canada. Seventy-seven per cent of women under 25 have felt anxiety or dread when their period was late.
Another key takeaway is that gender-based stereotypes and negative attitudes towards menstruating women continue to prevail in Canada. Nearly three quarters (74%) of women under 25 report having had other people accuse them of PMS thus implying women's reduced intellectual capacities and rationality during menstruation and reinforcing their lower human value in society.
What should we do with this survey information? What are tangible ways we can help?
Through the survey results, Plan International Canada's goal is to raise awareness around menstrual hygiene issues, including stigma, taboos and misinformation, and the impact these have on girls' lives. We're calling on all Canadians, including government, corporate, institutional and community leaders, to bring periods to the start of the conversation recognizing the damaging effects it can have on girls and young women in realizing their rights and reaching their full potential, and committing to address menstrual hygiene issues.
It's essential that we all start talking about menstrual hygiene as a serious concern for girls and women around the world, and that includes men and boys – because a conversation about periods is a conversation about gender equality. For example, in Uganda, Plan International is driving an innovative youth program where girls and boys make reusable cloth pads and sanitary napkins at school. The project provides critical education about menstruation (including social myths and taboos) and has created a source of free hygiene products, so that girls can continue to attend school as equals.
Ultimately, we're encouraging everyone to consult with women and girls about their periods to help address the social, emotional and financial costs of menstruation – and reduce the shame and taboos that too often frame this issue.