Eman Shahab Bachani has always found pleasure and inspiration from reading about the stories and success of entrepreneurial women. Knowing she wanted to have something to call her own, she launched Meraki Design House. Having lived life in both Pakistan and Canada, this fashion e-commerce company combines eastern design into western life.
Eman's goal was to create a line that is contemporary and stylish, while also honouring her culture. We admire that she saw a void in the market and had the confidence to fill it. Right now the focus is on footwear, but Eman plans to grow Meraki into clothing and accessories too. We love the collection of shoes at Meraki Design House, from the colours and design to their individual stories.
SDTC: Can you share with us how Meraki Design House was born?
ESB: In my last semester at UofT, I recall being buried in essays and job applications and running from one networking session to another. I used to find solace in reading about people who had "made it." Most of those people happened to carve their own path, which piqued my interest in having something I could call my own. I've seen my dad do it, so I knew how incredibly hard the process of establishing your own business is.
It was key for it to be something I felt strongly about. I was also in this process of realizing how strongly North American fashion is driven by mainstream brands that don't exactly allow the consumer to express themselves in a non-conventional manner.
Let's face it; we live in a cultural mosaic, yet there were next to no options for one to dress in a way that melded cultural and conventional fashion. I had a fair idea of how I could fill this gap. My interest was strongly fixated on the cultural aspect of it, having lived in different parts of the world before moving to Toronto. I wanted to bring all the local handcrafted specialty items I've collected over the years to centre stage and give consumers choices they wouldn't find at a mall. So after lots of very long and trying days, I was knee-deep in Meraki.
Can you describe your professional life before Meraki? Had you worked in the fashion industry before launching Meraki? What made you switch gears?
I graduated from UofT not too long ago and the plan was to get into Recruitment, but clearly my plans changed big time!
I have no background of working in the fashion industry, but I've acquired tons of experience working in a cross-cultural environment, which has come quite handy in this process. Once Meraki was in production, my dad and I set up a tech solution business, which I run concurrently with Meraki.
Who is your fashion inspiration?
I am significantly more inspired by women doing great things than fashion itself. I am a huge fan of Sophia Amoruso to the point where my morning commute isn't complete without her podcasts.
What do you love most about what you do?
Being an entrepreneur has meant wearing all the hats whether you know how to or not. This is great because you end up learning so many things that always seemed impossible from a distance.
What lesson have you learned in recent years that has really steered your life?
Two really important lessons:
1) Make sure you spend as much time on your back-up plan and alternatives as you do on the original plan because you can never predict what won't go your way (and sometimes Plan B turns out better than Plan A).
2) Have a deadline, but don't get too hung up on it. Unforeseen changes come up, things don't go according to plan, and clinging to unrealistic deadlines can have a detrimental impact on your work because you will stress more about the deadline than the quality of the work itself.
What values or principles guide your business?
I strongly believe in impeccable partner service; this entails taking care of both my customers and my artisans. Furthermore, I want the business to deliver value to both partners, which is why the ethos of my brand is as focused on helping the artisan sustain their craft as it is on offering great quality products.
What's your favourite way to wear a pair of Meraki shoes?
Anytime I want to make a plain outfit pop! Honestly, they are so comfortable; you can get away with wearing them all the time.
What are your top sellers? Why do you think people love them the most?
While all of them are going well despite the nature of the shoes being so new to the market, I am almost out of my 'Gota' Shoes. I think it's because they strike the perfect balance of festive and elegant.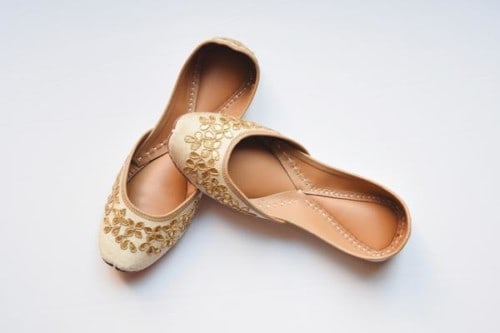 What's your best advice for women looking to start an e-commerce business?
The biggest problem with e-commerce is that customers don't get a feel for your brand or your products, which works against you big time because they will think ten times more before making a decision.
So if you want to stay online, make appearances at pop-ups and fairs every now and then (and host your own if you can't find one). That way you can see how consumers react to your product (which you can't see over the internet) and build a consumer base you have firsthand credibility with.
Other than that, learn from the process, try to understand how the backend systems work so you don't have to rely on someone else, and most importantly, let it consume you (which it will, I promise you).
Browse the collection now and find a pair of Meraki shoes that will make your holiday party look truly stand out.